Wednesday, June 11, 2014
Message from Our Lord Jesus Christ
To His Beloved Daughter Luz De María.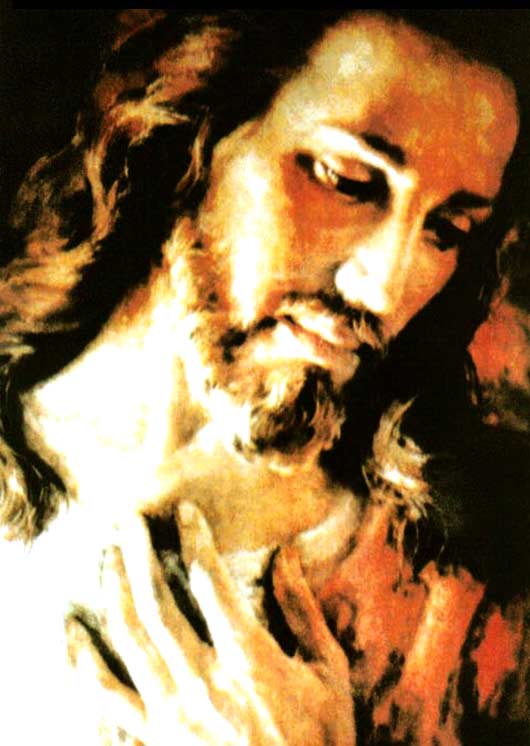 My Beloved People, I bless you.
MY HEART BEATS RAPIDLY, BEATS FASTER FOR EACH ONE OF YOU AND TO EACH ONE OF YOU.
I bless your walk, your mind, your thought, your word and your knowledge.
I bless each work and action as long as you are fused to My Will, respecting each one of My Commandments, those that My Father engraved with His Love for all generations past, present and future.
My Heart beats faster in this instant in which this generation must ascertain that My Commandments are not distorted.
My Heart beats faster in this instant in which this generation hangs on one single action from a human creature with enough power to provoke a disaster: the Third and Fatal World War. EACH ONE OF YOU IS ABSOLUTELY RESPONSIBLE IN THE COLLABORATION OF THIS FATAL ACT. EACH ONE COOPERATES WITH IGNORANCE,
WHICH YOU IMPOSED UPON YOURSELF, WITH THE LACK OF KNOWLEDGE AND WITH THE LACK OF LOVE TO
ME.
My Heart beats faster because it loves you, but also as it looks and feels in My Divinity the ignorance in which you live and with the speed with which the allies of the antichrist move to make you go astray.
My Church must awaken itself, My Mystical Body must warn itself, to each other just like the old Christians.
YOU MUST NOT ALLOW IGNORANCE;
THIS IS A GREAT TENTACLE THAT THE MASONS ARE USING AND ITS DIFFERENT ALLIES TO DISTORT MY MYSTICAL BODY FROM MY TRUTH AND THE CORE WHICH IS TO: OBSERVE THE COMMANDMENTS.
My Beloved:
NOT ALL THOSE WHO CALL THEMSELVES CHRISTIAN WILL REACH ETERNAL LIFE, ONLY THOSE WHO LIVE, DO AND ACT IN MY WILL.
Man rejects me constantly, but the more he rejects me, in the same manner I insist. That is how I come, I call you this way with the same tenacity with which you despise me. The same rejection, I transform it in Love and with the same intensity with which you reject Me, with that same intensity and more I seek you and will seek you, I will never tired of calling you because you are My Church, you are all My children, because for all of you I surrender to My Cross of Love and of Glory. EACH ONE OF YOU MUST CLING TO MY CROSS, IN THE CROSS I
WILL RAISE YOU UP WITH MY POWER, MY GLORY AND MY MAJESTY.
MY CHILDREN MUST NOT BE FEARFUL CHILDREN, YOU MUST BE CONFIDENT AND AWARE OF MY LOVE AND THAT I WILL NEVER ABANDON YOU, but for that it is necessary that you have a complete conscience of what sin is and how this hurts Me, so you will soon come to Me with a firm resolve of amendment, but the resolve of amendment is not enough, IN THIS INSTANT IT IS NECESSARY TO MAKE A RESILIENT DECISION NOT TO FALL IN THE SAME SIN.
I AM FORGIVENESS AND I WILL FORGIVE YOU AS LONG AS YOU MAKE THE EFFORT OF NOT FALLING INTO THE SAME SIN. I NEED THE DECISION
OF MY CHILDREN, THE DECISION OF MY PEOPLE TO BE BETTER EVERY TIME.
I cannot continue calling My People as I did in the past years, in this present instant, within My Eternal Present, I call My People with My Present Word so that the People will understand me and vibrate within himself the urgency of My Word and of My Call.
IN THIS INSTANT THE WORLD IS IMMERSED IN THE CELEBRATION OF A SPORT,
IN THE COMPETITIVINESS BETWEEN COUNTRIES FROM THE WHOLE WORLD,
WHILE THE TENTACLES OF THE ANTICHRIST WILL GIVE A GREAT SURPRISE TO HUMANITY.
My People, he, he that tells Me that he believes in Me, he that calls Me Father, he that tells Me that he loves Me, he that tells Me that he is not worthy that I enter his house, he who receives Me, cheer in this instant for what is called sport, but not as such, but as a sign of competitiveness and of power… and behind the world's gibberish, those who do not love Me nor love you as My children, nor love the Gift of Life, prepare weapons with which in seconds can terminate the human race. But don't forget that My Legions will come to rescue those who act in My Will and do it.
THE DEMON IS CLEVER AND PRESENTS ITSELF BEFORE HUMANITY WITH A VARIETY OF SINS AND TO THIS
SOCIETY THEY SAY THAT IT IS NOT A SIN;
WHICH TRULY OFFENDS ME AND CRUCIFIES ME CONTINUALLY.
I wish to call upon the woman who renews herself within with a generous spirit, who imitates and lives intensely the virtues, and who does not exposes herself anymore as an object of perdition, that dresses modestly, that she will not be any more part of the tempting serpent. And to man I call to be strong and control his mind and his low passions.
My Beloved, this is the instant to pray for Brazil. This is the instant for you to open your eyes and not put aside the Signs of the Times, since water will purify the Earth in a great measure.
I invite you to pray for Argentina, it will suffer. Pray for North Korea.
I invite you to pray for all humanity so they will clearly see what My House will demonstrate in this instant in which the Signs of the Times will be displayed, previous to My Second Coming and at the same time before the Great Warning.
TO THOSE LIKE YOURSELF WHO RECEIVE MY WORD AND TAKE IT AND MAKE IT A WAY OF LIFE; to you, My beloved, who know Me and who deepen in My Word, to those that I have called to be My Instruments, to those whom I have sent to evangelize to their brothers on My behalf, I should mention to you that in the instant of the Warning the force of the same will be doubly lived by you and by them.
I DEMAND FROM THOSE WHO SUBMIT TO ME; EVERYTHING! Remember that the lukewarm will be vomited by the mouth of the Father, the lukewarm confuses, and that is why My Church: My Mystical Body must be knowledgeable of My Love, of My Word and of My Truth.
My Beloved People:
WITH WHAT INGRATITUDE MY WORK IS RECEIVED, WITHOUT MEDITATING UPON IT, WITHOUT MAKING IT A WAY OF LIFE, WITHOUT PRACTICING IT! You are receiving My Own Will, they are not merely more messages, they are no more Calls, in a great excess of Love for you and how infinite My Love is for you I warn you, the development of the Signs is given NOW!; upon the face of the Earth and in each one of you.
Don't be like the hypocrites and the Pharisees, be true children, don't be like those who persecuted me, do not persecute My Faithful Instruments, and do not forget that with the yard with which you measure you will be measured with one fourth more.
YOU WILL LIVE ALL YOUR ACTIONS DURING THE WARNING BUT WITH GREATER SEVERITY, THOSE THAT HAVE BEEN COMMITTED AGAINST YOUR BROTHERS WITH THE PURPOSE OF HURTING THEM. Do not do justice by your own hands, that belongs to Me, and those who do justice by their own hands, My Justice, in the instant of the Warning, will make it weigh more upon them than upon those who have not acted in that way.
I love you, continue to be united and don't allow Satan to make you fall, or make you go astray from the path. Do not continue to be asleep; I NEED A PEOPLE AWAKE AND ATTENTIVE, I NEED A MYSTICAL BODY THAT WILL ALERT EACH OTHER.
Do not wait for the persecution that this is being done and the blood of the new martyrs is being spilled.
My Beloved People:
LOVE MY MOTHER, PERMIT HER INTERCESSION ANDDON'T FORGET THAT MY LEGIONS REMAIN UPON ALL OF HUMANITY, BUT THEY NEED YOU TO CALL THEM, THAT YOU INVITE THEM, because as I respect the free will of man, in the same way My Legions respect the free will of man.
DON'T BE FOOLISH, DON'T BE BLIND, DON'T BE STUBBORN, YOU HAVE MY WORD AND MAKE IT A WAY OF LIFE IN EACH ONE OF YOU.
MY LOVE IS INFINITE, MI MERCY IS INFINITE, AND THIS IS THE INSTANT IN WHICH
MY JUSTICE APPROACHES, MY LOVING JUSTICE, MY MERCIFUL JUSTICE: IF IT WEREN'T THIS WAY, NO ONE WOULD BE LEFT UPON THE FACE OF THE EARTH.
The Joy, the Happiness and the eternal well-being is coming now; we will soon enjoy at My Table, in My Peace and in My Word for all Eternity.
I bless you, receive My Love and receive this Blessing as a sign of protection upon each one who reads, cherish, meditates and love this call.
Your Jesus.
HAIL MARY, MOST PURE, CONCEIVED WITHOUT SIN.
HAIL MARY, MOST PURE, CONCEIVED WITHOUT SIN. HAIL MARY, MOST PURE, CONCEIVED WITHOUT SIN.