Wednesday, June 18, 2014
Message from Our Lord Jesus Christ
To His Beloved Daughter Luz De María.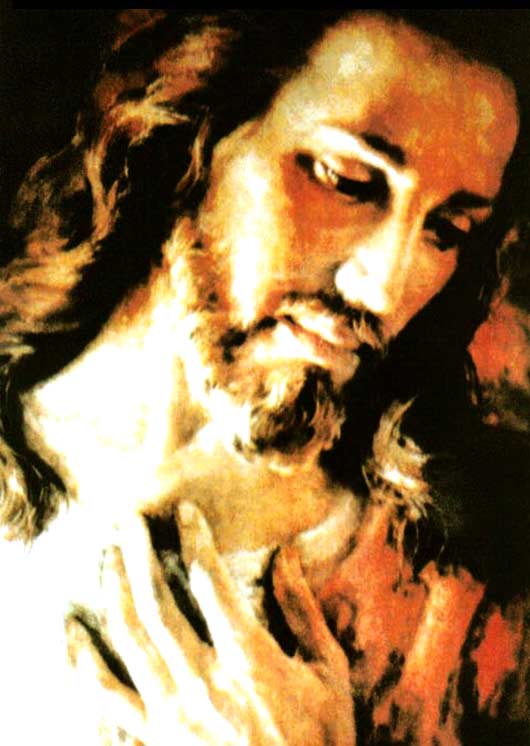 My Beloved People:
I BLESS YOU AND WITH MY BLESSING I LEAVE MY UNCONDITIONAL REQUEST FOR THE CONVERSION OF ALL HUMANITY.
My children feel content to declare that they have converted because they attended the Eucharist, but are far off from what the true conversion is all about, since this must start inwardly in the creature first, and then display it outwardly clearly showing their conversion.
CONVERSION IS NOT ONLY COMING TO THE TEMPLE AND SHARING THE HOLY EUCHARIST; CONVERSION IS TO LIVE AND BE PART OF THE CONSUMING EUCHARIST, NOT ONLY IN THE TEMPLE BUT IN EACH INSTANT OF YOUR LIFE AND WITH EACH BROTHER, forming hence one conscience, thus being part of everything created by the Hand of My Father and handed to man so he can thank My Father of all he has given him.
THE CONVERT:
Is that one that doesn't see himself but sees the needs of his brothers and fights inexhaustibly for My Word to be fulfilled as it is fulfilled in Heaven.
Is the one who has My Love in spirit and truth.
Is the one who obeys without hesitation.
Is the one who sees Me in each of his brothers.
Is the one who opens his mouth to do good for his brother.
Is the one who sees in his brother the good that he can do and leaves aside the evil the he can cause, thus giving the opportunity to his brother to show him that he can do good.
I WISH THAT YOU BE MINDFUL THAT IT IS NECESSARY THAT THE CONVERSION BE THE MOST NUMBER OF
CREATURES AND IF YOU ARE ABLE TO PARTICIPATE IN THIS CONVERSION, DON'T HESITATE,
DO NOT FEAR DESPISED, BUT FEAR TO BE HURLED TO THE ETERNAL FIRE.
My Beloved People:
You must see the Signs of Times; these are shown in each instant in the course of humanity. Remember that when man talks about peace it will be a false peace that is being conceived and the war that is imminent will be closer to man.
LOOK AT THE SIGNS OF TIMES: violence is everywhere, it has launched itself upon the innocent and man has totally been taken by the forces of Satan, who smiles and delights giving death to the weak and destitute.
How My Heart suffers, how it suffers to see young children with weapons in their hands and smiling upon giving death to his fellowman! THIS GENERATION LIVES THE CULTURE OF DEATH AND DELIGHTS IN IT.
NOW MY HEART CANNOT ENDURE SO MUCH PAIN AS SUCH EXISTS UNDER THESE SIGNS OF THESE
TIMES; signs that cannot be hidden, such as: homosexuality so out of control, lesbianism uncontrollable and exhibitionist, abortion approved in various countries, and one after the other I could enumerate all the abominations that this generation is carrying out with pleasure.
HOW IS IT THAT YOU STILL DOUBT THAT THESE ARE THE SIGNS OF TIMES?
THIS INDICATES THAT YOU DON'T KNOW NOR HAVE YOU KNOWN MY WORD IN DEPTH.
My Church has been tremendously undermined from its foundation, masonry has taken full possession of My Church, suppressing it and proclaiming what is not My Will, acting against the established Commandments, and making the economy it's priority like any other Nation.
HOW IS IT THAT YOU DON'T SEE THE SIGNS OF TIMES,
SINCE THE ECONOMIC POWER IN THIS INSTANT GOVERNS THE WORLD?
HOW IS IT THAT YOU DON'T SEE THE SIGNS OF TIMES WHEN THE POWERFUL COUNTRIES ANNOUNCE
ALREADY THE UNION TO ESTABLISH A ONE GOVERNMENT AND ONE CURRENCY?
It's because My Love has been replaced by the god of money.
My Beloved People, I am the same as yesterday, today and tomorrow; yesterday I did not give My Calls to My People in these terms, because they kept far from these final events, but in this instant I cannot come to My people the way I used to in the past, because My House urgently needs that My children understand the seriousness of what they are living in this instant.
Man has stopped being man and has transformed into another artifact that the great potentials manipulate at their whim.
IN THE PRESENCE OF PROXIMITY OF WAR, MY PEOPLE NOT ONLY MUST PRAY BUT MUST WARN HUMANITY, AND THE HOLY REMNANT SO THIS WILL NOT BE CONFUSED. Each one of you must multiply and in this instant put aside your personal interests and live, work and act according to My Will, which is the salvation of souls.
Let no instant pass without taking advantage of it, but be generous in sharing whatever I have permitted you to know.
It is urgent to pray for the United States, it will suffer in the hands of its enemies.
Pray for England, the antichrist walks in its streets.
Pray for France, it will suffer greatly, especially Paris.
Pray for the Middle East, it will be the detonator.
Beloved children, My beloved People:
DO NOT WAIT ANY LONGER; I ONLY ASK THAT YOU BE CAPABLE OF SEEING THE SIGNS OF THIS TIME THAT ARE PRIOR TO MY SECOND COMING.
You cry out for mercy, but define to me the mercy you are crying out for.
My Love is infinite but My Justice is overflowing ALREADY before such barbarism and before the joy with which you burst out as you end the Gift of Life just for your entertainment.
MY MERCY IS INFINITE BUT AT THE SAME TIME MY JUSTICE IS ALSO INFINITE, AND IT IS NECESSARY FOR THIS HUMANITY THAT I DESCEND SOON WITH MY JUSTICE. All of Creation remains fused to My Justice; you who read and listen to My Call and still enjoy peace in your countries, do not see from afar the suffering that is coming to all the Earth.
My Beloved People, DO NOT IGNORE THIS CALL; IT IS URGENT THAT YOU SET THE CONSCIENCE IN THIS INSTANT. The god money is collapsing and this will cause that the great potentials immediately enslave My children to scourge them.
My Beloved People:
I have promised you a better tomorrow, an enjoyment from the good of My House, but don't think that in the spiritual situation of this generation, this enjoyment can come to this generation without first being purified by My Own Hand. AND IT IS NOT THAT I DON'T LOVE YOU, BECAUSE I LOVE YOU WITH THE INFINITE OF MY OWN LOVE AND THAT IS WHY MY JUSTICE IS COMING! NOW! TO MEET WITH THOSE THAT IN THIS INSTANT EXERCISES IT FOR ME.
Listen to My faithful and true instruments, don't listen to those that undermine them, they are not instruments of My House. He, who wishes to blind My People, is not an instrument of My House, but an instrument of evil.
Remain attentive to this instant, more than any other instant. Each of you be an evangelist of your brother.
REMEMBER THAT I COME TO SEPARATE THE WHEAT FRM THE CHAFF, DO NOT HESITATE. I COME WITH MY JUSTICE, WITH MY LOVING JUSTICE AND THEN AFTER THIS, WE SHALL MEET IN THE REIGN OF MY PEACE.
I bless you; remain in the Peace of Our House.
Your Jesus.
HAIL MARY MOST PURE, CONCEIVED WITHOUT SIN.
HAIL MARY MOST PURE, CONCEIVED WITHOUT SIN.
HAIL MARY MOST PURE, CONCEIVED WITHOUT SIN.