Sunday, June 22, 2014
Message from Our Lord Jesus Christ
To His Beloved Daughter Luz De María.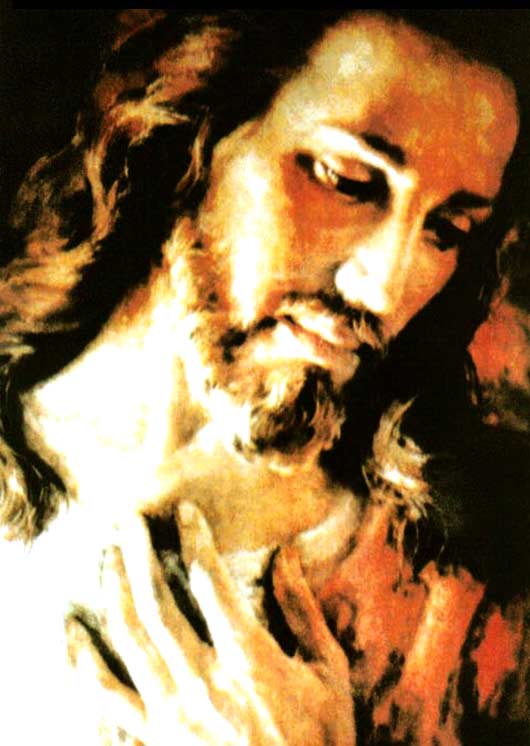 My beloved People:
I REMAIN IN YOU AND WILL REMAIN FOREVER AND EVER.
I REMAIN IN EACH ONE OF MY CHILDREN, in those who love Me and in those who strongly reject Me; it is precisely for those who strongly reject Me that I ask My People to pray and intercede ministering to one another.
CONTINUE TO HOLD THE HAND OF MY MOTHER, She the Eternal Mediatrix of all men. You who are My People, fight and keep yourselves far from sin.
I invite you day to day, to adore Me in the Blessed Sacrament of the altar where I make Myself present.
TO MY PRIEST SONS who with their very hands carry out My Consecration, I call them to be conscious that their hands participate in the great Eucharistic Miracle of My Love; My very own Angels go to every altar to adore My very Body and My very Blood where My Sacrifice is celebrated, and they pray so that these hands that were consecrated to Me, may be worthy and be bearers of the great Eucharistic Miracle of My Love.
My beloved People:
In the instant in which My sons who are consecrated to My Service elevate My Body and My Blood, in that precise instant IT IS I WHO CONSECRATE MYSELF, GIVING MYSELF IN MY BODY, BLOOD AND DIVINITY TO THOSE WHOM I LOVE SO MUCH.
I CALL YOU TO REPENT WHOLEHEARTEDLY, TO MAKE A FIRM INTENT OF AMENDMENT, TO NOT FALL INTO THE SAME SIN AGAIN AND AGAIN, for sin becomes habit and the goal of amendment is to correct that sin with which you offend Me and to not commit it anymore.
I CALL YOU, MY PEOPLE, TO CARRY OUT MY WILL, TO FIGHT AGAINST FREE WILL because in the majority of people, it rebels against Me, adoring false gods and listening, working and acting in what offends Me.
My beloved People:
CONVERT, ENOUGH WITH OFFENDING ME!
ENOUGH OF GIVING FREE REIN TO WORLDLY AND SINFUL WHIMS! ENOUGH OF BEING SATAN'S PREY, FREE YOURSELVES!
Turn to My Mother, pray the Holy Rosary so that My Mother may go in haste to you; call Me, I am anxiously waiting for that call to help you and forgive you.
My beloved:
If you truly repent and make a firm resolution of amendment, fighting with all your might even against your own desires, if they separate you from Me, there is no sin that I refuse to forgive. But those who are pleased with sin, who find joy in sin, those who prefer I not speak to them and explain My Truth clearly to them, it is precisely those whom I call in this instant to reflect, so that they repent, so that they come before Me, and thus, I take them again into the lambs of My Flock.
The coming instants will be difficult, more than what a great quantity of My children are living in this instant, when they are scourged by their own brothers and sisters and by nature.
INSTANTS WILL COME IN WHICH FAITH IN ME WILL BE HARSHLY TESTED; PREPARE YOURSELVES, be forming within yourselves a provision of acts in My Love with your communions, with your sincere repentance, with your prayers, with your working and acting in My Will, but even more with the praxis of My Word and this praxis consists in loving your brothers and sisters.
Loving one's neighbor carries the Good News of My Love and of My Forgiveness, but at the same time, loving one's neighbor is making one's brothers and sisters conscious of this extremely dangerous moment in which you live, in which not only the mind, thoughts and heart focus on what is not My Will, but external agents invade your organism to make you sick not only in body but in spirit and to harden your heart.
My People: each instant that goes by you are surrounded by disaster, man's subconscious is continually attacked so that he acts like a savage beast, each one against his or her brothers and sisters, killing one another. You still do not understand, you are not aware that satan wants to lead you to take from yourselves the most precious Gift, the Gift of life, and above all, he wants to lead you to annihilate the innocents to hurt My Heart greatly.
REMAIN ATTENTIVE TO ALL THAT COMES TO YOU; SATAN INVADES THE MIND, THE THOUGHTS AND
THE HEART OF SEVERAL LEADERS OF THE GREAT POWERS TO USE ARMAMENT AGAINST THE INNOCENT AND HELPLESS.
My beloved:
I want to rescue you; you with your own will must allow Me to rescue you, otherwise I cannot rescue you. In the face of doubt, come to adore Me and ask for discernment from My Holy Spirit. There are more who want to confuse you so that you are satan's bounty than there are who preach My Truth and speak and transmit My Truth to rescue you from the clutches of evil.
DO NOT TURN AWAY FROM MY MOTHER, RECEIVE ME DULY PREPARED AND APPROPRIATELY DRESSED; for it is not only the one who comes to receive Me without having confessed his offenses who offends Me, but also the one who is not appropriately dressed to receive the King of kings and Lord of lords.
You who receive My Word, you are aware that I have alerted My People throughout history, I AM NOT GOING TO FORSAKE YOU NOR WILL I ALLOW YOU TO CONFRONT THE POWER OF EVIL WITHOUT FIRST HAVING ALERTED YOU SO THAT YOU PREPARE YOURSELVES, LIVING IN MY WILL AND REJECTING EVIL.
I invite you to pray for the Middle East, war rises like a giant. I invite you to pray for Brazil, it will suffer; its ground will shake and water will rush upon the land.
Do not forget to pray for Chile, My children's tears will come out of their eyes.
My beloved People:
I REMAIN LIVING AND PRESENT; COME TO RECEIVE ME FOR I, AS A LOVING FATHER, WELCOME YOU, but do not forget that you present yourselves before a King of Mercy, and at the same time, the King of Justice and you must remain duly prepared.
I LOVE YOU, I BLESS YOU CONSTANTLY. You are the apple of My Eye, you are My People, you are My Inheritance, those whom I received, those whom I love and for whom I gave Myself. Receive My Blessing.
Your Jesus.
HAIL MARY MOST PURE, CONCEIVED WITHOUT SIN.
HAIL MARY MOST PURE, CONCEIVED WITHOUT SIN. HAIL MARY MOST PURE, CONCEIVED WITHOUT SIN.