Sunday, June 29, 2014
Message from Our Lord Jesus Crhist
To His Beloved Daughter Luz De María. Feast of St. Peter and St. Paul.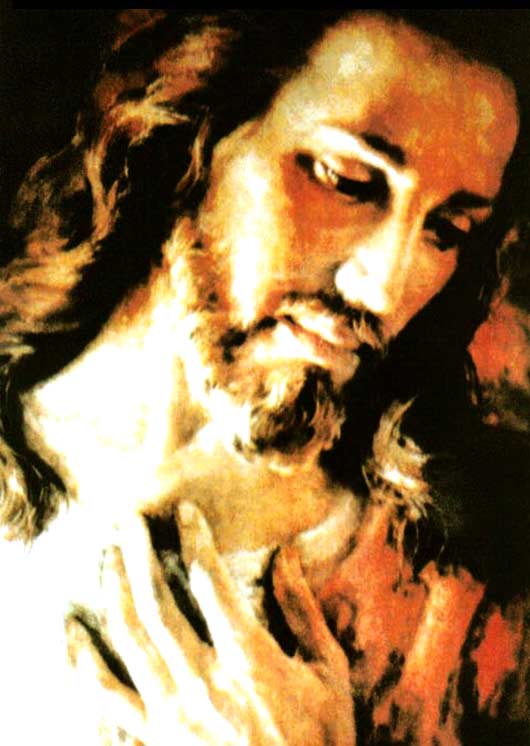 My Beloved People:
I bless you, I love you, and incessantly I seek you out because you are My People.
DO NOT REJECT CONVERSION; CONTINUE FIGHTING EVERY MOMENT FOR CONVERSION. IN THE FINAL INSTANTS THE SPIRITUAL STRUGGLE INCREASES, AND… THIS IS THE INSTANT.
STAY AWAY NOW! FROM THE MUNDANE; I WILL GIVE YOU THE NECESSARY STRENGTH IF YOU ASK ME SO YOU CAN BE ABLE TO RESIST THE TEMPTATIONS AND NOT SUCCUMB TO EVIL.
Beware that evil attracts man by displaying different facets with different aspects that entices each one of My children. Evil knows the weaknesses of each one and attacks them in that way. I AM WHO AM and I know you like the Palm of My Hand, I know your virtues, your gifts and your weaknesses, that's why I am unrelenting in My Calls to you, My People.
¡STAY AWAY FROM SIN NOW!
SIN CORRODES THE FLESH AND SICKENS THE SPIRIT UNTIL IT SEPARATES YOU FROM ME COMPLETELY.
EVIL DOES NOT POSSESS NOR WILL IT POSSESS MORE STRENGTH THAN ME. My People are weak when it wishes to be so… and is strong when it wishes to be strong… Although it's true that evil has no more power than Me, but if My children do not decide on their own to stay away from evil, evil could drag them and take them into his claws and from there make them succumb in the mud from where it will not be easy for them to get out.
My Beloved People:
THE STORMY CLOUDS HOVERS OVER YOU, darkness advances clouding the thoughts, the mind and hardening the heart of My People so that anger, selfishness, lies and persecution takes hold of those who do not wish to love Me anymore. Rebellion is the product of an uncontrolled anger of those who do not know which path to take, of those who do not listen to My Call and much less of those of My Mother.
None of My children, if he's really My Child, will offend much My Heart nor will he come to the end of his life without a sincere repentance and a firm purpose of amendment. In this instant humanity remains isolated from the world's great conflicts, they keep their minds, their thoughts and their life submerged in sports, putting aside all conflict of the world. These moments of euphoria make My People forget the pain; but then, after all has passed, the one who is there for you is Me who comes to aid you.
THERE IS A LACK OF CONSCIENCE IN MY PEOPLE …, A LACK OF CONSCIENCE IN MY
CHURCH, IN MY MYSTICAL BODY…, A LACK OF CONSCIENCE TO THE LESS SEVERE
CALLS AND A LACK OF AUTHORITY OF MY CHILDREN DEDICATED TO MY SERVICE…
My People, how can I see you suffer, how can I listen to you crying out for My Help! In those instants you will remember, that you have a Father in Heaven, that you have My Holy Spirit, that you possess a Mother who has gone after you out and you have scorned, and in the instant, My Merciful Hand will take all those souls that cry out for My Mercy with a firm purpose; do not wait until the last instant since only I know how the end of life is for each one of you.
My People:
I HAVE NEVER ABANDONED THOSE WHO LOVE ME, LOOK UP TOWARDS HEAVEN, BECAUSE FROM THERE MY BLESSING DESCENDS UPON THOSE WHO ARE MINE: to those who hunger I will give them food, to the thirsty I will calm their thirst and to the repentant, I will take them in My Arms and will comfort them, but those who do not repent, will face their own path.
Time and again I invite you to kneel in unity of Peace and of Love.
The Calls of My Mother have been rejected and these are fulfilled and will be fulfilled one by one and those who relentlessly deny My Word and that of My Mother, with their own eyes they will see more darkness as they try to deny Me, but those who see the light, will find more light in My Word and in the Calls of My Mother. Come swiftly, I wait for you as the Bread of Eternal Life.
My Beloved:
Pray for My beloved People in Chile.
Pray intensely for the Middle East.
Pray for Germany, it will suffer.
MY HAND REMAINS OVER THE ENITRE HUMANITY LIKE A MAGNET.
HOPING FOR A SIGH FROM MY CREATURES TO BRING THEM TO ME.
The foolish and blind man, deaf and mute does not wish to see the Truth, does not wish to listen or proclaim My Word, submerging himself in the same darkness of his ignorance which will not allow him to find My Light and thus be fertile land. I TAKE EACH ONE AND DEPOSIT MY LOVE TO FERTILIZE THAT LAND WITH THE PURPOSE THAT IT WILL YIELD FRUITS AND THUS YOU WILL POSESS ENOUGH STRENGTH TO FACE THIS SO PAINFUL INSTANT THAT YOU ARE HEADING FOR.
Humanity will collapse in its own unawareness, but for those few who are aware of what's coming, they will be comforted by the Angel that I will send from My House, and He will calm you with My Word, with My own Strength so you will resist the attacks of the imposter and cruel antichrist. My People will be persecuted, My faithful must seek ME in secret, but you will not be alone, everything will pass, no pain is forever, we shall be gathered again and in the midst of so much tribulation, I WILL TELL MY LEGIONS TO DESCEND UPON MY CHILDREN AND I WILL FREE YOU FROM PAIN AND FROM OPPRESSION.
MY PEOPLE FREED FROM ITS OPPRESOR WILL COME TO MEET ME,
WILL BE SEATED AT MY SIDE AND WILL ENJOY HAVING REMAINED FAITHFUL TO MY HOUSE, THEY WILL SEE THE EARTH GROW GREEN AGAIN AFTER IT HAS BEEN CONTAMINATED AND DESTROYED.
The fruits will be abundant, the renewed Earth will yield its best harvest just as the souls will be the best and will be My People again, they will walk beside Me and together we will call out to My Father:
"Abba Father, Abba Father".
MY HEART REMAINS OPEN TO RECEIVE ALL THOSE WHO POSSESS
A TOTAL AWARENESS OF THE SEVERITY OF THIS PRESENT INSTANT BUT ABOVE ALL, TO THOSE WHO ARE WILLING TO SACRIFICE THEMSELVES TO CHANGE TOTALLY THEIR DEEDS AND ACTIONS AGAINST THEIR NEIGHBOR.
Children, YOU possess good intentions, but good intentions in this instant are not enough; you must be strong, fighters, convinced that you walk on the path of the Truth. Do not argue with those that deny My Word, fight together with those who wish to have the willingness to take My Word and practice it in this decisive instant and in this way share it with your brothers.
All of My creatures, who establish cenacles of My Heart, will be exempt from evil, as long that they are righteous in the way they behave and act. Do not scorn your brothers, none should be scorned, not even those that attack you, but to My Likeness, do not respond to the attacks since the coming events will speak for themselves and will confirm My Calls.
IN EVERY INSTANT I HAVE ALERTED MY PEOPLE THROUGH MY PROPHETS, I DO NOT WISH FIGHTS NOR CONFLICTS AGAINST EACH OTHER, because those that I have chosen to make known My Calls, are those who do not discuss banalities since they know the importance of this instant and they well know that they should not even take one second of this instant to fight against each other but to bring souls to Me and calm My thirst for souls increasing My Fold.
I bless you and I love you. Continue to be humble, fight with all your strength and don't allow them to separate you from Me.
I BLESS EACH ONE OF YOU WHO READ MY WORD, MY PEACE AND MY LOVE WILL REMAIN IN YOU.
Your Jesus.
HAIL MARY MOST PURE, CONCEIVED WITHOUT SIN.
HAIL MARY MOST PURE, CONCEIVED WITHOUT SIN.
HAIL MARY MOST PURE, CONCEIVED WITHOUT SIN.