Friday, July 4, 2014
Message from Our Lord Jesus Christ
To His Beloved Daughter Luz De María.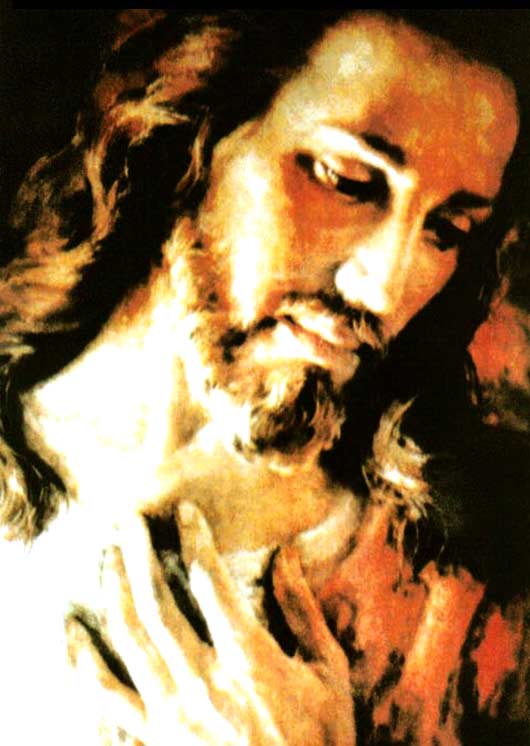 My Beloved People, I bless you.
I AM NOT A GOD OF THE DEAD, I AM A GOD OF THE LIVING, AND AS SUCH, I COME FOR EACH ONE OF MY FAITHFULL.
I AM THE HEAD OF MY CHURCH AND MY MYSTICAL BODY SHOULD ACT IN THE LIKENESS OF ITS HEAD.
The horror and terror has fallen upon humanity, some of the People have not yet perceived the effects of the emotional alteration of man, but gradually, like a plague it will take Nation after Nation and My People will suffer the horrors caused by man himself.
Life is totally scorned by some creatures and in its place life is shown as a war trophy, when it is snatched by war weapons, or the alteration of men themselves.
The great powers of the Earth, who adore the god of money, join once again and decide the destiny of the entire humanity. From this result that humanity is gradually being trapped and invaded by the different plagues created in the laboratories by man himself, and led by the powerful of the Earth with the purpose of exterminating My children.
In this instant the powerful enjoy their power, but I come with My Merciful Justice to bring them down. My People will not be dominated forever.
I AM THE SAME AS YESTERDAY, TODAY AND ALWAYS. MY WORD IS THE SAME, IT DOESN'T VARY AND IT'S
NOT SUBJECT TO INTERPRETATIONS; TO THIS GENERATION I MAKE MY WORD PRECISE SO THEY WILL UNDERSTAND IN THE INSTANT IN WHICH THEY FIND THEMSELVES AND OPEN THEIR CONSCIENCE TO REALITY. Even then I am denied and scorned; at the same time, some who have consecrated to My Holy Service do not act according to My Will and they give in to the benefits that society offers them, they live in luxury while My People whimper for a piece of bread.
I AM NOT A GOD OF MODERNISM, I AM WHO I AM, the same who was born into poverty, the same who was crucified on a Cross and the same who resuscitated for the glory of My People. I do not wish new rites in My Church, instead I wish a Hierarchy living in My Will, in poverty, in the abandonment, in faith and in obedience until death on the Cross so you can resuscitate gloriously in My presence.
I REMAIN ALIVE AND THROBBING WITH MY PEOPLE, I SEE EACH ONE OF YOU PERSONALLY, AND THAT'S THE REWARD THAT EACH ONE WILL RECEIVE: he will receive the same day's wage as the one who arrived first as the one that repents and with a firm purpose of amendment, arrives at dusk. I do not scorn any of My children if they convert in spirit and in truth.
The man who lives peacefully in this instant in his home ignores the atrocious suffering of great part of his brothers that are unjustly immolated.
I WISH THAT THOSE WHO LEAD THE GREAT POWERS WILL CONVERT TO ME.
THIS IS THE WISH OF YOUR GOD, BUT I KNOW BEFOREHANDTHAT I WILL NOT BE HEEDED; I WILL BE IGNORED…, BECAUSE THE EARTHLY POWER GIVES MAN A FALSE SECURITY.
MY CHURCH IS JUST A FEW STEPS AWAY FROM THE TRANSFORMATIONS THAT WILL MAKE THEM CONFRONT EACH OTHER AND MY HEART HURTS. The disobedience will shake the foundation of My Church. The great powerful ones; the leaders of the great Nations constantly infringe My Commandments.
The suffering of My People has generated in the great laboratories sponsored by financially powerful families and attack the impoverished Nations; they ignore that these My creatures, with their suffering they surrender to Me, and request my forgiveness and I welcome them with My infinite Mercy.
My Beloved children:
AS I HAVE ANNOUNCED TO YOU, THE PLAGUES HAVE COME TO HUMANITY ONE AFTER THE OTHER…, BUT YOU KNOW THAT I WON'T FORSAKE YOU AND MY MOTHER WILL NOT LET GO OF YOUR HAND.
The war is at a blink of an eye, only a word is needed for the war to involve all of humanity who is totally unaware of the events of this instant.
My Beloved People:
I call you to offer your prayers, your personal repentance, the desire for conversion, the awareness to share My
Calls with all of your brothers, the Eucharist received with dignity, offer them for my beloved People of the United States; its leader does not heed My Word.
I invite you to pray for the Middle East, the suffering will increase and you will be astonished to see so much pain.
Pray for My beloved children in Chile, pain comes once again to My People.
My Beloved:
SCIENCE UTILIZED WITH PURPOSES CONTRARY TO MY WILL, HAVE CONTAMINATED IN MOST PART WHAT MY
CHILDREN INGEST IN THEIR FOOD, AND THESE STRANGE ELEMENTS TO THE HUMAN BODY, ALTERS MAN
GREATLY, not only in his body but has achieved to cloud the mind and thoughts so man will give free rein to his degrading urges and anger rules the mind and thoughts.
THE SOUL'S ENEMY HAS HIS LOOT ALREADY AND WITHOUT ANY EFFORT ON HIS PART, IT SEES IN TOTAL CALMNESS FROM A CORNER, HOW MY CHILDREN HAVE SURPASS THE SIN OF SATAN HIMSELF.
To you My beloved, who heed My Call, who do not refuse to listen and know me in depth, TO YOU I CALL ONCE AGAIN TO BE MY CHILDREN OF ACTION THROUGH THE GIFT OF LOVE SO WITH THIS LOVE REACH YOUR BROTHERS AND NOT PERMIT MORE SOULS BE SNATCHED FROM ME.
My Beloved People:
The Tribulation is caused by your own disobedience and with it you have opened the doors to Satan and his diabolic legions.
HAVING OVERCOME THE TRIALS, I WILL COME WITH THE SCALE OF MY JUSTICE IN MY HAND, MY ANGELS WILL SEPARATE THE WHEAT FROM THE CHAFF; and My children who have remained faithful and tireless will be placed on My Scale and your deeds and actions together with your obedience and good disposition the scale will lean towards My Mercy and My Legions will present you before My Father.
My People need to investigate the great secrets that the powerful have hidden from them, with the object to insult you, confuse you and take you to great disaster.
DON'T FORGET, MY CHILDREN, THAT THE CROWN OF GLORY WILL BE FOR THOSE WHO REMAIN FAITHFUL, FOR THOSE WHO WILL PRACTICE MY WORD, FIGHTING TO RESCUE SOULS.
I bless all those that act in My Will, to all those who Me and knowing Me, do not allow to be confused.
I COME FOR MY HOLY CHURCH, AS I AM HOLY. My Holy Church should remain far away from the mundane, but attentive to everything that moves around them to avoid being disoriented. Evil is resourceful and My children in occasions are too confident, denying the disastrous future of humanity, and thus continue walking without seeing the Reality and the Truth because I am He who warns them, otherwise I wouldn't be a just Father, I wouldn't be Merciful if I allow the scourging to come by surprise to My People.
I ANNOUNCE ALL THIS TO YOU SO YOU CAN PREPARE, SO YOU CAN CONVERT, NOT FOR YOU TO FEAR ME, BUT TO FEAR SIN AND DISOBEDIENCE.
DO NOT FEAR MY WORD, WELCOME IT AND LOVE IT.
I bless each one of you and My blessing accompanies you in each step that you take on Earth.
Your Jesus.
HAIL MARY, MOST PURE, CONCEIVED WITHOUT SIN.
HAIL MARY, MOST PURE, CONCEIVED WITHOUT SIN.
HAIL MARY, MOST PURE, CONCEIVED WITHOUT SIN.