Monday, July 7, 2014
Message from Our Lord Jesus Christ
To His Beloved Daughter Luz De María.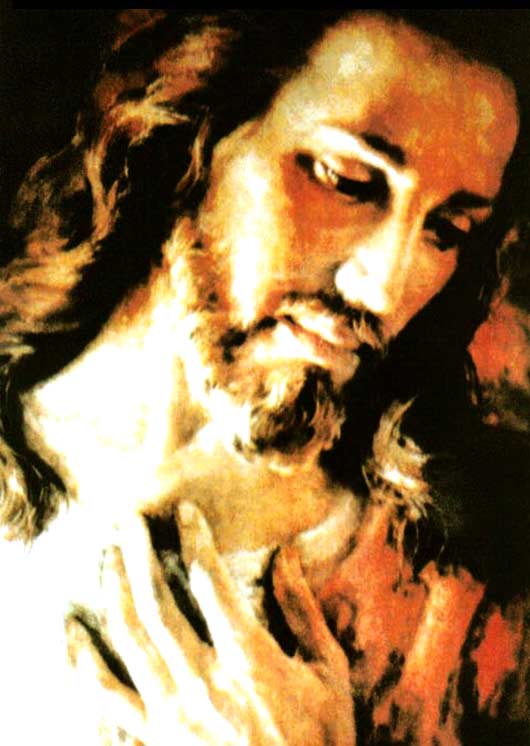 My Beloved People:
MY LOVE FOR YOU COMPELS ME TO GIVE YOU THE NECESSARY LIGHT SO YOU WON'T WALK LIKE THE BLIND, WHEN I GIVE YOU MY LIGHT TO ILLUMINATE THE PATH TO MY HOUSE.
Do not linger in the darkness that in this instant is: error, deceit, lie and ignorance.
Beloved, discern imploring to My Holy Spirit the necessary wisdom so that in this instant you will not take the wrong paths. You well know that prophecy is subject to a varied interpretations; I call to you not to interpreter but become attached to them so it won't become a mystery but a help that will show you the truth so you won't remain asleep.
THE SIGNS OF THE TIMES ARE NOT A NOVELTY, I HAVE ANNOUNCED THEM FOR A VERY LONG TIME SO THAT THE SINNERS WILL CONVERT AND THE CONVERTED ADVANCE IN THEIR FAITH. Do not allow yourself to be submerge in that anemic spiritual that has invaded a great number of souls, living in the comfort of the everyday world enslaved by sins.
Children, you live in internal wars that will lead you to the feared war; see how men rise against men, nation against nation. Do not fear; even now, do not be disturbed. You will be scourged with plagues born in the laboratories that control the world; even then, do not be disturbed. My House will free you from the poisonous darts of evil; Faith is necessary, as is also obedience to My Mandates and love to Me.
Evil, the shrewd enemy of men, knows those who say they love Me but not love Me really and instead they are against Me and think about what they will blaspheme with harsh words when the antichrist arrives, thus being part of the Iniquity mystery. It will be then, that those who did not recognized My Revelations…WILL KNOW THE TRUTH, and will know that My Faithful are a small number to He that they scorned.
EVIL HAS MASKED ITSELF WITH MODERNISM, SO THIS WILL PRESENT ITSELF AS A PRETENSE OF SANCTITY and in this way devour the Lamb, poisoning the mind of those who approach him. In this instant, there are so many who deny Me, asking for a Church without dogmas, nor rules of the Spirit, without Commandments or Sacraments, without human dignity, without Eucharist!
The instant comes with a devastating force; the corruption of souls is their confirmation: they are the evil that humanity must face in the same extent, where the wheat and chaff live together and the good and bad fish are kept in the same net, due to the power that humanity has given to Satan.
Children, the lack of faith in humanity lacerates Me; this will hasten the apparition of he who is the antichrist, who will persecute My Church, and without knowing he will make each one of My Faithful holier as he continues in holy hope.
Beloved, you have given power to communism, considering it as a harmless ideology. This terrible evil has already grown, it is already a ferocious dragon, and maintaining control over men and making the innocent suffer.
YOU ARE STILL BEFORE THE GREAT WARNING,
AND I AM BEFORE EACH ONE OF YOU WITH MY MERCY AND MY JUSTICE.
Children, I am a Father and I love you, I warn you out of Love. Convert, renounce the mundane, stay away from what gnaws the human intelligence and takes control of the mind and of the thoughts, just like the technology that has created the means so man from childhood will see with scorn the Gift of Life and that violence rule in each act and deed until man is unrecognizable before Me.
Beloved, I invite you to pray for the Middle East, violence will continue.
Beloved children, pray for Peru, it will be shaken.
Beloved, pray for Venezuela, violence will increase.
My Mother is Protector of My children; she does not abandon My People. My Angel: the Messenger, together with My Mother will protect you and will proclaim My Love, and My children will be strengthened.
AT THE END, THE IMMACULATE HEART OF MY MOTHER WILL TRIUMPH, AND MY DIVINE WILL, WILL REIGN ON EARTH AS IT IS IN HEAVEN.
Your Jesus.
HAIL MARY MOST PURE, CONCEIVED WITHOUT SIN.
HAIL MARY MOST PURE, CONCEIVED WITHOUT SIN.
HAIL MARY MOST PURE, CONCEIVED WITHOUT SIN.