Wednesday, July 9, 2014
Message from the Blessed Virgin Mary
To Her Beloved Daughter Luz De María.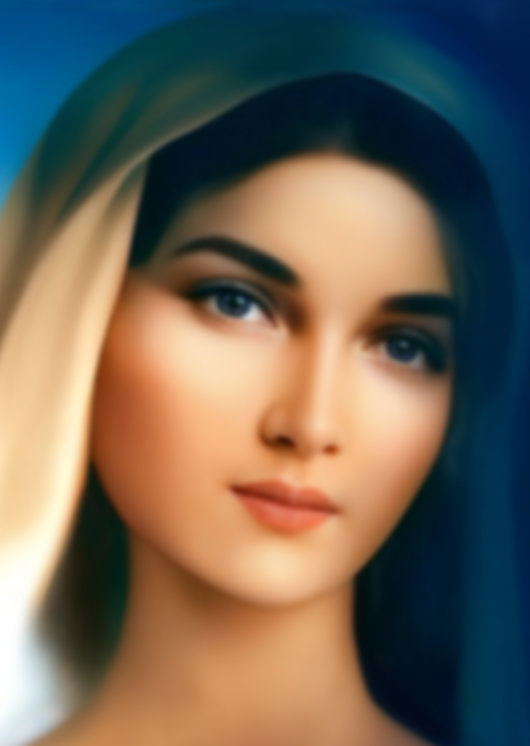 Beloved children of My Immaculate Heart:
MY MANTLE PROTECTS YOU, AND I SAFEGUARD YOU ALWAYS, NOT JUST TO PROTECT YOU,
BUT AT THE SAME TIME MY MANTLE IS THE DIVINE LOVE THAT KEEPS AWAY THE EVIL THOUGHTS FROM YOU, WHICH TAKES YOU ENTIRELY AWAY FROM THE DIVINE LAWS.
A group cannot call itself spiritual if it is not accompanied by prayer, sacrifice and be properly prepared to receive My Son in the Eucharist.
My Beloved:
My Son preached, evangelized and being that He is the same Man God, He would go away alone to pray to His Father and receive from Him, not only greater blessing and total fusion, but to receive instructions and the necessary strength.
My Beloved:
ALTHOUGH IN THIS INSTANT PRAYER SHOULD BE ACTION, ESPECIALLY TOWARDS YOUR BROTHERS IN TOTAL BROTHERHOOD, CONTEMPLATIVE PRAYER IS ALSO NECESSARY. When the creature prays repetitively and unconsciously, he doesn't achieve its intentions. With prayer you rise and come closer to the Divinity, but contemplative prayer, being alone with God, brings the creature closer to his Father.
WE HAVE INVITED YOU TO A PRAYER OF ACTION TO HELP YOUR BROTHERS AS MY SON ESTABLISHED
IT AND SHOWED YOU: healing the sick, feeding the hungry, visiting and traveling from city to city, from town to town, from home to home, from creature to creature. Thus, you as repeaters of that Divine devotion, should be in this instant totally active, but the action is not strong if it is not accompanied by prayer, of being alone with God, of communion with the Divinity.
The Father, the Son and the Holy Spirit know even the slightest movement of Their children and respecting the human will, they wait for Their children to ask what they need. In that lapse of time that you are not asking the Divine Help, you suffer needlessly.
My Beloved children:
Ask for the daily bread: which bread are you asking in this instant? The material bread to satisfy hunger or the bread of the Word? Although you do not know it, that what you really need in this instant is the Bread of Fusion with My Son; fusion which consists of téte-a-téte alone with My Son to be strengthen and thus rise over those who don't pray and don't connect in that intimate communion with My Son so that the Holy Spirit, through this intimacy, descend upon each one of you.
MY CHILDREN WORK IN FAVOR OF THEIR BROTHERS; BUT THEIR WORK IS WEAK, WITHOUT THE WEAPONS TO PROTECT THEM, SINCE THESE WEAPONS CAN ONLY BE PROVIDED WITH PRAYER, prayer in which the creature makes himself worthy and asks the Holy Spirit for Divine Help, surrendering to the Divine Will without fear, with that assurance of those lacking in great part of those who establish communities which are more social than spiritual. Brotherhood is a requisite that My Son asks, but the brotherhood is not complete if the creatures do not pray to their Father.
PRAYER PROTECTS YOU WITH THE ARMOUR TO RESIST THE ATTACKS OF THE ENEMY.
FAITH WITHOUT DEED IS DEAD, but… how can there be creatures of Faith if they do not pray, because through prayer you are strengthened by the Holy Spirit to continue in battle? How can you say you are creatures of God if you do not strengthen yourself with the Divine Bread, with the Heavenly bread from God, with the Body and the Blood of My Son?
THOSE WHO DEDICATE THEMSELVES ONLY TO DO DEEDS ARE VERY WRONG, AND
WHO DO NOT SEEK TO NOURISH THEMSELF WITH THE INTIMACY OF THE BLESSED TRINITY TO CONTINUE WITHOUT FALTERING, PROTECTED WITH THE ARMOUR OF FAITH!
My Beloved children:
YOU MUST PREPARE ARDUOUSLY, BECAUSE VERY SOON, VERY SOON EACH ONE OF YOU MUST EXAMINE YOURSELF INTERNALLY, EACH ONE OF YOU MUST LOOK AT YOURSELF; AND NOT ONLY WILL THE DEEDS AND ACTIONS BE WEIGHED, BUT ALSO THE SUCCESSFUL SURRENDERING TO MY SON, THE COMMUNICATION AND SPIRITUAL COMMUNION WITH MY SON THAT PRAYER PROVIDES YOU. I am not only speaking of praying; I am speaking about praying alone with the Blessed Trinity, to hope for greater heights, to that familiarity that can only be reached through prayer.
Each one individually must examine yourself because in the Warning you will live seconds that will seem an eternity; and more so those who have engaged in the transitory for their own convenience and have not made the effort to avoid sin; not giving to the Blessed Trinity the proper relationship due to the Divine Will; which requests that total and absolute surrendering of the human will to work and act.
My Beloved:
The world is in disorder and those who lead humanity prepare for war.
Nature will shake great Nations with force.
My Beloved, I invite you to pray for the Middle East.
Beloved children of My Immaculate Heart, I invite you to pray strongly for the United States, because their cry will be heard around the world.
(At this moment the Blessed Mother is entrusting me with a very special Petition.
She is indicating to me that said Petition will be known to humanity after it has been carried out.)
My Beloved:
MY PETITIONS MUST BE CARRIED TO AVOID GREATER EVIL.
Beloved children of My Immaculate Heart:
I WILL CONTINUE TO COME TO YOU,
ALTHOUGH MANY SAY THAT I CANNOT INTERCEDE BEFORE MY DIVINE SON …,
YES I DO INTERCEDE BEFORE HIM, BECAUSE I AM HIS MOTHER WHOM HE LOVES.
Hold My Hand and obey My pleas, be children of Love, of Faith and of Charity. Don't forget that he who doesn't love is an empty and lifeless creature.
LOVE GIVES LIFE, LOVE EXALTS,
LOVE IS FOOD AND LOVE, WHICH AT THIS INSTANT LACKS IN HUMANITY, IT MUST FLOURISH AND MORE SO IN YOU WHO ARE CALLED MY ARMY.
My Apostles of the End Times:
MAKE HUMANITY AWARE, OF THIS URGENT INSTANT,
AND BE THE ANNOUNCER TO YOUR BROTHERS
OF THE DECEIT TO WHICH YOU ARE SUBJECTED TO BY THE GREAT FOOD INDUSTRIES.
In this instant the great Herod of humanity: the nuclear energy will cause such destruction that you in this instant cannot even imagine. They say that there are great Powers that talk about nuclear disarmament but this is not so, since they are moving their weapons to smaller countries. No great Power will be disarmed on their own volition and become prey of the other Powers.
REMAIN ALERT, MY CHILDREN, THAT THE FORCES THAT ACOMPANY THE ANTICHRIST FIGHT DEVIOUSLY AGAINST MY CHILDREN. BE REPEATERS OF THIS MY CALL.
I love you and I bless you in the Name of the Father, and of the Son and of the Holy Spirit.
Mother Mary
HAIL MARY MOST PURE, CONCEIVED WITHOUT SIN.
HAIL MARY MOST PURE, CONCEIVED WITHOUT SIN.
HAIL MARY MOST PURE, CONCEIVED WITHOUT SIN.