Monday, July 14, 2014
Message from the Blessed Virgin Mary
To Her Beloved Daughter Luz De María.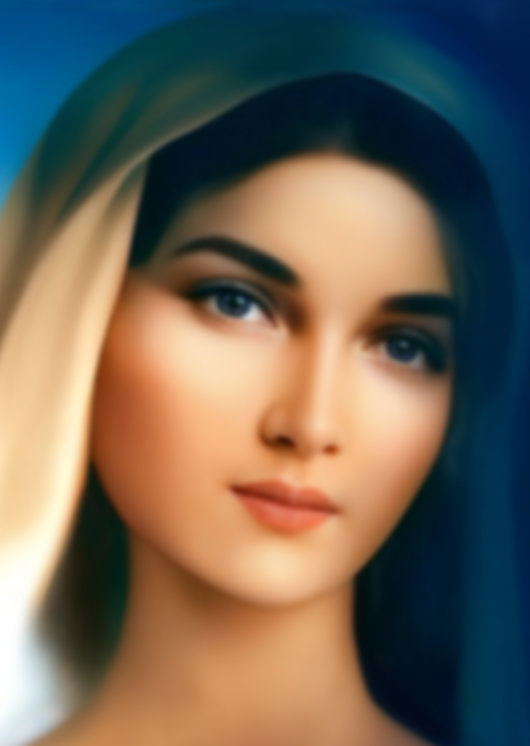 Beloved children of My Immaculate Heart:
MY ARMS REACH OUT TO ALL THOSE WHO ASK FOR PROTECTION FROM ME.
I guide My Son's People when they ask for My Intercession, I do not see faces or positions, I see souls of good will, desirous of getting closer to the right path that leads to Salvation.
Within so many buds that usually go by unnoticed, I usually find souls of great value who have been able to overcome a heavy and exhausting spiritual metamorphosis.
Mary Most Holy:
Beloved daughter, which is the path of those who follow My Son?
Luz de María:
The one that our Supreme Good left traced for those of us who follow in His Footsteps.
Mary Most Holy:
Daughter, the world leads man to behave foolishly and man directs his steps towards the amplitude of different paths. Man, like a bee, lands on every flower he sees on the way, tastes everything, except that the bee fulfills the purpose for which it has been created…, man mistakenly seeks to know and falls into grave mistakes…
Daughter: Do you know what the souls yearn for?
Luz de María:
Mother, that honey of bees that are not distracted in other occupations that have not been assigned to them.
Mary Most Holy:
My beloved: what the soul yearns for is Divine Honey, where equity is happiness, effort is thanksgiving, sacrifice is joy, longing is gladness, obedience is light, patience is unbreakable, charity: a necessity, the conscience: a companion, hope: the beacon that shows you the goal; faith is that which ceases to be mystery to be the seal that sets you apart.
Daughter, on My children's path, Love and Wisdom are indispensable to banish envy and welcome humility without discarding it. Tell me: what does the person who acts contrary to this that I have mentioned to you enjoy?
Luz de María:
Mother, some people want and enjoy the places of honor on Earth and in that wanting they cause affliction to their brothers and sisters.
Mary Most Holy:
Beloved, none of My children will find themselves free of the scathing words of their brothers and sisters above all of those who have self-appointed themselves critics. Anger alongside slander, is the stinger with which satan, mobilizing himself quickly, keeps busy those he has taken to persecute and signal out those who serve My Son. My children must maintain surety in persecution and be unbreakable.
My Son asked His own to remain sure, not to feel dejected or intimidated before those who remaining in the world, move in what is worldly, spreading defamation and calumny; on the contrary, whoever remains firm despite these opinions, walks surely towards Eternal Happiness.
Beloved daughter, those who in these instants are persecutors of My instruments are like those who previously persecuted the Prophets.
MY TRUE CHILDREN ARE THE ESSENCE OF DIVINE LOVE and although they are scorned they must not feel sorrow because of it, even if this is a reason for martyrdom.
Beloved children of My Immaculate Heart:
REMAIN IN THE TRUTH, DO NOT FALTER, DO NOT FEAR PERSECUTION BY REMAINING IN THE DIVINE
TRUTH, DO NOT FEAR DISCREDIT OR FALSE ACCUSATIONS, INSTEAD DO NOT ALLOW YOURSELVES FEELINGS CONTRARY TO LOVE TOWARDS THOSE WHO PERSECUTE YOU. MY SON SPEAKS FOR THE ONE WHO IS SILENT.
Children:
Humanity, confused by the deafening arm of evil, rushes towards pain and I suffer because of it. Like at Babel, men do not understand each other, they only wish to attain power and kill one another ruthlessly.
Instants are sufficient for man's harshness to provoke more death. A great power awaits as if asleep to scourge with force in the least expected instant. The whole Earth will suffer, in the midst of genocide, few will repent.
I insistently call so that all My children keep in mind the pain and the aftermath of a previous war.
You who hear Me:
DO NOT WAIT, EACH ONE IN PARTICULAR WILL BE PLACED BEFORE HIS OR HER OWN MIRROR, DO NOT BELITTLE THIS WARNING SO THAT YOU DO NOT SUFFER.
The Sun will unexpectedly cause man great pain.
The signs of the times do not wait and those who are spiritually blind will not see them.
Pray for Chile, it will shake again.
Pray for the United States, it will suffer unexpectedly, by man's hand.
My beloved: I suffer, I grieve for My children, I call them to fraternity, I alert them in instants in which satan and those who are his rejoice upon leading man to be worthless with himself. The metal god will lead those who have idolized it, entrusting their life to it, to desperation; I suffer profoundly for these children.
All of you children of My Heart:
HERE BEFORE YOU I AM FOUND, MY SON WAITS FOR YOU: EACH ONE OF YOU IS THE LOST SON, THE DOOR OF MY SON'S HEART REMAINS OPEN, COME SOON.
I bless you. I love you.
Mother Mary.
HAIL MARY MOST PURE, CONCEIVED WITHOUT SIN.
HAIL MARY MOST PURE, CONCEIVED WITHOUT SIN. HAIL MARY MOST PURE, CONCEIVED WITHOUT SIN.