Wednesday, July 16, 2014
Message from Our Lord Jesus Christ
To His Beloved Daughter Luz De María.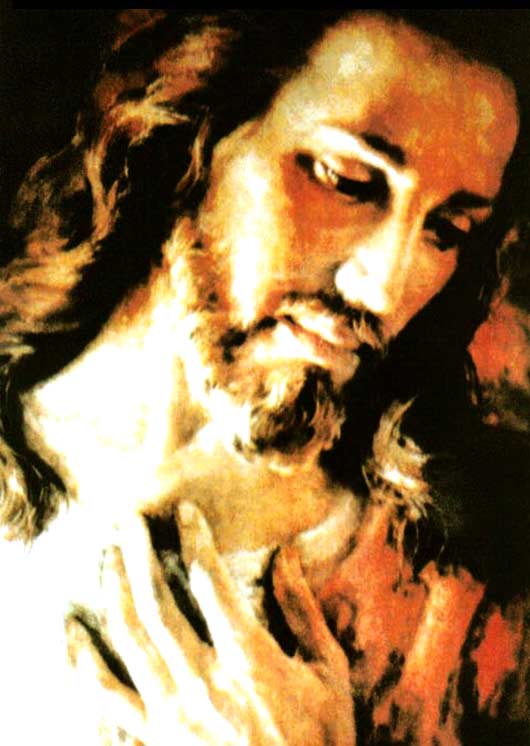 My beloved People:
I BLESS EVERY HUMAN BEING WHO CARRIES
THIS WORD OF MINE IN HIS OR HER HEART AND TREASURES IT. I BLESS EACH EFFORT THAT YOU REALIZE WITH CARE AND SACRIFICE TO DISTANCE YOURSELVES FROM WHAT IS CONTRARY TO MY WILL.
My beloved:
As Father of Love, when My children are going to suffer, I warn them through My Prophets about sufferings of every kind and amendments so that they do not continue to be strangers to Nature whom they have harmed, it calls upon man's behavior.
Pray instant to instant with confident prayer and filled with faith.
Humanity continues threatened by the great mistake of man's conscience about forgetting Me. My Mother does not stop with Her Calls and still through Her Tears, My children do not soften… She weeps before man's persistent refusal, before the constant refusal to My Calls.
MY MERCIFUL LOVE SENDS PURIFICATION IN WHICH THE JUST AND UNJUST WILL SUFFER: A PURIFICATION GREATER THAN THE FLOOD FOR THIS GENERATION: FIRE WILL FALL FROM HEAVEN.
The devil has not rested, he has secretly entered among humanity and humanity is pleased with what takes place, since it sees men's mistakes as normal attitudes, in an instant they call of renewal… Renewal that does not go with poverty or charity, on the contrary, they live in criticism to destroy My Works, they do not know silence, they see the suffering of others as a sign of victory.
Humanity:
BEHOLD THE INSTANT OF INSTANTS, ERROR SEIZES POWER, PHILOSOPHIES AND MORAL AND THEOLOGICAL ERRORS FORM THAT NEW RENEWAL, the scorn for life has invaded man and has led him to his basest of instincts.
My beloved:
UNITE, DO NOT SEPARATE EVEN THOUGH EACH ONE WILL WANT TO LEAD HIMSELF OR HERSELF; this is a great danger, it is what the devil waits for to possess souls and in that way lead all My children to declare spiritual war on Me.
The one who is the greatest of all, let him be the least and let him be humility to maintain unity with his brothers and sisters; the one who has hierarchy, let him be the most humble of all, otherwise he will not truly be a faithful apostle of Mine.
Children, do not cease to be attentive not even for an instant.
You know that they call evil good and they hide sin with falsehoods that are not My Will…
Humanity faces the greatest and most fatal war against Me and all that My House signifies…
Humanity has surpassed the evil of Sodom and Gomorrah, before so much and such fatal perversity… Leaders of great Nations have signed shady deals to seize those who are Mine and lead them to suffer and to unmeasured suffering…
You deny My Justice, forgetting that I come with the scale in My Hands and it will be just, not acquiescent with sin. My Justice is not wrong, it is Divine…
Greater interests make man erroneous to increase evil's spoils, giving false explanations about My Mercy and applauding sin the greater the better…
The increase of the persecutors of My Faithful is a great sign that I come soon to uproot from my fields those who plant chaff, promoting errors and bringing the forces of evil upon those who are Mine.
Beloved People:
Do not fear, even when the universe itself in general is horrified before man, you My People, who do not fall but conserve the Faith in My Word and are conscious of My Love and of My Justice and, knowing about My Second Coming, do not fear before those who persecute you.
Likewise My Legions wait for My Signal to help My faithful, My Angel comes with My Word to announce It and to protect those who are Mine.
My beloved People:
DO NOT FEAR THE PRIDE OF MEN. COME TO ME, RECEIVE ME AND REMAIN FAITHFUL TO MY COMMANDMENTS.
My beloved People, pray for the country of painters and rivers, pray for France, it will be attacked.
My beloved People, pray, the strength of the volcanoes makes itself felt, Yellowstone shakes and others will cause terror.
My beloved People, pray for Chile, it shakes again.
A leader of a Nation falls surprisingly.
Beloved:
PREPARE YOURSELVES IN FAITH, DO NOT FEAR MY CALLS, COME TO ME
AND MY SPIRIT WILL GIVE YOU RELIEF IN THE TRIBULATION,
COMFORT IN AFFLICTION AND YOU WILL SEE THE NEW DAWN, CLAD IN MY HOLINESS.
I love you.
Your Jesus.
HAIL MARY MOST PURE, CONCEIVED WITHOUT SIN.
HAIL MARY MOST PURE, CONCEIVED WITHOUT SIN. HAIL MARY MOST PURE, CONCEIVED WITHOUT SIN.