Sunday, July 20, 2014
Message from the Blessed Virgin Mary
To Her Beloved Daughter Luz De María.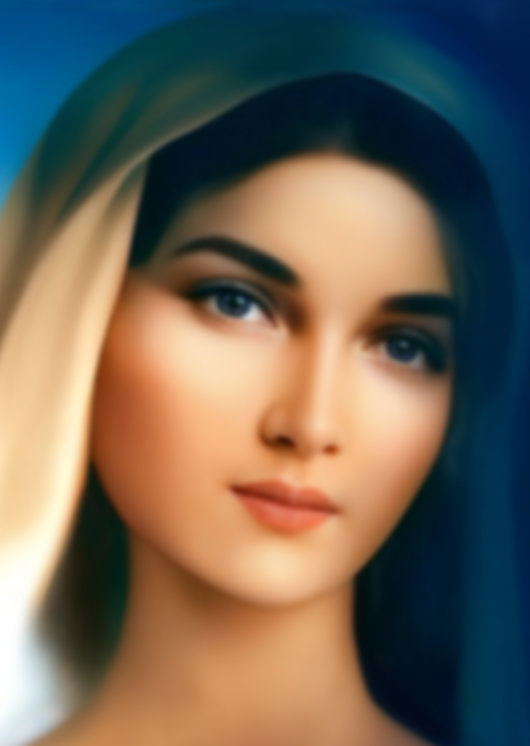 Beloved children of My Immaculate Heart:
I bless you.
YOU MUST UNDERSTAND THAT TO REMAIN IN UNITY,
YOU MUST FIRST CONSCIOUSLY DECIDE TO ACCEPT THE DIVINE WILL IN THE LIFE OF EACH ONE OF YOU AS THE ONLY PATH FOR SALVATION.
The love of God is not a word, or an action, or a work: it is a total and absolute fusion of the person with his or her Creator in a succession of works and actions in the likeness of his or her Creator.
Beloved, the instant has arrived in which man cannot conceive of tomorrow as something distant, the day evolves without man perceiving it: the sun rises and the moon comes out without the sun setting, time has become an instant, so yielding the place to the signs of this instant.
In the evolution of the instant, humanity is wrapped in a constant coming and going of knowledge, modernisms, technological competitiveness, false idols of modern music that guide you to the dark paths of satan. All of this bursts forth in the daily life of My children, dislodging Divine Love, and in its place: what do I see as a Mother? An empty man without feelings, invaded by violence towards all that signifies life, yes, life!
THE ENEMY OF THE SOUL DOES NOT PROWL, HE ATTACKS EACH ONE IN PARTICULAR AND ENTERS
HARSHLY, DEMOLISHING ALL THAT BELONGS TO MY SON AND WHAT REMAINS OF MY SON IN MAN.
Beloved children:
Pray for Japan, it will cause great anguish to all of humanity.
Pray for the Middle East, violence becomes widespread, the innocents suffer even more and this violence moves to other countries of Europe. Pray, children, for Brazil: it will suffer a great pain.
You live instants previous to that great act of My Son's Mercy, instants previous to My Son examining the conscience, the works, the actions and the behavior of every human being, instants previous to the pain or the commitment of each one in particular…
MY SON IS COMING SOON, HIS SECOND COMING IS IMMINENT FOR HUMANITY, ALTHOUGH THIS COMING WILL NOT COME WITHOUT MAN FIRST BEING PURIFIED BY HIMSELF. Do not fear; wait, wait with love and longing for My Son's Second Coming. My Heavenly Hosts remain over you, guarding you in the measure in which you allow it.
THE CONSCIENCE MUST REMAIN UNITED TO THE HOLY SPIRIT SO THAT MAN IS WORTHY OF MY SON.
My beloved, as a Mother I want all to be participants in the Divine Glory; even so, My Pain increases constantly at seeing how a great part of My children turns away. I know that some will see and others will not see the Glory; I suffer because of it.
MY SON ARRIVES BEFORE MAN. I CALL YOU TO PREPARE YOURSELVES, REFUSING ALL THAT IS CONTRARY TO THE INHERITANCE YOU RECEIVED: THE COMMANDMENTS.
My Son approaches, My Son's Glory is near, and the dawn of man towards a new Heaven and a New Earth, is instants away.
My Son's Throne will shine more radiantly than at the very hour of His Ascension into Heaven, for He comes and descends for His People and there will not be a measure to His Love and His Mercy.
ALL OF CREATION WILL RECOGNIZE ITS LORD, EVERY HUMAN BEING WILL FALL ON HIS OR HER
KNEES EVEN IF HE OR SHE DOES NOT LIVE UNDER THE LIGHT OF MY SON'S LOVE. THE EARTH AND
THE ENTIRE UNIVERSE WILL SHAKE WHEN THE KING OF KINGS AND LORD OF LORDS PRESENTS
HIMSELF WITH HIS BELOVED MYRIADS OF CHERUBIM, SERAPHIM, THRONES, DOMINIONS, VIRTUES,
POWERS, PRINCIPALITIES, ARCHANGELS AND ANGELS who will exclaim in one voice: WHO IS LIKE GOD?
All that has been created by the Father will know that the hour has arrived: the waters will move, the stars will be seen to change place, all the Earth will shake, Nature, fused in total harmony to the Divine Will, will renew itself to offer its greatest offering to the one who comes on His Throne of Glory and Majesty.
My children:
Only man, only man will fear, since he has not corresponded properly to the place My Son bequeathed to him. Only man, only man will feel himself to be unworthy before the aberrations committed by himself against life itself and thus, the lack of correspondence to My Son. All that exists will see the Divine Glory and all that remains inert, even what is inert will know that Divinity descends in Glory and Majesty.
The new resplendent dawn of the Divine Fullness will reach every human being; you will hear your names pronounced by My Son: those written in the Book of Life will be called, will be presented by all the Heavenly Hosts so that they may enjoy the purified Earth. Those who have not lived in the Divine Will, working and acting in likeness of My Son, those, those children will perish in the lake of fire, and I as Mother, suffer, suffer because of it.
My beloved children:
I have cried out to you insistently that you renew yourselves on the inside so that these hearts of stone be willingly transformed into hearts of flesh; I see so many men walking empty upon the earth being imitations of those who have been taken by evil.
My beloved children, do not wait, this is an instant and the instant is merely the blink of an eye; peace awaits man, what has been longed for awaits him, renewal awaits him. Do not retrogress, continue to strengthen the Faith, defend the innocent; in every instant My Son has spoken to His People through His Prophets and I have called humanity through My faithful instruments. Do not discard this call, I love you, I bless you.
Mother Mary.
IN THE NAME OF THE FATHER, OF THE SON AND OF THE HOLY SPIRIT.
AMEN.
HAIL MARY MOST PURE, CONCEIVED WITHOUT SIN.
HAIL MARY MOST PURE, CONCEIVED WITHOUT SIN. HAIL MARY MOST PURE, CONCEIVED WITHOUT SIN.