Thursday, July 24, 2014
Message from the Blessed Virgin Mary
To Her Beloved Daughter Luz De María.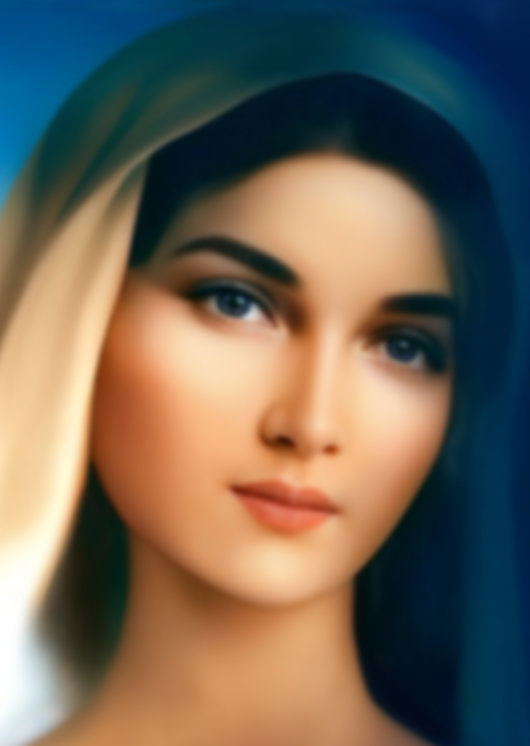 Beloved children of My Immaculate Heart:
EACH ONE OF MY CHILDREN MUST RESPOND TO THE MISSION THAT HAS BEEN ENTRUSTED TO HIM OR HER BY THE FATHER.
You have been looking for My Son outside of yourselves and… you shouldn't have gone outside of yourselves to find the one you thought was outside.
Upon finding himself in the great crossroads that is starting, man tries to find his God in what is hidden; do not forget that man will come to not recognize himself and will have forgotten completely that within himself dwells the Truth.
THE TOTAL DISPERSION IN WHICH MAN LIVES WILL LEAD REASON TO REMAIN INACTIVE,
DOMINATED BY THE LACK OF KNOWLEDGE OF GOD AND OF MAN HIMSELF AND BY THE LACK OF
KNOWLEDGE OF THE POWERS GIVEN BY HEAVEN TO OVERCOME WHAT IS WORLDLY, WITH THE END OF THE HUMAN BEING ELEVATING HIMSELF ABOVE HIMSELF AND TRULY FINDING HIMSELF IN GOD.
Beloved, humanity is far from what it calls freedom; it has mistaken the path again inspiring itself in a freedom disguised as unreality, deception and hypocrisy and tying itself more each instant to the evil that engenders evil, in the interests of the strength of the antichrist that governs already through human will, which refuses to recognize the reality in which it lives.
In this instant every human being seeks outside of himself or herself a model which to imitate, calling this freedom, refusing to see evil's objective, which is to lose man in a sea of torment, in which humanity already submits itself and will submit itself willingly because of the powerful influence that the antichrist will exercise in his public appearance.
Children:
HUMANITY HAS COME TO NOT KNOW ITSELF AS AN IMAGE OF GOD;
HARBORING HATRED AND RESENTMENTS WITHIN ITS HEART, RECOGNIZING THE ERRORS AND
DEFECTS OF OTHERS MORE THAN ITS OWN. WITH SORROW I MUST MENTION TO YOU THAT THIS BEHAVIOR LEADS YOU TO BE POTENTIALLY AGGRESSIVE HUMAN BEINGS, CAUSING NOT ONLY PHYSICAL DEATH, BUT SPIRITUAL DEATH TO YOUR BROTHERS AND SISTERS AND TO YOURSELVES.
My beloved:
I do not want fear in you but a prompt response, an effective response so that you come to My Son as soon as possible, recognizing Him as King of Heaven and Earth, ONLY IN THE FUSION OF THE PERSON WITH HIS OR HER CREATOR, WILL HUMANITY HAVE REACHED THE END FOR WHICH IT WAS CREATED.
Beloved:
War has been gestated in the midst of a false agreement of peace: some will believe in the words and others will attack by surprise. War is not a illusion, it is a reality.
It is a number of people who conspire to destroy the world, and having knowledge of it, they continue to work for those who do not measure their actions against man.
It is so many who refuse to turn to My Son's Mercy, such as those who totally deny Devine Justice!
The Earth will no longer be a land of peace due to humanity being taken by evil. Only a small Remnant will remain faithful in the midst of so much onslaught. Human disobedience will lead to man using nuclear energy, making part of humanity disappear and contaminating everything in its path.
My children:
In this instant, the love in humanity agonizes, by order of the antichrist who sent his legions of followers to fight against souls and these obey him. From there stems so much bloody fighting without reason. Man does not want to understand that evil feeds itself off of hatred, resentment, anger, of every sentiment that emanates from man and is contrary to Divine Love. This denial was the cause of man's abomination against God and will be again in this instant, causing the last and great abomination against the Sacrosanct Trinity.
Beloved, pray for those of your brothers and sisters that will perish under water.
Children, pray for England, it will soon be shaken.
Beloved, pray for Greece, it will faint from pain.
Children, pray for Chile, the lament will be great, pray.
Beloved children:
IN THIS INSTANT THE HUMAN EGO MUST BE ANNULLED BY MY SON'S LOVE THAT DWELS IN EACH ONE OF YOU. DO NOT FORGET THAT MAN TAKES PLEASURE IN WHAT IS UNHEALTHY FOR THE SPIRIT AND THE BODY, REDOUBLE YOUR EFFORTS IN THIS TIME IN WHICH DESOLATION PREPARES ITSELF WITH ITS TENTACLES AGAINST MY CHILDREN, FIGHTING TO MAKE YOU DECAY IN THE FAITH.
Do not neglect My calls, these are not a discouragement for the human being, but a permanent Call of alert so that you remain awake. My Hosts remain over you, waging battles that you do not know. MY
HOSTS WAIT FOR THE PETITION FROM THOSE WHO ARE MINE TO HELP THEM, ALWAYS RESPECTING FREE WILL.
My beloved:
THE WARNING IS NECESSARY, YOU MUST REINFORCE THE FAITH AND KNOWLEDGE; in that instant the mirror of life will reflect omissions, disobediences, personal works and action. LOVE WILL BE MERCY AND EXECUTIONER AT THE SAME TIME. In the face of this, some will revolt and reject My Son, for in the Warning, none will recognize the good or the evil of others, but only that which is personal: some will amend their path, other will deny My Son, thus becoming the great persecutors of those who are Mine.
Beloved:
DO NOT LOST THE INSTANT, EVERY INSTANT IS BLESSING! Do not falter, do not forget that blessing comes from Heaven. The Divine Word will be heard by all and the chaff will be separated from the wheat so that the wheat grows strong , thus preparing itself for My Son's Second Coming.
BE PRAXIS, DO NOT NEGLECT YOUR INNER TRANSFORMATION, IT IS URGENT, DO NOT PERMIT YOURSELVES DISUNION, DO NOT BE ONE MORE NOTCH IN EVIL'S TROPHY.
I love you and bless you.
Mother Mary.
HAIL MARY MOST PURE, CONCEIVED WITHOUT SIN.
HAIL MARY MOST PURE, CONCEIVED WITHOUT SIN. HAIL MARY MOST PURE, CONCEIVED WITHOUT SIN.