Monday, July 28, 2014
Message from Our Lord Jesus Christ
To His Beloved Daughter Luz De María.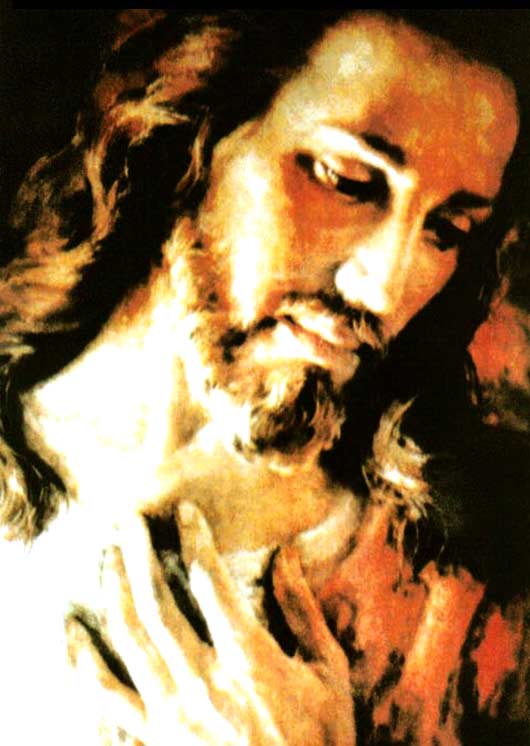 My beloved:
YOU ARE THE APPLE OF MY EYE, I CALL YOU AND WILL CALL YOU TO RENEW YOUR LOVE FOR ME.
With how much pain I walk among My People feeling the indifference and the sin that is already a force that dominates man from his own heart, dragging the conscience and the will!
Man closes himself constantly to My Love and he clears the way for that force that dominates him: sin, this leads to brothers seeing each other as enemies and breaking out against the Gift of life.
In creation everything is related; man makes his sin fall upon himself, closing himself to the Blessing from My House and letting his own mistake fall upon the Earth contaminating it.
MAN GOES FROM MISTAKE TO MISTAKE, HE SPREADS HIS EVIL AND BELIEVING HIMSELF TO BE SELFSUFFICIENT, KILLS HIS BROTHER. His brother avenges the death of his own and transgresses every law, every norm -- at the end, all come to see themselves in the same mud from which they do not come out but sink more and more.
I WALK AMONG THOSE WHO ARE MINE, AND EACH ONE IS RESPONSIBLE FOR HIS OR HER ACTIONS, however, I see you not taking responsibility. On the contrary, you act out of repetition, without thinking it through, committing faults against Me that are more grave each time.
I WALK IN THE MIDST OF MY MYSTIC BODY OF WHICH I AM THE HEAD, I SEE HOW YOU DEFORM IT WITH YOUR EMPTY ACTIONS AND WORKS WOUNDING ME WITHOUT REST. With greater pain I receive the offenses of those who have consecrated themselves to My House.
I DO NOT WANT MODERNISMS IN MY CHURCH; I DESIRE A HOLY CHURCH, LIVING IN MY WILL, WITH AWARENESS OF MY LOVE THAT DOMINATES EVERYTHING. I DESIRE AN INSTITUTION AT MY SERVICE, LEADING THOSE WHO ARE MINE IN A CONSTANT EVANGELIZATION TOWARDS THOSE BROTHERS AND SISTERS WHO DO NOT KNOW ME AND IGNORE ME.
I love all My children; I love them so much, that even though they offend Me, I do not wish to see you suffering before the coming instants. I have given My Mother to you so that under Her Mantle She protects all those who entrust themselves to Her with full freedom. Yet so much closure exists in the mind of those who are Mine, who reject My Designs over sins and sinners. You want a God who justifies sin… and that is not Me.
Your reject Me… My Requests are abandoned out of fear before the manipulation of those who dominate the rest of the world, leading man to scorn every Moral Principle, being manipulated, irrational and impulsive.
Beloved, the battle against evil is fierce, evil is amplified, it manipulates and deceives the simple or those who, thinking they know it all, do not know anything, because My Love is not static, but action in favor of your brothers and sisters.
I AM SILENCE THAT CRIES OUT IN THE DESERT OF ILL-USED HUMAN WILL…
I AM LIGHT IN THE DARKNESS OF THE MINDS OF THOSE WHO HAVE NOT BEEN FILLED
WITH MY WORD…
The person and its Creator: the greatest history of Love and the least understood…
Those who are Mine are treated with cruelty, My instruments are persecuted to silence My Voice. How blind is man! I will speak ad nauseam, until man returns to My House and after the Great Purification I will receive him, if he comes with a clean heart and dressed in white.
My beloved:
The solar storm does not wait, pray.
Pray for Brazil, its ground will not be so firm.
Pray for the United Staes, pain comes without rest.
The land wobbles before the force of the waves. Mount Etna will be at once beauty and terror.
I approach with My Justice belted to My Waist, with energy, rigor and the sweetness of My Love.
I come for those who for My Name have suffered persecution and torture.
Do not forget that children are the joy of My House and whoever abuses them bringing them bitterness, will be doubly judged.
DO NOT WALK DISTRACTED, REMAIN ATTENTIVE,
FOR THE ANTICHRIST WISHES TO DESTROY THOSE WHO ARE MINE. PUT ON THE ARMOR OF FAITH IN MY DIVINE LOVE.
My beloved, the specter of war has returned before a humanity that does not foresee its own pain, the impiety of those who do not know Me rises without rest.
Beloved children:
Do not forget that "I AM WHO AM" and My People will not be abandoned by Me. Each one of you walks with your guardian angel, invoke him. Look to the heavens, you will see My Blessing descend towards you. My Angel of Love will come to be Love and help My People; continue with unbreakable Faith.
I BLESS YOU, MAY MY BLESSING BE TAKEN BY YOU TO YOUR HOMES AND IN YOUR HOMES SEAL THE DOORS AND WINDOWS WITH THAT HAND WITH WHICH YOU RECEIVE MY BLESSING.
I bless you.
Your Jesus.
HAIL MARY MOST PURE, CONCEIVED WITHOUT SIN.
HAIL MARY MOST PURE, CONCEIVED WITHOUT SIN. HAIL MARY MOST PURE, CONCEIVED WITHOUT SIN.