Sunday, August 17, 2014
Message of the Blessed Virgin Mary
To Her Beloved Daughter Light of Mary.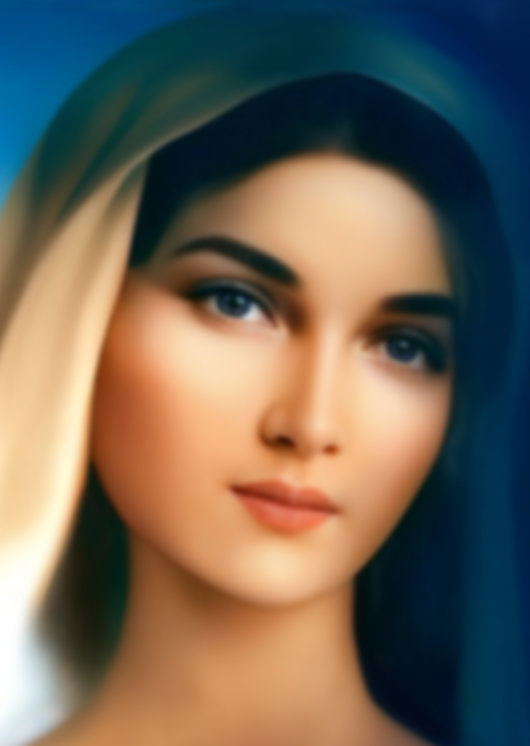 Beloved children of My Immaculate Heart:
MY MATERNAL BOSOM: THE ARK OF SALVATION, IS OPENED TO RECEIVE YOU AND PROTECT YOU.
My children:
These instants are a test and of personal decision towards good or towards evil. Not all of those who are now proclaiming loyalty and Faith on the path to My Son will continue to do so. To grow in Faith is crucial for My children, and prayer must be a personal relationship with the Blessed Trinity, because this will give the creature the certainty that he is a creature of God and that God is God. I suffer for what is happening and what will happen to you….
Temptation influences all creatures, you will succumb if you give free rein to the human "ego"; consequently it will gather strength and will defeat you separating you from My Son. STAY ALERT, THE ENEMY OF THE SOUL UTILIZES THE SLIGHTEST DETAILS AND THE SLIGHTEST WORDS TO ERECT THE GREAT WALL OF DIVISION
BETWEEN THOSE WHO REMAIN UNITED IN THE NAME OF MY SON TO CARRY OUT SPECIFIC ASSIGNMENTS FROM HEAVEN. Satan's sentiment towards man is one: discord.
My beloved:
HUMILITY MUST EXCEL IN EACH ONE OF YOU,
THAT SAME HUMILITY THAT MY SON LAVISHED EVERYWHERE.
THIS IS THE ONLY WAY YOU WILL BE ABLE TO ACCEPT THE
DIFFERENT SITUATIONS THAT YOU WILL ENCOUNTER IN LIFE.
Children, bad habits have engulfed you and you hold them within you.
Beloved, if man would have dedicated science to build the Weapon of Love, this instant would be of joyfulness and not a threat to humanity, not of bitterness or pain, not of death or tears. The war is in the blink of an eye, you blame each other, humanity is aware of the forces that make war.
Human selfishness, controlled by evil, grows against its fellowman. The rage that Satan has transferred to man to act against the Love of My Son and those who are faithful to Him, knows no boundaries.
Children:
WALK AND DON'T LOOK RIGHT OR LEFT, KEEP YOUR EYES FIXED ON THE GOAL, SEEKING GOD. DON'T FORGET THAT YOU WILL BE CONSTANTLY TESTED. My Son has not given your life to only suffer, but to offer you His Mercy and thus attain Eternal Life.
My Son is God of Love, of mercy, He is compassionate and slow to anger. And what does this generation do? Mock the Divine Love and replaces it with vices, ambition, power, lies and trusting its soul to evil, forcing the Divine Justice to correct man so no more souls will be lost.
I wait for you instant by instant with My Heart beating for you. Guide your steps to My Son, towards the Truth on the right path.
BE PREPARED: THE ANTICHRIST IN THESE INSTANTS WILL SHOW UP IN PUBLIC AND WILL SURPRISE THOSE
WHO HAVE DENIED THIS FACT; CONFUSED AND DECEIVED BY FALSE MIRACLES WHICH WILL DRAW A GREAT
NUMBER OF FOLLOWERS. BE LOVE, OTHERWISE YOU WILL BE EASY PREY TO EVIL THAT WILL FIND IN YOU FERTILE GROUND.
My beloved:
The demon and his legions will be tormentors of their followers and of those who are not; the spiritual struggle in this instant is strong and will even be much more if My children do not remain alert, recognizing evil when it comes to separate you from My Son.
There has been several periods of such struggles that the Church of My Son has confronted.
THIS IS THE DECISIVE INSTANT, THERE WON'T BE ANOTHER;
PREPARE YOURSELF AND KNOW MY SON MORE INTIMATELY,
BUT ABOVE ALL: KNOW YOURSELF BEFORE LOOKING AT YOUR FELLOWMAN; OTHERWISE, YOU WILL BE PART OF THE BLEACHED SEPULCRE THAT DARKENS BEFORE THE SLIGHTEST CONTRADICTION.
Do not forget that the example of life is the key for you to rescue souls; examples are stronger than words.
My children, humanity will continue growing in the ill-used of the human will, forgetting not the fact that all actions originate in the mind. Man thinks he knows everything and that he knows the truth about everything, this is the cause of evil actions and the fact that the world find itself out of control, thus the cause of pain for My Son and this Mother.
MY BELOVED, DO NOT FALTER IN YOUR FAITH, STRENGTHEN IT RELENTLESSLY, FACE EVIL TO AVOID MAKING YOU FALL
Pray, My children, the Church of My Son will fall into schism, division increases.
Pray, My children, for Great Britain, the pain will tinge the earth with blood.
Pray, My children, New York will suffer because of the outward anger.
HUMANITY SLEEPS AND DOES NOT HEED THE CALLS OF FATHER'S HOUSE,
IT LIVES FRANTICALLY IN THE DAILY ROUTINE AND IN ITS HABITS.
Wake up children, wake up! Do not ignore the fact that man has created evil, the nuclear energy is the apocalyptic instrument revealed by My Son.
CHILDREN, YOU CLOSE YOUR EYES TO COMMUNISM AND IT WILL FLOG YOU AND WILL FLOG YOU WITH ALL
THE POWER THAT MAN HIMSELF HAS GIVEN IT; THE DRAGON HAS AWAKEN AND MAN HAS YET TO RECOGNIZE HIM.
My beloved:
My Heart will triumph.
This Mother wants faithful children, no hesitation that will distract them from their path and the Divine Call. UNITY MUST BE THE WEAPON OF ALL WHO ARE CALLED MY CHILDREN, DISCORD IS SATAN'S FUEL.
Come and welcome My Son, fuse yourself with Him, He will not abandon you, He is the Eternal Presence of Love.
Children:
MY MANTLE IS SHIELD, LOVE AND SUPPORT. COME TO ME, I LEAD YOU TO MY SON.
I love you, I bless you.
Mother Mary.
HAIL MARY MOST PURE, CONCEIVE WITHOUT SIN.
HAIL MARY MOST PURE, CONCEIVE WITHOUT SIN.
HAIL MARY MOST PURE, CONCEIVE WITHOUT SIN.