Wednesday, August 20, 2014
Dialogue Between the Blessed Virgin Mary
And Her Beloved Daughter Light of Mary.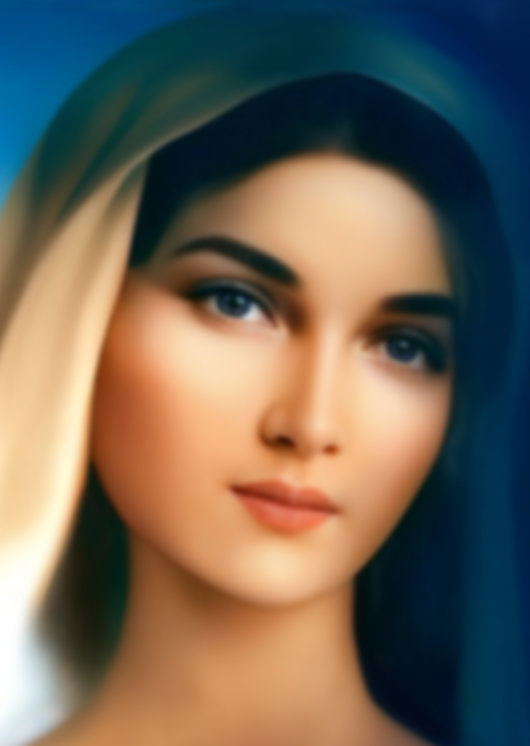 My Most Beloved Children of My Immaculate Heart:
I CALL TO YOU TO REMAIN FIRM IN THE FAITH.
I AM THE MOTHER OF ALL MEN.
Most Blessed Mary:
My beloved daughter:
Prayer is necessary for all human creatures so that man and his faculties acknowledge and accept the Divine Word. Prayer is necessary for those who remain in the way of My Son, later on the prayer will become meditation and meditation will become the encounter.
Children, it is necessary that you penetrate in the heart of My Son; He goes from creature to creature touching their hearts to let Him in. My children disdain Love; they have sunk in the abyss where they are unable to come out, degrading themselves against their fellowmen, guided by evil. I see so many Herodes on earth, doing away with innocence!
My beloved, the abyss in which humanity is now is not a passing thing; it's the beginning of great suffering of man, and which is sealed with the blood of his brothers, taking them to wander around the world thirsting for blood.
My beloved:
God loves you, this is the reason that I am here with you.
Do you know how much the present-day man has placed upon the Cross of My Son?
Light of Mary:
I cannot comprehend all the suffering, but I know that you hold it in Your Heart Mother.
Most Blessed Mary:
The Cross of My Son was made with all the sins of humanity, just see in this instant so much unimaginable atrocity, so much killing for pleasure, so much brutality, man tinges his hands with blood and this is what the scheming of the antichrist is accomplishing, by means of all the negative components of the human body that has been altered, so it will act out in total manifestation of anger and uncontrollable desire to kill without compassion.
MAN CALLS UPON SATAN TO GIVE HIM POWER, FORGETTING THAT LATER ON HE MUST SURRENDER HIS SOUL
TO HIM. Life does not end on Earth; Earth is not Purgatory, the soul does not live hell on Earth.
THE SECOND COMING OF MY SON IS IMMINENT AND THEREFORE, SATAN AND HIS LEGIONS ARE DETERMINED TO INCREASE THEIR LOOT. They are concentrated in the most outstanding events for humanity, and…have you thought how many millions of your fellowmen die of hunger in other countries?
I wonder what man sees in this instant.
Light of Mary:
Dehumanization Mother, man falls. .
Most Blessed Mary:
I AM MOTHER OF LOVE, OF UNITY; I DO NOT BRING TORTURE OR PAIN TO HUMANITY. To be a Mother means that I must warn My children of what is coming so they can prepare themselves, by praying, by receiving the Sacrament of Reconciliation, and by receiving My Son you will grow constantly in the Holy Spirit's Gifts and they will be strengthen to confront the attacks.
I must tell you, that the pain is spreading upon the Earth like a shadow, each instant it gains ground, the thoughts of man are altered and modified with methods that man ignores, man is being prepared by way of violence that has been transmitted to him by the movies, television, electronic games, all these mechanism of auto destruction have been programmed by the antichrist and his legions so that human beings will kill as though it was something natural; man has not heeded My Warnings, and has fallen into the misused technology.
My beloved, the attacks against the great Nations are being prepared to spread more suffering, in greater amount and with a greater number of victims. THE HUMAN BEING HAS ACCEPTED SATAN'S WICKEDNESS AND HAS MADE IT A REALITY, THE DEMON ENJOYS EVILNESS AND THE MADNESS OF MAN; he does not need to tempt him, since man remains in a constant negative creativeness.
Daughter, My pain by the indifference of some of My chosen children towards someone else's pain pierces My Heart one and a thousand times over.
Light of Mary:
I know Mother; I place everyone in Your Maternal Lap.
Most Blessed Mary:
Everyone that consecrates at the altar, is consecrated, he has been committed to My Son and His Church. My chosen children must not continue asleep in light of Satan's vengeance, you must arouse your parishioners. The signs of times are not without reason; they are given because of the overbearing high-handedness in justifying each action.
Beloved, My Priests should not be creatures of society, but givers of goodness to all the souls, they must be to the Likeness of My Son; instead they hasten to judge when My Son has proclaimed: "He who is free from sin, throw the first stone." Some predict and make me pain by the lack of the so-called to conversion and to the reality of humanity.
*** Daughter:
TELL YOUR BROTHERS THAT I DO NOT WANT THEM TO PANIC, BUT THAT I WILL TAKE THEM WITH MY PROTECTING HAND TO SHOW THEM THE STATE OF THIS GENERATION WHO DOESN'T WANT TO HEAR ABOUT MY SON OR ME. Religion is to ascend to a personal encounter with My Son, and in this instant it has been transformed by man into something awkward that is carried out as a formality.
My children do not want to know how much I love them; they ignore what this Mother is trying to tell them regarding all the damage that the big industries causes man's organism contaminating it with contaminated food; this is a very dangerous silent enemy, it acts on the mind, the thoughts, it changes man's thinking and actions, in this way the individual conscience regresses and humanity as a whole deteriorates. This is the instant of good and evil, the separation of the wheat from the chaff.
They do not listen and as long as they continue to behave badly and do not repent, they are fertile ground for Satan.
I am a fountain of Love to intercede for you before My Son in this fatal instant.
Beloved daughter:
IT IS NECESSARY THAT YOU REMAIN FIRM IN YOUR FAITH, AND THAT THIS FAITH WILL TRANSFORM INTO GOOD WORKS TOWARDS YOUR FELLOWMEN AND IN EVERYTHING THAT GOD HAS CREATED.
Very soon a deluge of fire will come down, and those who hearts are hardened will cry on their knees by such a powerful event.
Man has to fight to win his own victory, without weapons or annihilating the human gender. You only need to make the decision, without seeking personal glory, or effort, without humiliating your brothers, since the last one but the first one to fight against the problems and attachments of the human me. The "me" will take you away from the path.
The man who allows me to take his hand is a creature with a broad conscience and thoughts, it doesn't relax on Earth, and it does not add ignorance. There is so much that man ignores and which moves for his own good in the midst of the Universes…
In every instant there have been prophets to explain the Truth, to broaden the knowledge of man. How many lives had been taken by the limited mind of man; and afterwards on the passing of the years the same science has advised of a truth that was denied.
Each human creature must save himself with the vital help from God as well My Son had said: "without Me you can do nothing"; each one is also his own rescuer while trusting on the Divine help accepts on his own the great Truth that God is the Light and nothing of darkness belongs to Him.
MY SON IS NOT SENDING THE DESTRUCTION OF THIS GENERATION… I FOREWARN YOU TO CHANGE.
My pain is unfathomable when I see some of you very comfortable in your homes or at work, while others are in the midst of the desperation of war, of vices, of vengeance and of materialism…
Humanity has not understood that the war will spread, terrorism will be the avenging hand; and the unrest of hopeless in man will make him continue to a very serious rise de setbacks.
See how the Earth reacts before the blood of the innocents, if Earth and all of Creation obey the Divine Will… Man is ignored by Creation who reacts against him, trembling, and fire coming out of the volcanoes, by floods; because Creation wishes man to stop bullying himself. Humanity must stop violence.
Daughter, My Heart is bleeding…Enough of violence! Enough of wars that will destroy humanity! It is necessary that My Son make each one of you confront your own conscience to mitigate violence.
Human time will speed up. But I will remain with My Children, I will defend you, I will fight together with Mine, I will give you the strength of a thousand men, but this Earth must be Earth of Peace and must return to its Creator as the Creator gave it to man.
MY SON HAS ENTRUSTED THIS GENERATION TO ME AND I SHALL DO IT, THAT IS WHY YOU SHOULD NOT SEPARATE YOURSELF FROM ME,
I AM THE MOTHER OF THE SECOND ADVENT.
The angels must be forged on earth to give testimony that love exists in man, which Love that My Son came to give for each one of you.
Look on high, for from above comes the blessing for men of Faith.
DESPITE THE TRIBULATION, THE PEOPLE OF MY SON WILL
NOT REMAIN ALONE; THEY WILL ENJOY THE ETERNAL GLORY.
Pray children, a bloody event will cause humanity to panic again.
I love you, I bless you.
Mother Mary.
HAIL MARY MOST PURE, CONCEIVED WITHOUT SIN.
HAIL MARY MOST PURE, CONCEIVED WITHOUT SIN.
HAIL MARY MOST PURE, CONCEIVED WITHOUT SIN.