Thursday, August 21, 2014
Message of Our Lord Jesus Christ
To His Beloved Daughter Luz De María.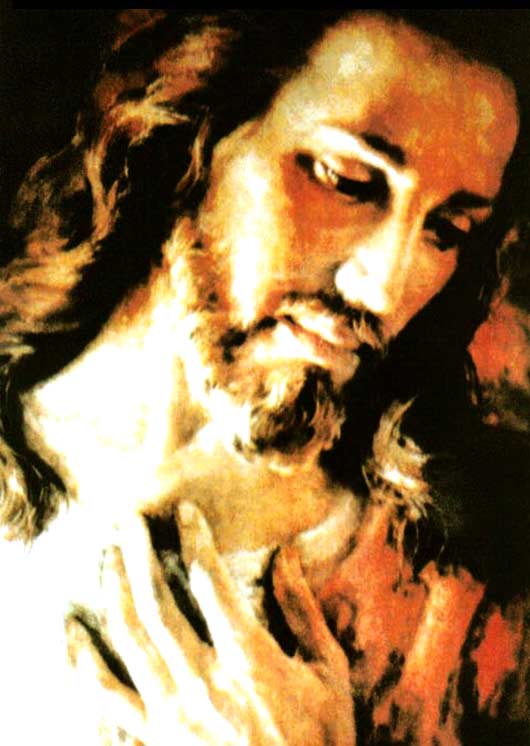 My beloved People, I Bless You, My Peace be upon you.
I AM INFINITE MERCY AND AS SUCH I REMAIN MINDFUL OF YOUR NEEDS AND REQUESTS.
I AM GOD OF LOVE AND I SEE FEW SOULS THAT ARE REFLECTION OF MY LOVE ON EARTH, BUT THOSE FEW SOULS I SHALL MULTIPLY TO INFINITY WHEN NECESSARY.
I need every one of you to be aware of how you act personally. I need you to take a conscious look at yourselves, since many of My children -too many, I'd say-, refuse to act in My Will because your "ego" dominates every instant of their lives.
I will not abandon you, My Love knows no bounds, My Love is infinite, but inasmuch as My children limit My Work and Actions upon them, I shall not be able to assist them as is My Will.
Human will still prevails, and free will flies as paper in the wind, you hesitate too much and this shows Me that a solid and firm Faith is still lacking, and that My children cannot love Me if they don´t pray, if they don´t come to meet Me, if they don´t welcome Me. Without deeds, Faith is dead but Faith needs to nourish from prayer, otherwise: What sustenance shall Faith have?
My beloved:
YOU ARE THE APPLE OF MY EYE, I LOVE YOU EVERY INSTANT OF YOUR LIVES. I NEED YOU TO BE
TRANSPARENT WITH YOURSELVES, BECAUSE YOU HAVE VOLUNTARILY GIVEN FREE REIN TO THE "EGO" AND
YOU WISH TO BE WHAT I HAVE NOT SUMMONED YOU TO BE, YOU WISH TO IMPOSE YOUR WILL BY BEING PROUD.
How much humility does Man lack for him to recognize in himself what he really is! ...
no human creature can tell Me that it was created negatively, all of you have been created with the Love of My Father; along the way you have deviated and allowed the human "ego" to fill you with pride, intolerance and imposition, but this is not My Love and He who acts as such, must make amends if he truly wishes to walk beside Me.
They are afraid of so many things!, but they don´t fear that which they should really fear, namely de "ego" that everyone of us carries inside.
They should fear those that influence them in order to kill the soul...
They should fear all those actions that are contrary to My Will...
But you fear My Angelic beings that walk beside you to show you My Love and remind you that I don´t abandon you.
You fear what you shouldn't fear and you don´t fear what you should...
You should fear offending Me, fear acting against My Will...
You should fear becoming one more of those that afflict Me continuously…
You should fear becoming my executioners, fear being one those who revile Me…
You should fear becoming one of those who crown Me with thorns…
You should fear living immersed in low passions…
You should fear becoming one more of those who wander through life, blinded and deaf.
Children, those of you who listen to Me, fight with all your strength at this time in which satan has taken possession of the Earth and spilled his poison completely into the hearts of Men, in order to rule their minds and thus, leading you to act against My Will.
My beloved People:
I STAY WITH YOU EVERY INSTANT, I DON'T LEAVE YOU ALONE.
I AM LOYAL TO MY PEOPLE, AND IN THIS DYING INSTANT OF THIS GENERATION, THOSE THAT ARE HERE
MUST PURIFY THEMSELVES IN THE FACE OF SUCH EVIL, I HAVE GIVEN MY PEOPLE TO MY MOTHER SO THAT SHE CAN COMMAND THEM WITH HER MATERNITY, TAKE THEM BY THEIR HANDS AND GUIDE THEM TO ME.
She shelters the defenseless, come to My Mother as I did when I needed her so close to Me; during My Passion, even when it isn't mentioned that She shared My Pain, My Mother particiapted of each one of my Pains and of all My Suffering.
SHE WHO IS FULL OF GRACE, SHE WHO LOVES WITHOUT BOUNDARIES, SHE IS AND WILL BE WITH MINE; JUST DEVOTE YOURSELVES TO HER AND LET HER ACT ACCORDING TO MY WILL.
Do not be afraid, children, even if what you see makes you shudder, be sure taht I will not abandon you, that you will never be alone.
BE SURE THAT EVERY STEP THAT YOU TAKE, YOU DO SO BECAUSE I TAKE IT FOR YOU.
I Bless you, My Peace be in each one of you.
YOUR JESUS
HAIL MARY MOST PURE, CONCEIVED WITHOUT SIN
HAIL MARY MOST PURE, CONCEIVED WITHOUT SIN HAIL MARY MOST PURE, CONCEIVED WITHOUT SIN