Monday, August 25, 2014
Message Given by the Most Holy Virgin Mary
To Her Beloved Daughter Luz De María.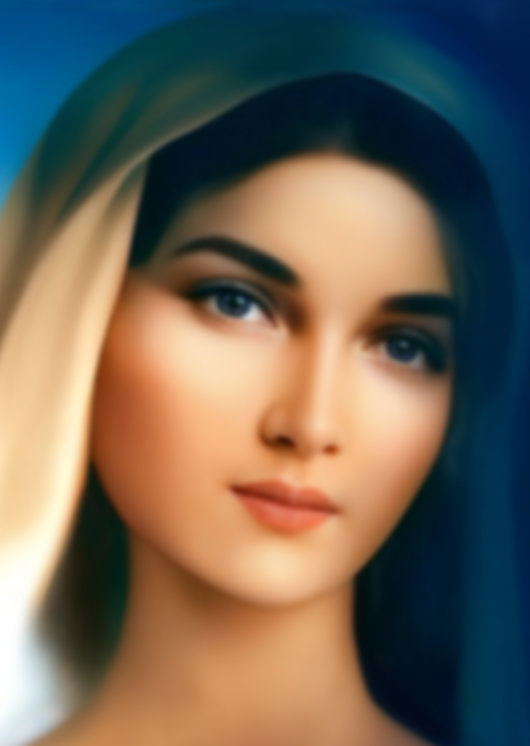 Dear children of My Immaculate Heart:
BY MY HAND YOU WILL SURELY WALK TOWARDS MY SON. THE POWER OF EVIL WILL NOT PREVAIL OVER GOOD.
DONOT DESPAIR, CONTINUE IN FAITH.
MY SON'S PROM. ISES ARE ETERNAL, THEY ARE LIFE AND THEY ARE TRUTH
My beloved:
Clearly and with discernment, watch the battle that your brothers in the Middle East are living; it will expand throughout the world, terror will visit several countries, and My children will suffer, My children who do not suffer, do not pray, do not make sacrifices for their brothers, and do not think, even for one instant, about those who suffer, as if suffering were to exclude them. No, My beloved, all acts against life will leave their mark throughout the world before the power of evil that remains, in this instant, destroying everything that represents My Son's Light.
THE UNDERSTANDING CLARIFY OF THE REVELATION I HAVE GIVEN FOR HUMANKIND HAS NOT STOPPED, IT REMAINS IN A PRESENT THAT YOU WILL SEE IN AWE; BECAUSE THIS PRESENT IS UNKNOWN FOR SOME AND IT IS REJECTED BY THOSE WHO KNOW IT.
Beloved children, corruption embraces the world, it has already anchored itself in part of the hierarchy of My Son's Church, disfiguring sanctity because My Son's enemy has infiltrated it. The masonry interferes with future decisions of My Son's Church. My children, walk surely and safely under the Commandments, the Sacraments, approach the Eucharist properly prepared.
My Son loves all human beings; I do not forsake you. In spite of this, the mundane and sinful attract your attention, and you, allowing yourselves to be tempted, fall where I have ordered you not to fall. Once more My Son is crucified on the Cross by those disobediences of His People.
My beloved, wearing inappropriate attire, especially women, has awakened in males their low instincts; thus women become the cause of great faults towards My Son To flaunt the human body is a serious offense against what My Son wishes and expects from His own children: modesty and decorum.
My beloved children of My Immaculate Heart:
It is not only those who, among humankind, openly remain against My Son's Mystical Body who offend Him, but also His children that remain within His Church, those who seriously offend Him and betray Him by denying Him in the silence of the night…
THE TEMPLES WILL BE CLOSED AND MY CHILDREN WILL NOT KNOW WHAT TO DO…
YOU MUST OPEN THE INTERIOR TEMPLE WHERE MY SON ABIDES INSIDE OF YOU, SO YOU WILL BE FILLED WITH THE HOLY SPIRIT.
My beloved children of My Immaculate Heart:
You must continue patiently waiting, augmenting and strengthening your Faith, being refuge for one another, so the enemy of the soul will not be able to cause division.
My beloved, he who holds a position within My Son's Church, within a spiritual group, must be the most humble of all; great pride moves freely and those who welcome it by their "ego" are taken by it to be instruments of disunity and division. He who is humble in truth and spirit is the one who not only humiliates himself, but also who embraces his brothers and fights to keep them near under the Divine Word, being My Son's Love, the Light that guides him to remain calmed even at times when the water is agitated.
Beloved children of My Immaculate Heart, the Earth will not give humankind a break, a truce; it will continue to flagellate man, unknown to her, because he does not comply with the Divine Will.
PREPARE YORSELVES, MY CHILDREN. THE GREAT WARNING WILL BE AN ATROCIOUS SUFFERING FOR THOSE WHO HAVE NOT HEEDED THE COMMANDMENTS OF GOD'S LAW, FOR THOSE WHO HAVE IGNORED AND REJECTED MY SON, IF THEY DO NOT REPENT SOON.
My children, the Legions of Angels will go to protect My children. Do not be afraid. Prepare yourselves; be as one.
Humankind as such regresses. Man deems unthinkable what I announce: the persecutions will allow no respite, My Son's people will be tortured by satan's followers.
DO NOT BE AFRAID. MY SON IS THE OWNER OF ALL CREATION, HE WATCHES HIS PEOPLE AND WILL N OT ALLOW HIS PEOPLE TO BE DEFEATED.
You, My children, will be My Son's refuge, and you will have Him alive in you.
MY LOVE OPENS MY HEART SO THAT AT THE PRECISE INSTANT MY LEGIONS RESCUE MY CHILDREN AND MY CHILDREN WILL NOT PERISH; LATER THEY WILL BE BROUGHT BACK TO EARTH
Beloved children of My Immaculate Heart, walk confidently, My Son's Mansion has many abodes, and the faithful must wait trusting My Son's Word of protection for those who do not deny Him.
Go onward, children, do not hesitate. Remain in truth and in spirit, totally in a constant YES to My Son.
NOTHING WILL PREVAIL OVER MY SON'S CHURCH,
EVEN WHEN THE EXACT OPPOSITE MAY SEEM TRUE. BE SOULS OF LOVE.
DO NOT BE AFRAID. I AM HERE. I AM YOUR MOTHER.
I love you.
Mother Mary
HAIL MARY MOST PURE, CONCEIVED WITHOUT SIN.
HAIL MARY MOST PURE, CONCEIVED WITHOUT SIN. HAIL MARY MOST PURE, CONCEIVED WITHOUT SIN.