Sunday, August 31, 2014
Message from Our Lord Jesus Christ
To His Beloved Daughter Luz De Maria.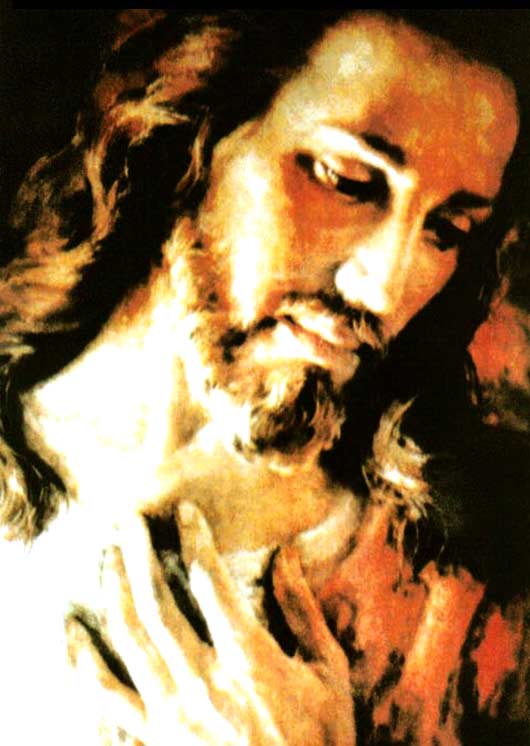 My beloved People, I bless you.
MY DIVINE LOVE EMANATES FROM MY HEART AND SPREADS OVER EACH HUMAN BEING, EACH ONE OF YOU ACCEPTS IT OR DOES NOT ACCEPT IT.
I give Myself to all equally, without distinctions, only waiting to receive the love of My children so that you are one with Me, hear My Word and make it life.
Children, My Love is a plant, its roots grow and deepen in the conscience of those who are Mine so that no wind moves you and you remain in Faith beside Me and you ask Me to be the water that makes you grow day to day.
Children:
This humanity finds its contentment in the suffering of others… This humanity pleases itself on the pain of its brothers and sisters.
This humanity remains thirsty for blood, since in some people the conscience is not known and is smothered by others…
I NEED NOT ONLY MY CHILDREN'S DISPOSITION, BUT THE DECISION TO BE MORE SPIRITUAL.
THE ONE WHO DOES NOT BELIEVE AND DOES NOT BECOME AWARE OF THE NECESSITY OF LIVING FROM HEAVEN IN ADVANCE,
WILL REMAIN INVITABLY SUNKEN IN THE MUD OF ILL USED FREE WILL.
The Signs of this Time, which has ceased to be time, do not hide the breakneck advance that pleased man has taken, in some cases to form part of the majority of humanity, in other cases for imitation, and in others, aware of what he is doing.
My beloved, in this instant the devil uses all of his schemes to lead My People to fall, those who continue their life without seeing or analyzing their actions, but continue in the footsteps of the majority.
Children:
USE THE GIFT OF REASON, THINK AND DO NOT ACT BY IMITATION. IT IS THE INSTANT IN WHICH SATAN HAS SENT ALL DEMONS TO EARTH TO LOSE SOULS. I ALERT YOU AND AM SCORNED, AS MY CROSS, MY SACRIFICE AND SALVATION ARE SCORNED.
My beloved children, humanity in its entirety will suffer for its own ignorance, with which it has accepted evil's pitfalls and challenges.
Those of Mine who dedicate themselves to seeking darkness in My Word will be greatly confused and in that confusion they will perish, attacking My Word given through My Chosen Ones.
Some believe that I forget, NO!... I wait until the final instant out of Love for those who are Mine. I am Love, that which you do not know…
Men will come who call themselves experts in My Affairs, questioning My Decrees. I will call those people with My Justice, that Justice this generation does not know, but this is the instant they will know it so that the just are not lost.
YOU LIVE IN A CONSTANT CHALLENGE OF MY AUTHORITY, YOU IGNORE MY WARNINGS, WHICH WILL GO
FROM BEING WARNINGS TO EXPERIENCES: PERSECUTION, PAIN, DESOLATION AND POWERLESSNESS– THAT IS THE RESULT OF WHAT YOU HAVE GENERATED AND CONTINUE TO GENERATE.
My beloved, a body will not be completely healthy if its heart is not healthy. The one who does not have love in his heart, in his soul, in his thoughts, will only harbor contamination and from him will only emanate disobedience and pride from which is born arrogance.
My children, humanity will be shaken by terror, the monarchy will be shocked, the awakening of My faithful People must take place in this very instant, for if not, they will be spewed into the same place as the chaff.
Have trust in Me. Whoever receives Me in Communion, conscious of what this Sacrament represents, will not be abandoned by Me.
Children, I am the Savior of all human beings, I came to Earth for all, I received all, I fed all, I called all, not only a small number of souls.
You, beloved:
DO NOT FEAR, YOU ARE NOT ALONE, I AM WHO AM, AND I WILL NOT ABANDON MY PEOPLE.
Nature groans before human laments, before the anticipated death of a great quantity of My children.
YOU HAVE BEGUN THE PURIFICATION, WHICH WILL CONTINUE TO INCREASE WITHOUT LETTING UP.
The elements will cause destruction in their wake, and My children will weep.
Pray, My People, pray for Thailand.
Pray, My People, pray for France, some of its innocent inhabitants will suffer.
Pray for England, its inhabitants will weep before man's malice. The United States will suffer at its core, pray without ceasing.
The Purification was begun by man himself who despises Me, giving way to satan's schemes.
MY PEOPLE MUST NOT FEAR, I WILL MAKE THE SAME MANNA DESCEND FOR MY FAITHFUL, THE WATER WILL NOT TOUCH YOU, NOR WILL WEEPING HURT YOU. BE UNITY, POSSESS MY SAME LOVE, ALLOW MY LOVE TO STRENGTHEN IN THIS INSTANT FOR WHOEVER IS NOT LOVE, DOES NOT KNOW OF ME.
Onward My faithful, do not fall! Do not look to where you should not look. Be astute; do not fall into the nets of evil.
I AM LORD OF HEAVEN AND EARTH, FROM MY HOUSE I WILL SEND BLESSING, MY PEOPLE WILL NOT BE
ALONE, MY WORD WILL NOT BE SILENCED, MY CREATURES WILL ARRIVE FROM ON HIGH, RESCUING MY FAITHFUL PEOPLE, I WILL BE WITH MY PEOPLE AND THEY WILL BE ONE WITH ME.
I bless you.
Your Jesus.
HAIL MARY MOST PURE, CONCEIVED WITOUT SIN.
HAIL MARY MOST PURE, CONCEIVED WITOUT SIN.
HAIL MARY MOST PURE, CONCEIVED WITOUT SIN.