Thursday, September 4, 2014
Message from the Blessed Virgin Mary
To Her Beloved Daughter Light of Mary.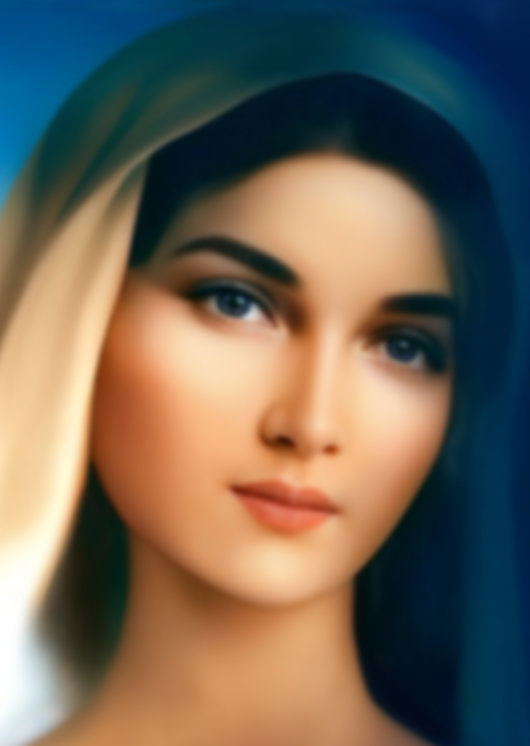 Beloved children of My Immaculate Heart:
A MOTHER DOES NOT HIDE HER LOVE IN FRONT OF HER CHILDREN, SHE DOES NOT KEEP SILENT WHEN THEY DO NOT OBEY HER REQUEST, ON THE CONTRARY, SHE CALLS TO THEM UNCEASINGLY.
The heart of an earthly mother perceives when her children are in danger; her heart speaks to her about them. How is it then that you ask me not to ardently call out to you when I see the Faith weaken in the People of My Son?
THIS IS NOT THE INSTANT TO BE LUKEWARM; IT IS THE INSTANT OF THE DECISION: IT'S YES, A DEFINITE YES, OR NO, A DEFINITE NO.
In the heart of man the soul's enemy rams continually the snare of treachery, indifference and impiety in the face of the people's pain.
Children, each instant the massification will demand from you greater commitment with the grand plan formulated by Satan and his cohorts so you will not be able to bring up your thoughts towards the spiritual and necessary, so you will not come closer to My Son and to Me.
My Beloved:
In a subtle manner, in My Son's Church, evil which will not stop, it continues growing until the antichrist takes full possession of Seat of St. Peter's on Earth.
There will so much pain when the faithful will be forbidden to obey the Commandments, the Sacraments will be forbidden and the Sacred Word of the Scriptures will be denied! So much pain! My Son's People will be deceived…
My Beloved:
TO ACT AND WORK AGAINST THE DIVINE WILL DARKENS THE SOUL AND THE CREATURE IS SUBJECTED TO THE EVIL FORCES THAT CONTROL HIM.
My Children, to serve a man is a temporary thing, but to be a servant to the fallen angels transcends time; so think about this, life does not end on Earth with death; and convert before being chained by Satan.
MY SON TRANSFORMED SOME OF THE CREATURES IN FISHERMEN OF MEN; YOU MUST CONTINUE THIS TESTIMONY, MY CHILDREN, WITHOUT FEAR, SINCE THE FALLEN ANGELS WILL SHOW NO FEAR BEFORE YOU.
Where is your Faith at this point? You must decide in this instant…, separate yourself from anything that will keep you away from My Son.
My Beloved:
I am not leaving you alone; I am letting you see the existent depravity, the hardness of the heart of man as a sign of this instant, overstepping and violating the Law of My Son, while part of the Hierarchy of the Church of My Son denies sin, the devil and hell, leaving humanity in total licentiousness.
Beloved children, Heaven will pour fire on Earth and those who have denied this Word, desolated will ask for mercy.
Children:
DO NOT JUST WAIT FOR THE PERSECUTION…
DO NOT JUST WAIT FOR THE DISEASE…
DE NOT JUST WAIT FOR THE PLAGUE NOT ONLY OF THE BODY BUT OF THE SPIRIT…
BE MY SON'S FAITHFUL AND DO NOT BE PASSIVE, BUT OF ACTION, REDOUBLING THE TESTIMONY AND THE WORD, WITHOUT FEAR; AND ILLUMINATING EVERYWHERE.
Beloved of My Son:
In these instants My Son's Mercy is abundant, it is such that the Cosmos in general will intervene and will act toward man so that man will return his gaze to Heaven. He who wishes to understand My Son, do not wish to understand Him, love Him.
Beloved, the temples will be closed at the demands of those who do not love My Son and the Sacred Sign of the Cross will be prohibited in all the public places. Isn't that a sign of this instant?
CHILDREN, THE MUNDANE PLACES A VEIL IN THE SPIRITUAL EYES OF MY CHILDREN SO THAT THEY WILL DENY
THE URGENT INSTANT OF THE DECISION; AND OF THE SEPARATION OF THE WHEAT FROM THE CHAFF AND THUS CAUSING MORE SOULS TO BE LOST. Evil, together with its allies, does not quench its thirst for innocent victims.
Pray My beloved, for England, it will suffer.
The Sun wishes to divert man's stubbornness and the suffering of man by man himself. Before a strong indication of war, the Sun will act but man will not stop.
The eagle will be wounded, it will sway. Pray My beloved for the United States.
Pray for Nicaragua, it will be shaken.
Pray children for Argentina, it will suffer by his own people, blood will flow.
In spite of this, the man with Faith will not weaken, it puts down roots like a plant and will gain strength like steel, because inside of him dwells the Infinite Love of God that doesn't leave him alone, rather shows him every instant His Presence in the midst of His People.
The former man will need to die his "ego" so that the new man will emerge: the Holy People purified, worthy of the One God and Three in One.
Beloved, the Divine Word has hidden, not because of bad will but in search of discretion; but by Divine Providence, I have come to you to give you little by little like breastfeeding babies what you did not know. Have you thought that to those who are given, it is he who has given to his brothers, and even giving to his brothers, is naive and easily deceived?
Beloved, each step that you take if you tend more towards evil, you will stray more from the absolute good. Be lamps full of oil.
I REMAIN ATTENTIVE TO MY CHILDREN, DO NOT FEAR, I AM WITH THE PROPLE OF MY SON. I WILL NOT ABANDON YOU, I WILL NOT ABANDON ANY OF YOU, EVEN THOSE WHO DO NOT CALL ME MOTHER.
LOVE MUST REIGN IN YOUR HEARTS.
I LOVE YOU ALL.
Mother Mary.
HAIL MAY MOST PURE, CONCEIVED WITHOUT SIN.
HAIL MAY MOST PURE, CONCEIVED WITHOUT SIN. HAIL MAY MOST PURE, CONCEIVED WITHOUT SIN.