Thursday, September 11, 2014
Message from the Blessed Virgin Mary
To Her Beloved Daughter Luz De María.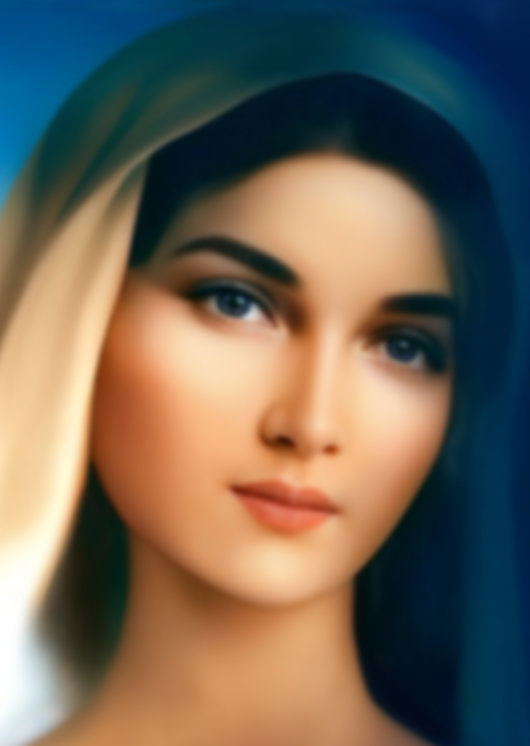 Beloved children of My Immaculate Heart:
MY LOVE SPREADS THROUGHOUT ALL OF HUMANITY.
I OFFER YOU MY IMMACULATE HEART ALONG MY SON'S MERCY SO THAT YOU DECIDE TO RECEIVE CONVERSION BEFORE THE DARKNESS DOES NOT ALLOW YOU TO SEE AND OBSCURES YOUR WILL.
My Son will not refuse you His Mercy if your repentance is sincere of heart, but the deceiver has gained excessive force and will continue to steal souls everywhere.
I CALL YOU TO THE TRUE FREEDOM OF LIVING IN THE DIVINE WILL, a freedom that is limited for man by man not being the likeness of My Son.
REMAINING FAR FROM MY SON PREVENTS YOU FROM ENTERING INTO HOLINESS AND MAKES DIFFICULT THE DISPOSITION AND WILL THAT ARE NECESSARY FOR A DEFINITIVE CHANGE OF LIFE.
Children, acquire knowledge so that you do not deny what is undeniable, in these instants in which present-day Herods have decided to wipe innocence, humility and Faith from the Earth.
Beloved Children:
DO NOT FEAR, I REMAIN WITH EACH ONE OF YOU; EVEN IF YOU DO NOT RECOGNIZE ME AS MOTHER, YOU WILL NOT BE ALONE IN THESE INSTANTS OF ANGUISH AND UNCERTAINTY.
Beloved People of My Son, you are identified as the cause of evil, of fear and of anguish… but do not fear. Those who do not want to recognize the signs or face the consequences of their own sin, are those who deny the Truth given by My Son about humanity's destiny if it continues sunken in what is sinful. MY SON ASENDED TO HEAVEN, NOT TO ABANDON HIS OWN, BUT TO CONTINUOUSLY GIVE HIMSELF TO YOU IN HIS HOLY SPIRIT.
Do not fear, they accused My Son of causing suffering; do not stop, do not forget that the one who accuses you is satan himself who roars against My children and against all those who invoke Me. Evil knows that it will be defeated by Me, by My Legions and by My children faithful to the Law established by the Father.
Children all of you, My Son announced that for this instant unbelief will run like water and that which for man should be progress will be transformed by man himself into terror for humanity, which is trying to be largely extinguished through contaminated food, through altered drugs and through some earthquakes caused by man himself through tyrannical rulers.
MAN HAS NOT LISTENED TO MY MESSAGES OR MY ALERTS AS MOTHER, AND IN THE BLINK OF AN EYE, THOSE WHO BELIEVED THEMSELVES TO BE MASTERS OF POWER IN THE WORLD WILL BE DEFEATED AND WILL SUFFER
LIKE THE REST OF HUMANITY, being prey of their own warlike creations and for having ignored that the sin against the Holy Spirit falls back onto them.
Oblivious rulers have led Nation to rise against Nation, People against People, brother against brother; evil roams the streets and dead bodies are looked upon with indifference until they are those of one's own family; you look with indifference upon that which will come to pass in all Nations – some through invasions, others through terrorism, others through famine and others because of the fact that by My Son not remaining within man, man loses control of himself and the enemy of the soul takes possession of the person and leads him or her to commit acts inspired by satan himself.
Evil will not go unpunished, the egoism of powerful leaders around the World will be their own downfall, some will rise against others, exposing what they kept in the shadows. Hidden armament will be the scourge of Peoples, I suffer because of it!... A great part of humanity will be exterminated because of this.
Children of My Heart:
ONLY AND ONLY THOSE WHO LIVE IN MY SON'S WILL SHALL BE A POINT OF LIGHT IN THE MIDST OF THE DARKNESS IN WHICH THIS GENERATION LIVES.
LIKE IN THE PAST, EGOISM IS WORTH MORE TO MAN THAN CHARITY AND UNBELIEF REIGNS DUE TO THE PRIDE OF HUMAN BEINGS.
My beloved:
Nourish yourselves with the Eucharist; it is strength for My Children. Whoever does not pray cannot call himself a child of My Divine Son. Prayer is a spring of Grace; My Son would pray to the Father being Him, the Man God. That is why not only the one who says: "Lord, Lord!" will enter the Kingdom of Heaven.
Beloved:
MY SON'S CHURCH IS HEADING TOWARDS GREAT TRIBULATIONS, TO THE POINT THAT A SCHISM WILL SEIZE IT. My Son's Church will take from other religions and will cease to be the Church that My Son founded, drinking from waters that are not My Son's Will. Division will come to It and the hierarchy will enter into profound divisions that will wound the Divine Heart of My Beloved Son. MY SON'S CHURCH WILL BEGIN TO BE PROTESTANT WITHOUT BEING PROTESTANT, SETTING ASIDE THE DIVINE WORD AND LAW.
My beloved:
Pray for England, its inhabitants will suffer before powerlessness against the evil that will lead them to suffer.
Pray without decline for the Middle East, the martyrdom of those who are Mine is a sample of what will spread throughout the world.
Pray for Israel, it will again drink from the cup of pain.
Beloved children of My Immaculate Heart:
The elements will scourge with greater force, being a wonder to man, in the face of such radical variants in climate. The Sun will cause great calamities for humanity.
TURN YOUR GAZE TO HEAVEN, DO NOT FORGET THAT FROM HEAVEN DESCENDS THE BLESSING THAT WILL LEAD MY SON'S PEOPLE TO SECURITY AND HOPE.
Do not decline, My Mantle protects the whole World; you are not orphan children, I receive you with all My Love and defend you with My Legions that remain at the Four Corners of the Earth awaiting the Divine Command.
YOU DO NOT TRANSIT IN SOLITUDE; I BURN IN LOVE FOR EACH ONE OF YOU.
OFFER YOUR SUFFERING SO THAT IT DOES NOT PASS WITHOUT BEARING FRUIT.
Remember that a bad tree cannot bear good fruit, nor can a good tree bear bad fruit.
ONWARD WITHOUT FEARS!
WHAT IS COMING IS FOR THE GOOD OF SOULS AND THE SALVATION OF MY SON'S PEOPLE.
I, Your Mother, will not walk without My beloved Children whom I do not let out of My sight.
I bless you with My Love, I bless you with My Word, I bless you so that you heed Me.
Mother Mary.
HAIL MARY MOST PURE, CONCEIVED WITHOUT SIN.
HAIL MARY MOST PURE, CONCEIVED WITHOUT SIN.
HAIL MARY MOST PURE, CONCEIVED WITHOUT SIN.