Sunday, September 14, 2014
Message Given by the Most Holy Virgin Mary
To Her Beloved Daughter Luz De María.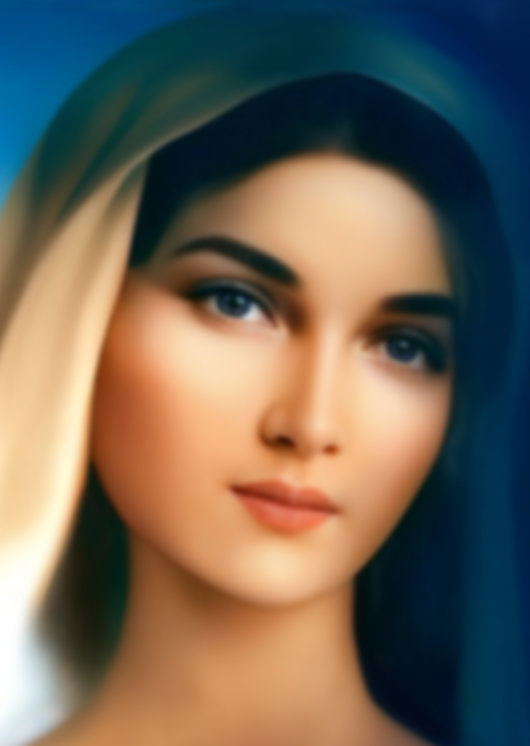 My dear children:
My Mantle protects all humankind. In haste I go to the rescue of all those who come to me asking for My intercession.
MAN'S HEART WILL BE SOFTENED BY MY MOTHERLY LOVE.
AT THE END, MY IMMACULATE HEART WILL PREVAIL AND MY CHILDREN WILL BE TAKEN TO MY SON; I WILL TAKE THEM BY THE HAND TO ETERNAL BLISS.
My dear children:
Do not look at that which you should not see; it disturbs the mind and hardens the heart. In every brother look at My Son. This way instead of acting impulsively, you will act in agreement with the Divine Will.
I ANNOUNCED THE SUFFERING OF MY SON'S PEOPLE FOR THIS INSTANT WHEN THE SIGNS ABOUND. I WAS IGNORED AND I CONTINUE TO BE IGNORED.
The offenses toward My Divine Son will increase and the human mind will find itself dozing in what it absorbs from everything sinful, more than what it is experiencing at this instant.
My children place themselves in the claws of the enemy of the soul, and they give themselves without opposing any resistance; this way they excuse themselves and will continue to excuse themselves for their indifference, their pride, their lack of knowledge, and lack of Faith.
My children, man's own intelligence must be kept awake and alert so the oppressor of the souls, your enemy, satan, will not deceive you.
At this instant, evil moves forward demolishing human beings, temples of the Holy Spirit, due to My children's ignorance because they walk without knowing all that happens in everything created by the Eternal Father for the good of humankind and which, at this instant, has hurled itself against man to make man return to his Father without presenting resistance.
My beloved:
AT WHOSE SERVICE ARE YOU AT THIS INSTANT? AT WHOSE SERVICE DO YOU.FIND YOURSELVES AT THIS
INSTANT? GOOD OR EVIL? BECAUSE THOSE WHO ARE LUKEWARM WILL BE SPIT OUT OF GOD'S MOUTH. The tare acts to exterminate everything in its path; evil acts cunningly upon man's mind making him fall.
Wheat seems fragile, the ears of wheat seem fragile when they are not joined together, strengthened by fusion in My Divine Son and fertilized with Faith, brotherly love, charity, and hope.
That which is novelty for humankind is the decay for man's spirit, if the novelty is worldly and goes against My
Son's Commandments which He established for all generations. Man cannot renounce My Son's Commandments; they are not subject to change not subject to reformation; likewise, the Cross on which My Son sacrificed Himself for His People is ONE on which everyone is found just like My Son is the same yesterday, today, and always, and is the same yesterday, today, and always.
The licentiousness of this generation seeks to establish licentiousness in My Son's Law. My children, remain alert and attentive. Too many wish to justify their wrongdoing and there will be many more who will agree.
Beloved, this generation has grown up in the shade of great progress for the good of mankind, but man himself has contaminated this progress with his pride, directing it toward his ego, his arrogance, his pride, to acquire power over the rest of his brothers.
My children should have built for the good of the soul, but every instant they built and are building for their own downfall because of their hubris.
Beloved children of My Immaculate Heart, do not discard My Calls in which I have announced to you the devastating evil that will afflict most of you by way of the nuclear energy.
In this generation the great Cain rose silently in the midst of man's ignorance. Pray. This great Cain will again bring pain to man. Pray for Japan.
Man will be demolished by the elements, children, pray for the United States; pray for Russia, it will be tested.
My beloved, the mind has been plunged in darkness, the heart hardens more and more; man, without ceasing to be man, is his own executioner. The soul is oppressed by man's deliberate unconsciousness. Do not forget you are ONE and you must walk in unity.
. Pray. Pestilence advances with more and more strength every instant, exterminating a great deal of My children.
Beloved, do not stray away from My Son. Receive Him, love Him, be aware of that constant acting in the Will of My Son. Make up your mind, take the step now, it is urgent, do not deny yourselves the Salvation.
The enemy of My children has arrived with his legions and persecutes My Son's Church; do not forget that church is all of you.
Beloved children of My Immaculate Heart:
WORK AND ACT IN DIVINE LOVE. YOU WILL BE PLACED BEFORE YOUR OWN CONSCIENCE BY THE JUST JUDGE WHO SEES EVERYTHING. DO NOT LISTEN TO THOSE WHO SAY THAT MY SON WILL NOT USE HIS SACRED JUSTICE, THEY WILL LEAD YOU TO DAMNATION.
My Son's children, My children, are persecuted; the power of the single government of humankind persecutes My Son's children, My children.
CONTINUE YOUR LIFE IN CONSTANT PRAYER, BEING LIVING TESTIMONY, IN FRONT OF YOUR BROTHERS, OF MY SON'S LOVE IN YOU. PRACTICE THE GOSPEL.
I have protected you and I will protect you; My Son entrusted this to me.
I love you,
Mother Mary.
HAIL MARY MOST PURE, CONCEIVED WITHOUT SIN.
HAIL MARY MOST PURE, CONCEIVED WITHOUT SIN. HAIL MARY MOST PURE, CONCEIVED WITHOUT SIN.