Wednesday, September 17, 2014
Message of Our Lord Jesus Christ
To His Beloved Daughter Luz De María.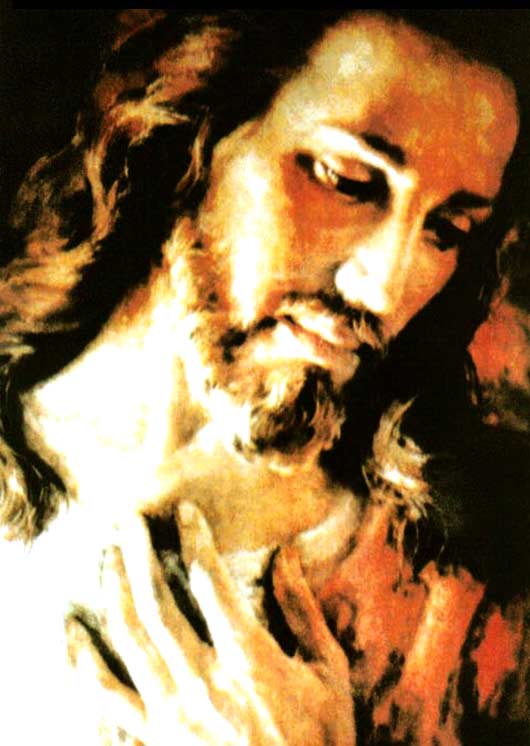 My beloved People, My beloved People:
HOW DO I SEEK YOU!...
AND HOW HARD IT IS FOR ME TO FIND YOU IN THIS TUMULTUOUS HUMANITY SO DISTANT FROM ME!
My Children, the sun of My Divine Love goes before you illuminating the way for you to look in the Spirit every step you take.
I NEVER ABANDON YOU, YOU ARE MY PEOPLE, I GAVE MYSELF UP FOR YOU, I RESURRECTED FOR YOU LEAVING YOU MY SPIRIT FOR YOU TO DISCERN CORRECTLY. MY CHILDREN GET CONFUSED AND DOUBT BECAUSE THEY HAVE GROWN APART FROM ME AND BECAUSE THEY HAVE TAKEN ME AWAY FROM THEIR LIVES.
My Spirit respects the free will of man and thus, in this terrible road humanity has taken with excessive debauchery and being respectful of the free will of My People, it is that you stop me from assisting you unless you ask me to. My Mother, Advocate of all humanity, hurts from being rejected constantly by you, Her children.
Man, possessor of intelligence, has allowed it to be darkened by not having knowledge of its surroundings and of what happens and develops around it, because of this man denies what stays before his eyes, by being ignorant of the origin and the consequences of the great perils that ravage him.
MY CHILDREN IN THIS INSTANT YOU MUST BE AWARE OF THE EVENTS THAT HAPPEN MOMENT BY MOMENT,
SINCE THE BETRAYAL TOWARDS ME IS WIDESPREAD AND IMMINENT AND I DON'T WANT MY CHILDREN TO BE TAKEN FROM ME.
Those who do not want to fall, must not only possess goodwill, must not only say they love Me but must rather show that love by raising their voice in testimony of that love they confess to Me and by transmitting to their brothers the knowledge they are acquiring, so that they not only open their eyes, but also the mind and conscience of those who are still not making an effort to acquire the knowledge.
Who loves someone whom you don't know profoundly?
You must know me profoundly in order to love me with all your being, with all your soul, with all your will...
You must know My Word profoundly so as to not be deceived...
You must remain alert of the events that happen before you, for these events to not go unnoticed as they do before those who have not concerned themselves with learning correctly.
I DO NOT WANT AN IGNORANT PEOPLE...
I WANT A PEOPLE WHO EDUCATES ITSELF, A PEOPLE WHO CANNOT BE DECEIVED.
MY PEOPLE MUST RISE STRONGLY THIS INSTANT, AS I RAISED FROM MY CROSS TO REMAIN IN IT WITHOUT FAINTING, GIVING TESTIMONY OF THE LOVE OF MY FATHER FOR HUMANITY.
How many wish to silence My Instruments when they without human fear spread My Will!
I CALL ON MY FAITHFUL PEOPLE, TO THAT WHO LOVES ME "IN SPIRIT AND IN TRUTH", TOKEEP STANDING SINCE THE PHYSICAL DARKNESS COMES AND WILL REACH ALL THE GLOBE.
It will be a Cosmic event and the Earth shall be darkened and will tremble with force, but those who fear My Justice it's because they don't know profoundly, it's because they ignore that even executing My Justice, this has My Mercy implicit, otherwise everything would be annihilated.
Sin and going against My Will is a double edged sword with which you not only hurt Me and My Mother, but your brothers and yourselves, being this sword part of the reason why man in this instant does not look at man, does not look at his brother; but rather is completely taken and affected by the indiscriminate pollution that satan and his henchmen have launched against humanity to alter it jointly with some powerful rulers of the Earth through the Cain of this generation (nuclear energy). They have achieved all this, distorting the good and correct functioning of the human organism and specially the human brain.
This confusion of the mind of man leads him to look at his brothers as enemies and flagellate Me by committing this large genocides begun with the approval of the abortion law and the acceptance of this law in several countries, and now expanding into an indiscriminate and brutal persecution towards My Church and My faithful...
MY LEGIONS SHALL RAISE MY FAITHFUL AT THE PRECISE INSTANT
SO THAT MY PEOPLE WON'T SUFFER WHAT SATAN WANTS THEM TO SUFFER
My children, My People do not deny My Word, I announce and state explicitly the events so that you won't be confused. My Mercy goes beyond any human thought and, at the same time, My Justice cannot deny it. It has been executed previously before the evil and disordered pride of those who have decided to get away from Me and to give in to the evil that breeds in the soul the enemy of my People.
My People:
THE ANTICHRIST SHALL REACH THE SUMMIT OF MY CHURCH, YES HE WILL HURT IT, BUT HE WON'T DEFEAT IT. prepare yourselves, My beloved, My Church will be strongly shaken and My Children will feel dejected, but you must not forget the faith in My Protection. The Institution, the Hierarchy of My Church will be strongly attacked by evil.
THIS GENERATION IS APPROACHING FAST TOWARDS FACING GREAT CALAMITIES.
Pray My People, pray for my Mystical Body, pray for each other. Pray My Children, pray for France, it will suffer unexpectedly.
My beloved, I keep you in my Nets if you will allow Me. You must know My Love profoundly so that you do not stumble because of the false illusions and continued lies of those who open the way for the antichrist for him to take absolute power of religion, governments, economy and absolute control of science.
If you remain willing to carry out My Will, acting and working according to My Precepts, My Legions shall remain over you giving you the strength to not fall.
My People is purified like gold in the crucible, but that same crucible shall not go beyond where I allow it as Owner of all Creation. Everything that exists came out of the Hand of My Father, it cannot be that my People ignore the Divine Omnipotence that created the Universes.
MY PEOPLE MUST ACCEPT MY WORD OBEDIENTLY, WITH LOVE AND HAPPINESS THAT MORE THAN RIGHTEOUS IT IS MERCIFUL; BUT I CANNOT ALLOW THIS GENERATION TO CONTINUE WITHOUT BEING PLACED IN THE SCALES.
Stay close to Me and do not forget that My Law cannot be changed.
LOVE EACH OTHER, LOVE EACH OTHER AS I LOVE YOU, OFFER ME EVERY ACTION AND EVERY DEED OF THE DAY FOR THOSE WHO DO NOT LOVE ME AND FOR THOSE WHO SCORN AND DENY MY MOTHER.
My Beloved People, I come for you:
I thirst for the souls of those who love Me...
I thirst for valiant souls...
I thirst for souls that do not fear sharing My Love and My Word.
Join in Brotherly Love, do not stray from My Mother, She intercedes for each one of Her Children.
MY SACRED HEART BURNS OF LOVE FOR YOU,
LONGING TO FIND THE LAMP LIT IN EACH ONE OF MINE.
My special blessing is with all those who consciously share this My Truth.
I Bless you in the Name of The Father, in My Name and in the Name of Our Holy Spirit. My Protection is with My People, I bless you.
YOUR JESUS
HAIL MARY MOST PURE, CONCEIVED WITHOUT SIN
HAIL MARY MOST PURE, CONCEIVED WITHOUT SIN HAIL MARY MOST PURE, CONCEIVED WITHOUT SIN