Wednesday, September 24, 2014
Message from the Blessed Virgin Mary
To Her Beloved Daughter Light of Mary.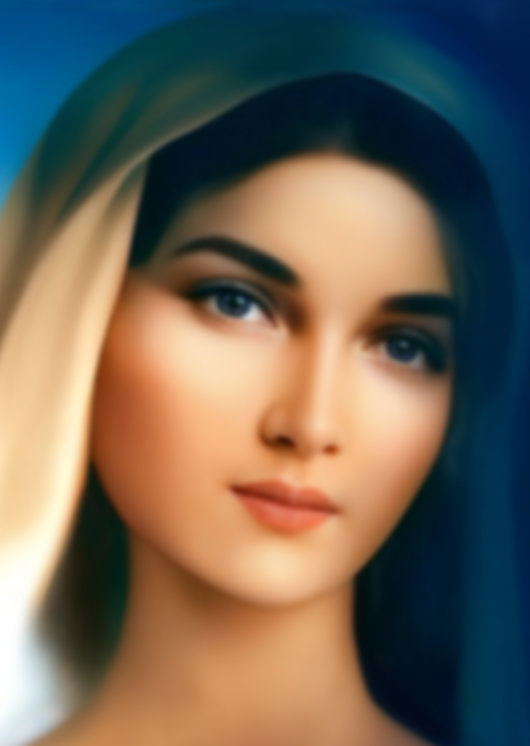 My beloved children of My Immaculate Heart:
I LOVE YOU; YOU WELL KNOW THAT I LOVE YOU ALL IN THE SAME DEGREE.
The wind blows all around the Earth which carries the contamination created in the great big laboratories, by the hands of men without a conscience. I suffer so much for what will happen to My children! My hand stretches out upon each one of the human beings, My children. All are My children; I welcomed all of them as My children at the foot of the Cross.
Beloved children of My Immaculate Heart:
This generation is going through crucial instants; they will be bloodier on the passing of each instant.
My beloved, violence will increase, generated in the mind, in the thought and in the hardened heart of man. This is not the man that God the Father created, this man is fruit of the misused of science.
Beloved children of My Immaculate Heart:
GREAT ARTIFICIAL SATELLITES ARE SUSPENDED ABOVE; AND FROM THERE ORIGINATES THE CONTROL OVER MY CHILDREN. Those who live separated from My Son, giving in to all pleasures and to everything mundane and sinful; they are prey of these Powers that from above contaminate My children to prevent them from being men of peace, creatures of good.
MOST OF HUMANITY IS KEPT UNDER CONTROL BY THOSE WHO ARE PREPARING THE GREATEST WORLD
CONFLICT. INTERESTS REIGN EVERYWHERE, NOT CONSIDERING HUMAN LIFE, OR COMPASSION, AND MUCH LESS LOVE.
My children, suffering is spreading throughout humanity in gigantic steps.
I suffer because of this…
I suffer for My children, who will live instants of despair …
I suffer because they are not aware that in the midst of shadows and darkness, the great interests of the great Powers can be found, which are fighting to control all the natural resources of Earth, and in this way maintain control over all the other Nations.
My beloved:
The Earth itself will come to deny man its resources so that man will respond; but man, his mind, his thoughts and his heart are so contaminated that he will not cease and they will attack one another.
Beloved children, do not dismiss what you see in this instant, or are you going to deny that the Sun comes out to give you daylight and hides so that the night will have moonlight? The same way you cannot deny the Signs of Times and in this instant in which time has ceased being time, the Signs are there for all of you to see.
DIVISION IS SATAN'S WEAPON. Some of My children argue against my other children as if they possessed the truth of everything, they don't realize that they might be the most ignorant of them all, it is not enough just to read My Messages and My Apparitions throughout the history of humanity, but it is also EXTREMELY NECESSARY TO CARRY OUT EACH ONE OF MY WORDS, THE DESIRE OF CONVERSION AND TO BEGIN CONVERSION. THIS IS WHAT I DESIRE FROM THOSE WHO CALL THEMSELVES MY CHILDREN.
I come to call My Son's people to return to Him promptly. My Son's time is not man's time. How many of you keep a written list regarding the events previous to the end of the Great Tribulation, regarding the previous events before the arrival of the antichrist, regarding the events preceding World War III! How many are still waiting for the signs! MY CHILDREN, THESE SIGNS ARE RIGHT IN FRONT OF YOU, BEFORE THE EYES OF ALL HUMAN CREATURE, PERHAPS YOU HAVE FORGOTTEN THAT MY SON IS OMNIPOTENT, AND THAT THE SIGNS
AND THE EVENTS THAT I HAVE REVEALED TO YOU CAN HAPPEN ONE RIGHT AFTER THE OTHER IN THESE INSTANTS.
Do not forget children, that you are right now in the Purification and that the Tribulation of My Son's people has begun. I suffer for My children that are massacred iniquitously. I suffer for the innocents; thus they are taken before My Son "ipso facto" by My Heavenly Legions.
Beloved children:
It is necessary that you see not with the eyes of the body but with the spiritual eyes so you will be able to discern the signs that are before you, otherwise you will fall into the claws of the one who emerges to weaken and destroy all My children, disregarding that it is scourging My Son's people, it can give death to the body, but the soul of those who suffer for My Son's sake will not be lost.
My beloved, don't forget that the Earth will deny man its resources and famine will strike everywhere.
Pray, My children pray for Russia, I hold them in My Heart.
Pray, My children pray for My beloved People of the United States, their heart will suffer. Pray, My children, pray for Ecuador, the volcanoes roar.
Beloved children, you who enjoy peace and food, do not ignore those who suffer in this instant and those who die of hunger, do not forget those that in this instant are martyred for keeping the Faith in My Son.
Beloved children:
IT IS NECESSARY THAT YOU SOFTEN UP YOUR MIND, OPEN YOUR
THOUGHTS, SOFTEN UP AND OPEN YOUR HEART TO GET TO
KNOW THE TRUTH THAT IS HIDDEN BEHIND THE WORLDWIDE EVENTS.
DO NOT TAKE PART IN VIOLENCE, BE MESSENGERS OF PEACE AND LOVE. DO NOT TALK AGAINST A FELLOWMAN, BE CREATURES OF GOOD.
My children, I protect you, united and sheltered under My Maternal Mantle I will guide you in every instant.
Where there is pain, I will be your refuge…
Where there is bitterness, I will be the honey…
Where there is injury, I will be the balsam…
Where there is loneliness, I will be the Star that will illuminate and guide you…
Where there is fear, I will be your strength, BUT DO NOT DOUBT AND DO NOT HESITATE IN THE FAITH.
My Son is your God and this Earth is His possession…
My children will give the Earth to its Creator, renewed from so much refuse, from so much sin and so much death.
My children will hand over this Earth purified, but, there will be so few who will come to this instant to hand over the Earth to My Son!
HOW MANY ARE MADE KNOWN TO THE WORLD, IN THEIR NATIONS, IN THEIR COMMUNITIES AS FAITHFUL CREATURES OF MY SON!
BUT IN THE INSTANTS OF THE MOST CRITICAL TRIBULATION THAT ARE FORTHCOMING; THEY WILL DECIDE TO KEEP ALIVE BY DENYING MY SON.
BECAUSE OF THIS IS THE REASON THAT I INSISTENTLY INVITE YOU AND
I ASK YOU TO INCREASE IN THE KNOWLEDGE OF MY SON, IN THE KNOWLEDGE OF MY SON'S LOVE, OF MY SON'S MERCY, AND OF MY SON'S MERCIFUL JUSTICE, AND OF THE KNOWLEDGE OF MY CALLS TO HUMANITY IN DIFFERENT COUNTRIES AND IN DIFFERENT TIMES.
The ignorant is he who argues in the public media against those who My Son has chosen so that in this instant they will make known His Will to all humanity.
Continue holding My Hand, that My Son's people will find Me, though they be just a few! …but the faithful, those who love My Son in spirit and in truth, who will never deny Him and remain standing, those who are firm and true, they will be the one who will give My Son the Reign of His Will.
I WILL CONSTANTLY HELP YOU AS PER MY SON'S REQUEST. I WILL BE YOUR ADVOCATE BEFORE THOSE WHO ACCUSE YOU UNJUSTLY.
You are not alone nor will you be alone, do not forget that My Son will send His Word from above to Earth to protect His people so they will not give themselves up to the evil's oppressing hands. My Son will send help to His people and His people will be protected and guided by the Divine Will.
Children of My Immaculate Heart:
I AM THE MOTHER AND QUEEN OF ALL CREATED, COME TO ME, I AM YOUR INTERCESSOR BEFORE THE BLESSED TRINITY. THIS IS THE INSTANT IN WHICH YOU MUST CONVERT, AND YOU MUST NOT WAIT ANY LONGER.
Receive My Son in the Holy Eucharist, receive Him worthily, love Him, do not forget that you are Temple of the Holy Spirit and renew yourself internally with a generous spirit so you will give true testimony of He who dwells in you.
DO NOT DENY MY SON EVEN THOUGH FEAR MAY INVADE YOU, DO NOT HIDE THE CROSS FOR FEAR A BEING DISCOVERED AS CHRISTIANS, KEEP YOUR FAITH IN MY SON AND DO NOT FEAR.
I am here, I am your Mother, I protect you and I bless you. My children, I bless you before the earth begins to shake.
My Mantle covers you; it will protect you and help you if you keep your Faith. May My blessing be upon all humanity.
Mother Mary.
HAIL MARY, MOST PURE, CONCEIVE WITHOUT SIN.
HAIL MARY, MOST PURE, CONCEIVE WITHOUT SIN.
HAIL MARY, MOST PURE, CONCEIVE WITHOUT SIN.