Monday, September 29, 2014
Message from the Blessed Virgin Mary
To Her Beloved Daughter Light of Mary.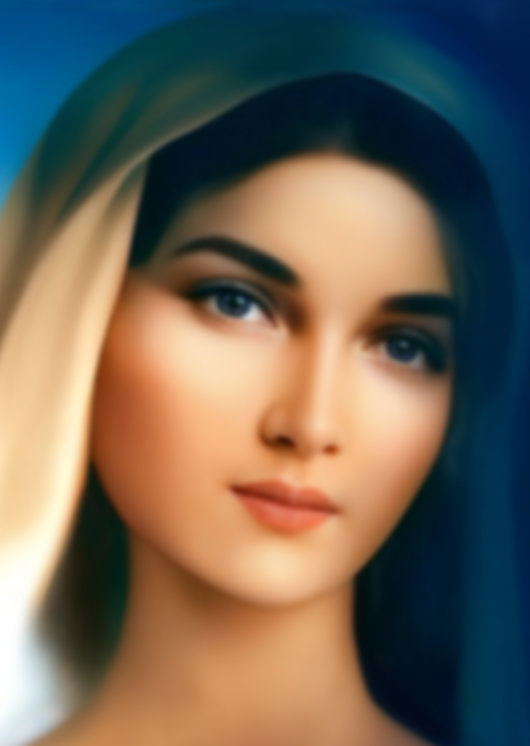 My most beloved children of My Heart:
MY SON LOVES YOU WITH AN ETERNAL LOVE… AND I AS MOTHER OF ALL HUMANITY LOVE YOU INFINITELY.
MAN MUST FIND HIS WAY BACK TO THE TRUTH, HE MUST ACKNOWLEDGE MY SON; THEREFORE IT IS NECESSARY TO HAVE KNOWLEDGE, otherwise, how will you find your way back if you have not acquired the knowledge about My Son, about His Love, about His Word, about the Laws and the Commandments of the Father? IF MAN DOES NOT ACQUIRE THE KNOWLEDGE IT IS INFINITELY DIFFICULT TO UNDERSTAND THE TRUTH.
In this instant the soul's enemy has acquired great influence over the souls, and with the authority allowed by the free will, it will lead you to perdition… I suffer because of this. My Heart suffers by all the aberrations caused by man. My Son suffers great pain because of this.
Beloved children of My Immaculate Heart:
THESE ARE INSTANTS IN WHICH ALL THOSE WHO SAY THAT LOVE MY SON IN SPIRIT AND IN TRUTH MUST
GIVE TESTIMONY OF THAT LOVE
AND OF THAT FAITH THEY PROFESS.
THE CHURCH, THE MYSTICAL BODY OF MY SON, MUST GIVE
TESTIMONY WITH FAITH OF THE LOVE IT PROFESSES TO MY SON.
The testimony is not only expressed in prayer, the testimony in this instant must be ACTION. Besides praying with great fervor, to love infinitely My Son as you well know, besides nourishing yourself with the Body and the Blood of My Son and to strive to fulfill the Commandments; you must give PUBLIC TESTIMONY of your love to My Son, and each one of you be bearer of the Good News of My Son.
EACH ONE OF YOU, AS MYSTICAL BODY OF MY SON, MUST ANNOUNCE WITHOUT FEAR THE MERCIFUL LOVE OF MY SON AND ALSO THE MERCIFUL JUSTICE OF MY SON that the unrestrained free will of man takes you, otherwise the Divine Justice would not have to take such action. Humanity is responsible for its bad works and actions; it is responsible for the imminent Divine Justice which man draws nearer to every day.
My children:
How lightly you take the events that are taking place in this instant! You do not feel them in your own flesh and are indifferent, but those who are proof of the love of My Son, must warn their brothers that are not conscious so they will recognize the signs of this instant.
Confusion reigns everywhere, Satan has known how to prepare well for this instant in which humanity has ignored My Son and this your Mother, they have banished My Son and they scorn Me. Because of this, man is spiritually weakened and the devious evil had made him fall to the lowest a man can get.
THE WORD OF MY SON IN THIS INSTANT IS GIVEN TO EXPLAIN WHAT IN OTHER OF MY APPARITIONS I HAVE ANNOUNCED TO HUMANITY,
BUT THE HUMANITY HAS FORGOTTEN.
The war is right before your eyes and you still don't realize it. The mind of My children was invaded and through technology has been trained to the service of evil; through video games at this instant they watch the development that is taking place in the war like something normal in man's life. Oh, how the misused technology is scourging humanity!
It is painfully to watch that in spite of My Calls, My children continue to allow their young children, young adults and also the adults themselves to be submerged in the violent games. Humanity is submitted to violence from every angle, free will continues to keep violence in their memory on its own free will, through the harmful technology developed in the video games; this prepares the human mind to act without feelings.
HOW IS IT THAT MY SON'S PEOPLE DO NOT RECOGNICE A TENTACLE OF THE ANTICHRIST? They do not recognize it because they are not informed regarding these facts, because they do not go in depth into the knowledge of what comes to them. Prepare yourself and know everything that comes to you and you will find Satan behind all this, you will find the imprint of the antichrist behind all this.
My children:
THE ANTICHRIST IS NOT AN INVENTION, IT IS SATAN'S OFFSPRING, and you think that he will reprimand with harshness, that he will fight openly against My Son's Church to acknowledge him, you think this way because you do not know the scheme prepared by him, and his cohorts, all of them united prepare a throne for him, a one government, a one currency, a one religion, one order, a government that will be the scourge of My Son's Mystical Body, to which I will watch with sadness reduced to a small number of souls. Whatever I say to you today, is being prepared in silence so humanity will not blame him but see him as a savior.
Beloved children, you are waiting for an aggressor of My Son's people, you are so wrong! The antichrist will present himself with false love and hidden cleverness, with softness, without imposition and therefore it will be difficult for you to recognize him in the first instant until he, already in possession of humanity, initiates and develop his vile plan and to persecute all those that continue keeping the Faith in My Son.
My children:
How much I regret that you continue to be lukewarm and comfortable!
How much I regret that you don't become knowledgeable; and because of that ignorance you emphatically deny without any doubt everything that I warn you about!
How much it hurts Me that you deny Satan's existence, that you deny the presence of the antichrist on Earth, out of ignorance!
I INVITE YOU TO BE SPIRITUALLY KNOWLEDGEABLE PEOPLE BEFORE ALL ADVANCE TECHNOLOGY THAT WILL
GNAW YOUR MIND AND HARDEN YOUR HEART AND WILL TAKE CONTROL OF MY CHILDREN DUE TO THEIR DENIAL OF EVIL THAT EVEN SOME OF MY PREFERRED CHILDREN DENY. EVIL EXISTS, CHILDREN, HE DECEIVES YOU SO YOU WILL FALL INTO HIS SNARE.
My beloved:
My Son's people are so heedless, My children are so heedless!
How is it that in this so crucial instant for humanity they refuse to listen to me?
It's because they do not want to be forewarned; it is more convenient for evil to prey upon an ignorant people so his strategy will be much easier. .
My beloved children:
How do you expect to recognize the antichrist, the one that will sit in St. Peter's Chair on Earth? How do you expect to recognize him?...
My children:
THE ANTICHRIST MAINTAINS AN IMMENSE POWER OVER HUMANITY THROUGH HIS MANY TENTACLES, AMONG THEM THE WORLD ECONOMY. This is controlled by a group of economically powerful creatures. And you are deceived instant by instant; you do not want to listen to My Warnings. The economy will collapse in a blink of an eye, chaos will overcome all My children when the god money disappears and that is when the leaders will decide under what conditions the livelihood of My children will be administered.
All this is the grand purpose of the antichrist and in this instant the people are ready for this purpose to advance quickly, because the seed of My Son's Love has been planted in rocky ground so that it won't grow.
My beloved, the black gold will be taken by those that have wanted to possess it to control humanity, this is part of the fight of the Nations. The world economy will fall and a one currency will be imposed.
My children:
MY HEAVENLY LEGIONS WILL FEED MY CHILDREN,
I WILL NOT PART FROM YOU NOT EVEN AN INSTANT, WALK IN FAITH BUT ALSO KNOW THE SOUL'S ENEMY AND ITS TRICKERY SO YOU WON'T FALL INTO HIS CLUTCHES.
My children, everything will be fulfilled, My Son's Mystical Body will be shaken and will be deeply wounded, in spite of this do not lose Faith, remain standing and be living testimony of the work and actions of My Son. My Son not only restored sight to the blind, He did not only miracles but He gathered the multitudes to teach them the Word of His Father and to tell them about the Kingdom. This is the way you must work and act in this instant.
MY PREFERRED CHLDREN MUST SOFTEN UP THEIR HEART AND MIND; YOU MUST REMEMBER THAT YOU PROMISED TO PROTECT MY SON'S FLOCK THAT HE PLACED IN YOUR HANDS AND CONSEQUENTLY WARN THEM ABOUT EVERYTHING THAT WILL LEAD MY CHILDREN TO FALL BECAUSE OF IGNORANCE. "Not everyone that says Lord, Lord!, will enter in the Reign of Heaven", only those who live, work and act in the Father's Will; and the Will of the Father is that My Son's people be warned of all the threats surrounding them everywhere.
I HAVE NOT MENTIONED IN ANY OF MY CALLS THAT THIS WILL BE
THE END OF THE WORLD BUT THAT THIS GENERATION WILL BE PURIFIED;
THIS GENERATION HAS CALLED THE PURIFICATION UPON ITSELF…
If man is good, good will come to him….
If man walks in spirit and in truth, the Holy Spirit will bestow upon him His Gifts…
If man loves his brothers, the Divine Love will descend upon him, but he who walks without love, indifference will take possession of his senses and of his heart. He who raises his hand against his brother will call violence upon himself.
My children:
EACH ONE OF YOU CALLS MY SON'S JUSTICE UPON YOURSELF AND UPON HUMANITY.
What has happen to My Son's people? I see so very few in this instant! And from those few, how many are truly faithful and are not fearful to be singled out?
My children:
YOU WHO ARE PART OF A PRAYER GROUP, OF APOSTOLATE GROUPS,
YOU, WHO SERVE MY SON, WILL BE HARSHLY TESTED AND PURIFIED AND THE NUMBER WILL BE REDUCED, BECAUSE NOT EVERYONE WILL BE WILLING TO SACRIFICE THEMSELVES FOR MY SON.
My beloved people, beloved children of My Immaculate Heart, you are My Son's people, My Son has entrusted me to present to Him his true Church, that is why I constantly guide you, I insistently call upon you to be faithful, to give living testimony, not be ashamed to profess the Faith, and I call upon you and I invite you to imitate this Mother at the foot of the Cross of Glory.
Pray My children for the United States, it will suffer greatly.
Pray My children for China, its people will be in pain.
Pray for North Korea, My children will suffer.
REMAIN WATCHFUL, DO NOT FALTER IN ANY INSTANT, DO NOT FORGET THAT I AM YOUR MOTHER AND I WILL NOT ABANDON YOU IN ANY INSTANT.
MY MANTLE IS YOUR PROTECTION, IT WILL SHIELD YOU, REMEMBER THAT MY FAITHFUL CHILDREN WILL BE MARKED; SO YOU WILL RECOGNIZE EACH OTHER.
I love you infinitely, come to Me, I am your Mother, do not fear. You will see the new Heavens and the new Earth and united to My Heavenly Choir you will sing: Alleluia, alleluia, alleluia to the One God and Trinity!
I BLESS YOU CHILDREN, DO NOT FALTER, I AM HERE, I AM YOUR MOTHER.
I bless you in the Name of the Father, and of the Son and of the Holy Spirit. Amen.
Mother Mary.
HAIL MARY MOST PURE, CONCEIVED WITHOUT SIN.
HAIL MARY MOST PURE, CONCEIVED WITHOUT SIN.
HAIL MARY MOST PURE, CONCEIVED WITHOUT SIN.