Wednesday, October 22, 2014
Message from Our Lord Jesus Christ
To His Beloved Daughter Light of Mary.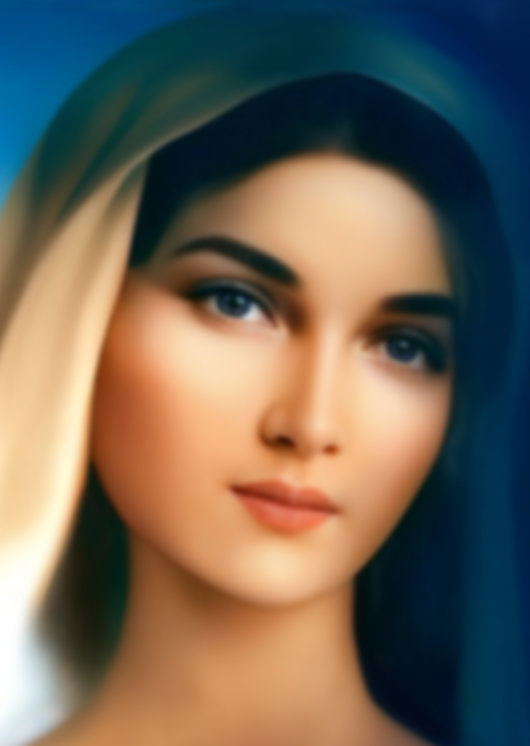 My beloved people:
YOU ARE MY PEOPLE AND I AM YOUR GOD.
My people, My faithful children, you will not fall, you will never be defeated no matter how strong the winds are, no matter how hard the spiritual battle is, IF MY CHILDREN LIVE AND FULFILL MY WILL, THEY WILL NEVER BE DEFEATED.
I remain and will always remain with My people as their King, as their Lord and their God; and My people will adore Me and glorify Me until the Last Judgment.
I HAVE ANNOUNCED MY SECOND COMING IN WHICH I DO NOT ANNOUNCE THE END OF TIMES BUT MY SECOND COMING.
But, I find so many of My children distracted by worldly matters!
My Mother has announced the final Signs of this generation throughout all Her Apparitions… but Her Call has not been heeded and in this instant My children deny the Word of My Mother, they forget that I choose My instruments, the smallest ones, those that no one looks at, so that the Work of My Spirit manifested in the creature be noticed. I have not looked for the doctors, I have not looked for great theologians, I have not looked for great hierarchs, and I have not looked for the eminences of the world. I come for the simple and humble of heart, to those who allow Me to transform them, I come to those who seek me and obey My Calls and the Calls of My Mother, these are the just, and these are the ones who preach My Word.
YOU DO NOT LOOK FOR THE SIGNS OF TIMES, YOU DO NOT LOOK THIS INSTANT SO CRITICAL FOR THIS GENERATION, where the nauseating and dark sin runs with the wind and with it contaminates the mind and the thought, and with both contaminated; contaminate the heart of man, where the most abominable sins emerge. And those who call themselves My children want My Word to be changed, just as sin today is not called sin, they want My Word to stop calling sin that which goes against My Will.
My beloved people:
MY VOICE WILL NOT BE SILENCED; YOU WILL NOT BE ABLE TO SILENCE MY WORD. I WILL CALL SIN THAT WHICH IS CONTRARY TO MY WILL; I DO NOT HAVE TOLERANCE WITH SIN.
I have called My people to be holy as I Am Holy. I do not want a lukewarm people, I do not want a people opened to sin, but a people opened to My Will, a People that will sacrifice, that will dedicate themselves to live, work and act in My Will. I am Merciful, such that if he is the worst sinner in the whole world, if he truly repents and has a firm purpose to amend, he - he is the lost sheep that I welcome with all My Love. I am Mercy, but My Mercy does not welcome on-going sin and does not welcome modernism contrary to My Will. I CAME TO
REDEEM YOU FROM SIN TO ESCAPE IT, NOT TO FALL INTO SIN WITH FALSE NAMES DENYING MY JUSTICE…
OR HAVE YOU FORGOTTEN THAT HELL EXISTS? And in that lake of fire the souls that remain there, suffer, suffer My Absence and suffer for having lived contrary to My Will?
I AM A JUST JUDGE, My children have before them all the opportunities possible to amend their life, but in this instant sin degraded man, it hardens his heart and fogs his vision.
My children, I suffer for all that is coming to humanity, I suffer for the pain of humanity…
War will come to humanity in an instant, unexpectedly, since false treaties of peace are signed and humanity thinks that there will be no war. Oh how wrong you are, My children, you are so wrong!
The terror of those that are conscious of the consequences of the misused science due to the creation of nuclear energy and the possession of this in the hands of the countries that will be the scourging of all humanity, is what keeps My Heart hurting, because I see My creatures suffering because of this great scourging.
The Earth continues to tremble in its efforts that man will turn his gaze to Me, but when it sees that it cannot accomplish it; it will tremble more violently and its force will come out from the volcanoes.
My beloved people:
Oh, how much I love you and how much you reject Me! I suffer when you come to receive Me in the Eucharist unmindful that I am in that portion of the Bread, transformed into My Body and into My Blood.
I suffer so much for those who consecrate Me and not living in this sublime instant of My Transformation!
My people:
YOU WHO LOVE ME MUST CHANGE - RIGHT NOW - INTO CREATURES NOT ONLY PRAYERFUL AND PASSIVE, BUT IN PROPAGATORS OF MY WARNINGS TO MY PEOPLE. I do not take action without warning My people beforehand through My servants, My prophets.
Remain alert, do not fall back; do not think that with prayers that with love you have offered me you have fulfill, since IN THIS INSTANT OF MY HOLY SPIRIT, I NEED A PEOPLE OF ACTION THAT WILL NOT STOP, THAT WILL WORK MORNING, AFTERNOONS AND NIGHTS FOR MY REIGN, WARNING THEIR BROTHERS, BEARING MY WORD AND GIVING TESTIMONY OF MY LOVE, BUT AT THE SAME TIME CALLING SIN BY ITS NAME.
My beloved people, be brave, do not succumb to sin. Satan has sent all the demons upon Earth to tempt man in every possible way. Remember that Satan knows everyone's Achilles' heel and he tempts you there. Woe to those who fall and do not get up, they will be prey of the demons that pry upon My people.
Remember that the enemy of the soul must be despised in the minds of man and keep in mind that he disguises himself as angel of light in beautiful and kind creatures through which they will steer you to fall. How My Heart hurts when My children dedicate 24 hours a day to sin and watches with indifference the suffering of their brothers!
My children:
Sodom and Gomorra is left behind, note even the comparisons are valid in this instant in which man himself gives life to sin in its most evil ways.
Everything created by the Hand of My Father trembles and man who lives hypnotized by everything that surrounds him, ignores and is deaf to everything that I announce to you and to everything that science is warning you to prepared.
Beloved children, in this instant you live cozily with all that technology provides you and ignore that from one instant to another the Sun will advance with its fire upon the Earth and the earth will burn, the vegetation will burn, the satellites will fall and what man has left suspended in space will fall to the Earth, and in that instant silence will take hold of all humanity, there will be no means to communicate, those immersed addicted to technology misused will go mad and then they will regret, but it will be too late, not to ask for My Forgiveness and give them My Mercy, but to be conscious since they will not possess any technological tool. Humanity will retrogress and will have to start from nothing. Isn't this a grand sign that will warn you that this is the end of this generation?
My children:
DO NOT PERMIT YOURSELF TO BE DECEIVED, THERE IS NO PLACE ON THIS PLANET THAT THE ECONOMY IS SOLID. TIGHTEN YOUR BELT AND TRUST IN ME. Don't be like the Pharisees that say they love Me and in the tragic instants they complain and set aside My Calls and seeing only the moments of pain without converting and without fighting against the false gods, in this case, money. All of this, children, is in preparation for the arrival of the antichrist. He will seduce the people and will control the minds of men with great power and those who do not live in My Will; will succumb to this power and will be in favor of the antichrist that will take the power from all humanity.
My beloved children:
My Mystical Body will suffer and I grieve for it.
My Church will suffer and will be divided, I grieve for it.
When My children see the economy collapse a great number of them will go crazy… How much pain it causes Me!
I REMAIN HERE TO PROTECT YOU, TO LOVE YOU AND DEFEND YOU, BUT I NEED YOU TO STAY AWAY FROM SIN IN ALL ITS ASPECTS AND IN ALL ITS FORMS.
Those who deny sin, that deny the existence of a place of suffering for those who have lived without converting, I remind you that I died on the Cross to redeem you, but not so you can live in sin. MY LAW IS ONE; IT IS NOT SUBJECT TO CHANGES – AS THE WILL OF MY FATHER IS NOT SUBJECT TO THE WHIMS OF MAN.
My beloved people, you will continue to suffer the scourging of diseases, created by man himself to weaken you, but My people will not be defeated because I Am your God, the Almighty, I give Myself to My people and I defend them.
My beloved:
Pray for Costa Rica, it will shake and suffer.
My beloved:
The United States will suffer the scourging of terrorism and the innocent will be prey of pain. Pray for this My people.
Children of my Most Blessed Heart:
DO NOT FEEL DEFEATED, REMEMBER THAT I WALK WITH YOU AND I GUIDE YOU LIKE THE PILLAR IN THE MARCH THROUGH THE DESERT. YOU WILL HEAR MY VOICE, MY HOLY SPIRIT WILL GUIDE YOU AND WILL STRENGTHEN YOU.
My children:
TAKE THE RIGH PATH, THAT SOON, VERY SOON, IN INSTANTS I WILL COME TO YOU
TO PLACE BEFORE YOUR CONSCIENCE SO EACH ONE OF YOU WILL SEE YOURSELF INTERNALLY.
Most of you will regret having offended Me but a great part of My children will go against Me and will not accept their sins. It is very important, it is necessary for the salvation of Mine to be mindful of the warnings of My Mother regarding the Warning, these were not given so it would not happen; She warned regarding the Warning, because it is a Decree of My House and this generation will live through it.
My Beings of Light, your Companions of the road, are awaiting one Word from Me to protect my faithful and that will not perish.
My people will be raised up to Heaven, My people.
Whoever sacrifices himself and is humiliated, will be rescued…,
Whoever is hope, faith and above all charitable towards his brothers that humiliate him and toward those creatures who say they recognize everything and know everything…, is the apple of my Eye.
Children:
THE ONE WHO HAS KNOWLEDGE OF EVERYTHING
AND KNOWS EVERYTHING THAT IS GOING TO HAPPEN, IT IS I, YOUR GOD.
CONTINUE TO TRUST IN ME, AND LOOK AT ME, NOT AT MEN.
THE ONE THAT HAS THE ABSOLUTE TRUTH IS ME, YOUR JESUS, WHO LOVES AND BLESSES YOU.
You are children of My Heart.
Your Jesus.
HAIL MARY MOST PURE, CONCEIVED WITHOUT SIN.
HAIL MARY MOST PURE, CONCEIVED WITHOUT SIN.
HAIL MARY MOST PURE, CONCEIVED WITHOUT SIN.