Wednesday, November 5, 2014
Message from Our Lord Jesus Christ
To His Beloved Daughter Luz De María.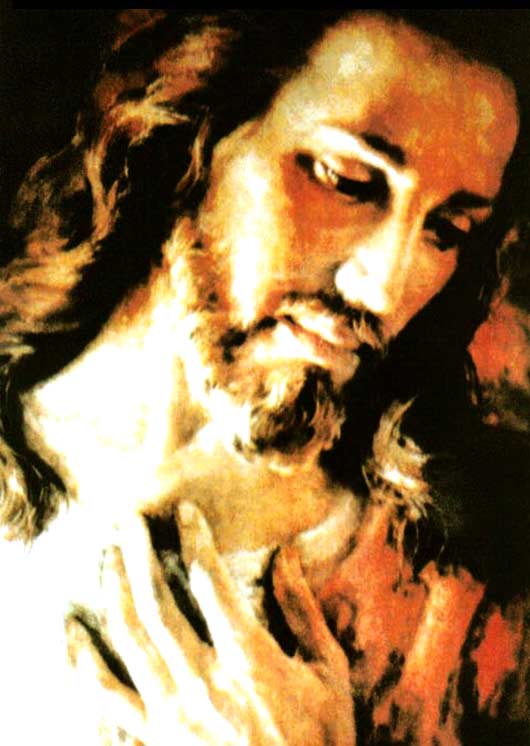 Beloved children, My people:
I AM LOVE AND MERCY, MY ESSENCE IS MY INFINITE LOVE,
MY CONSTANT THIRST FOR SOULS…
My children wonder about My continued Calls and of My Mother's expressing clearly to humanity of what is coming, but they do not wonder about My unconditional Love and Mercy in them
Beloved children, My Love and My Mercy are infinite, as infinite is My Will, desirous that all of you, be saved and attain the true knowledge of My Spirit.
IF YOU KNOW ME AND LIVE WITH ME FULFILLING MY WILL…
YOU WILL KNOW THAT MY NATURE IS LOVE FOR EACH ONE OF MINE.
Each one of My Instruments has a directive from Me regarding their mission: to some I have called to bring to My people the continuous flowing of My Love, to others to alert them regarding the Calls of My My Mother and to others to defend My people. Since the Calls are different as for the criterion, to a certain point they are all related: in My Love that unites everything in one voice that calls to Me.
You shouldn't be surprised, My children, of My Calls through My Prophet. MY LOVE FOR MINE IS
SUCH, THAT I DO NOT WISH THAT YOU LOSE YOUR SOUL DUE TO THE LACK OF KNOWLEDGE OF WHAT IS TO COME TO YOU as a result of the foolishness of man, that chooses evil and practice teachings of evilness with vile and bloody ways.
So many innocents are martyred at every instant, before the curious look from those that are trained from childhood to do these practices as part of the normal way of life! These practices are no different from the Roman circus where My Faithful were thrown to the lions and what is the difference between this and an abortion with the full consent of the human creature to impede the development of human life? Aren't the aggressions also a circus to which many women are subdued all around the world by the assault from their partners or vice versa?
My beloved:
DO NOT ASK ME TO TALK ONLY OF MY LOVE…WHEN MY JUSTICE IS NEAR AND WHICH THOSE WHO HAVE NOT BEEN GOOD, FEAR.
I have asked for the conversion since the beginning of this generation and they have not converted… A great majority of humanity continues to enjoy sin, blaspheming against Me when they are chained to the devil, the enemy of the salvation of men.
I will not talk only of My Mercy so My people will not fear, because those who are afraid are those that do not trust in Me. THOSE WHO DO TRUST IN ME KNOW THAT MY PROTECTION WILL NOT LEAVE THEM NOT EVEN FOR ONE INSTANT: THE FAITHFUL COMPELS ME TO BE FAITHFUL TO THEM.
You must not fix your gaze only on My Mercy, without looking about at so much misery in the human being that doesn't even respect himself.
Each one carries My Cross as a seal of My Presence in the human creature; it doesn't mean that one cross is lighter than the other.
MY LOVING INSTRUMENT, LUZ DE MARÍA, IS A PROPHET OF THESE LAST INSTANTS. THOUGH IT
DOESN'T MEAN SHE KNOWS EVERYTHING, ONLY THE COMING EVENTS THAT I ALLOW HER TO
KNOW,
BUT NOT THE DATES OF THE EVENTS.
- In this instant, Christ took me to see a lot of human creatures and I saw that man is in total chaos, the sins are unimaginable.
And Christ tells me:
The false prophets will increase and will deny the true instruments; they will bring perdition and bad habits to My people. My beloved Instrument, those creatures that encourage My People towards bad habits and deny sin, will suffer excruciating pain.
My beloved people:
DO NOT LISTEN TO THOSE THAT TELL YOU THAT NOTHING
WILL HAPPEN, THIS IS ONLY FOR YOU TO LOSE YOUR SOUL.
Pray, My people, pray for Paris, it will suffer bitterly.
Pray for England, it will be scourged unexpectedly. Pray for Italy, it will be shocked.
DOUBLE YOUR PRAYERS, FAITHFUL CHILDREN TO ME AND TO MY MOTHER.
FASTING IS AN IMPEDIMENT FOR THE DEVIL.
Pray children, for My Church, it will live instants of tension by decrees that will be given against the good habits and morals of My People.
Do not forget that Rome will lose Faith and will be the seat of the antichrist from where he will win battles with great prodigies, but My people will not be alone, I will send him who will help My people, and THIS MESSENGER WILL CONFRONT THE FORCES OF EVIL, WILL HAVE MY WORD IN HIS MOUTH, AND LIKE FIRE WILL BURN THE SNARES OF THE ANTICHRIST.
My people:
YOU HAVE FORGOTTEN PENANCE, YOU HAVE FORGOTTEN FASTING TO COMBAT THE SNARES OF THE DEVIL AND BECAUSE THE HIERARCHY OF MY CHURCH DOES NOT INSIST UPON IT.
You are with sure step in the presence of My Anger and before My Second Coming.
My people will suffer the sword, hunger and pestilence, these will be one of the greatest scourging of humanity, for which My Mother and I give you the means to combat them.
The offenses of this generation surpass the offenses committed by those sinners that ignored My Word and offended Me constantly.
This generation has created the Babel Tower through technology misused and this tower will fall upon this generation and will regret having contaminated My Creation, when the Sun brings to Earth to suffer darkness, darker than itself.
THE INNOCENT, DO NOT FEAR!
MY LEGIONS WILL RAISE YOU UP SO YOU WON'T SUFFER
WHILE HUMANITY DISTRESSED FOR THE SIN COMMITTED CRY FOR THEIR ERRORS.
My beloved people:
PERSEVERE IN PRAYER, IN FASTING AND IN GOOD DEEDS SO THAT SATAN WON'T HAVE CONTROL OVER YOU.
My beloved people look up, that from above will come the Blessing, look up, that the stars and the moon will not be seen as usual and this is a sign of what is coming.
Beloved:
KNEEL BEFORE A CRUCIFIX AND ANNOUNCE
TO YOUR BROTHERS THAT MY HOUR IS NEAR.
THE DEVIL NOT ONLY TEMPTS MAN BUT IS A FRAUD AND A LIAR…
AND AMONG ITS SNARES, ARE THE SECTS, NEW AGE, FREEMASONRY, THE ILLUMINATI, WITCHCRAFT AND EVERYTHING CONTRARY TO THE GOSPEL.
Beloved of My Will:
Help one another, be one only, My Word be your protection, and act with wisdom so fear will not invade you, what is written is to happen.
MY MOTHER, EMPRESS OF THE AMERICAS, IS THE GREAT GENERAL
OF MY LEGIONS, IN HER AND WITH HER, MY PEOPLE WILL NOT PERISH. KEEP THE FAITH.
I bless you.
Your Jesus.
HAIL MARY MOST PURE, CONCEIVED WITHOUT SIN.
HAIL MARY MOST PURE, CONCEIVED WITHOUT SIN.
HAIL MARY MOST PURE, CONCEIVED WITHOUT SIN.