Saturday, November 22, 2014
Message from Our Lord Jesus Christ
To His Beloved Daughter Luz De Maria.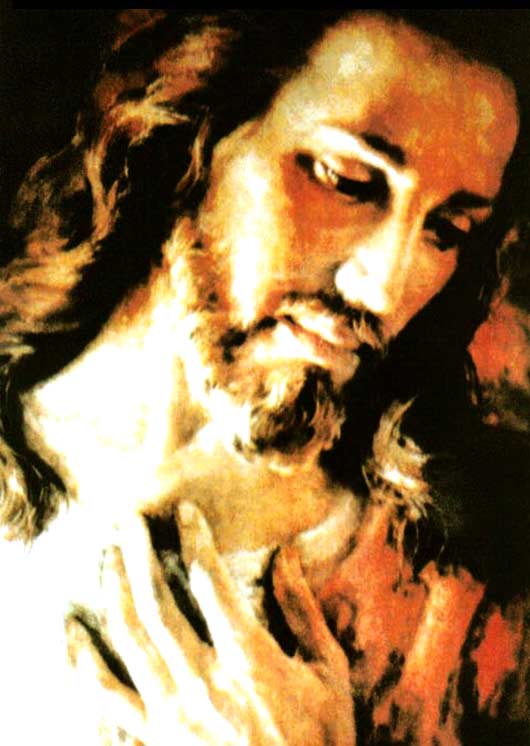 Beloved children, My people:
I AM A BEGGAR OF LOVE, A BEGGAR WHO WALKS SEEKING TO FIND MY LOVE ALIVE AND
PULSATING IN EACH ONE OF MY CHILDREN… BUT I FIND MYSELF IN STERILE GROUND, TOTALLY ROCKY AND HARDENED WHERE NOT EVEN THE WATER CAN PENETRATE.
Beloved children:
I protect you, you are my most cherished treasure, but in each instant you avoid ME…
I give myself to Mine, but you do not understand Me, you do not wish to understand the unfathomable abyss of my Love and My Revelation for this generation.
You deny Me as easily as you deny a theory, you deny Me without thought or being aware of what you are denying, you deny Me without understanding what you deny…
You deny Me for the mere fact of just denying Me, for the mere fact that I choose My instruments among those that are not the wise or powerful men, perhaps because those wise and powerful men are the least suitable to bring My Word with Love, that I send through My faithful and humble instruments to alert my people.
IN THESE INSTANTS, EACH ONE OF YOU MUST BE A FAITHFUL IMAGE OF MY LOVE, YOU MUST
BE THE HERO THAT LIVES IN THE DEPTH OF THE HUMAN BEING WHO DOESN'T FEAR TO SHARE
WITH YOUR BROTHERS AND TELL YOUR BROTHERS PERSONALLY THAT YOU ARE ONE OF MINE, THAT YOU DON'T SHARE WITH THEIR WAYS, NOR ACTIONS, NOR WITH THE IDEAS THAT HUMANITY GENERATES IN THIS INSTANT.
Abominable practices are being carried out and My Heart is constantly lacerated.
I SEE THE EARTH AND THOSE WHO REALLY LOVE ME ARE VERY FEW! How many are those who follow the human creatures? And having before them the Truth, they turn their backs on Me because they fear being criticized, they forget that I am the Master of everything that exists, that I am Master of Life, and I come precisely to separate the wheat from the chaff.
Oh so many mock my Calls and My Mother's! So many mock My Instruments and discredit them! You forget that I remain before them and that it is not they who proclaim My Word, but Me, who gives all of Myself to My people, to that one that I came for and crucified Me, to that one who continues to crucify and lacerate Me, denying Me as I was denied. In this instant I continue to be denied and more so when the infernal dragon takes possession of the minds and hearts of My children through the imposter, of that one who will succeed to deceive my People, the antichrist.
In this instant so many deny the existence of evil! So many deny My Mother! So many with one word leave doubts of Her Purity and Maternity!
WOE TO THOSE WHO TRAMPLE MY MOTHER'S PURITY…
I ENTRUSTED MY CHURCH TO HER, AND DO NOT CALL YOURSELF CHRISTIAN, WHEN YOU TRAMPLE MY MOTHERS PURITY.
YOU HAVE GONE BEYOND SIN
AND MY INFINITE MERCY IS BEING USED TO HIDE THE DARK SIDE OF HUMAN BEHAVIOR.
My beloved people:
I AM MERCY BUT AT THE SAME TIME I AM JUSTICE AND EACH ONE OF YOU WILL RECEIVE ITS DUE, NOT WHAT I DICTATE, BUT WILL RECEIVE WHAT YOU HAVE PLANTED.
I come for My people, for My faithful people, for those who dedicate all instants of their lives to remain in My Will, to defeat the human "ego", which in this instant has become totally contrary to My Requests, ignoring the necessity to fulfill My Law and My Precepts.
The human "ego" is a monster that in each instant grows if you allow it, controlling you and hardening the senses of the heart so it will not feel, and not hurt before such idiocy that occurs on Earth.
My people:
PRAY TO ME, COME TO ME, THAT MY SPIRIT WILL HELP YOU TO ASCEND AND TASTE THE DELIGHTS OF UNDERSTANDING MY WAY, although it is true that each one of you has its personal cross, it is also true that each one of you possess before you the Glory and Eternal Life if it is what you deserves in the course of your life.
My children:
*****
Your each act and work is a light that brings you closer to Me. When you see the sun shine at the zenith with all its intensity so intense that you feel your eyes cannot resist it, think of Me, think of My Majesty, in My Infinite Power, but at the same time think of My Mercy, and if in this instant you come to Me with a firm purpose of amendment, I welcome you… BUT DO NOT WAIT ANY LONGER BECAUSE THE INSTANT WILL NO LONGER BE INSTANT.
I come for My people.
I come for those who are denigrated and massacred.
I come for the persecuted, for the scorned.
I come for those who are not understood.
I come for the wronged and the vilified.
I come for those who have been mistreated unjustly.
I come for those who have suffered because they proclaim My Word.
I come for the humble and simple.
I come for those who have said yes to Me.
I come for those who take my Mother's hand in this instant for Her to guide them and She has said yes.
I come for those who do not forget the sick and those in prison.
I come for those who do not judge, who do not venture to judge or mock their brothers.
I come for My Church and My Church must be Holy as I am Holy.
I come for My Church renewed in My Love and in My Mercy.
I do not come for those who mock their brothers, neither for those who signal them out unjustly.
I do not come for those who judge lightly.
I do not come for those who believe themselves gods and perfect; and call imperfect those that share My Word to bring souls closer to My Fold.
I come for those who say the Truth, for those who wish to offer themselves to Me to welcome all My people.
My beloved people:
DO NOT FALTER FOR EVEN AN INSTANT; BECAUSE THAT INSTANT
IS NECESSARY TO LIFT UP THE FALLEN…
DO NOT BE DISCOURAGED BEFORE THE BETRAYAL NEITHER BEFORE THE INCOMPREHENSION NOR BECAUSE YOU ARE CAST ASIDE, FEEL JOYFUL BECAUSE IN THIS WAY YOU WOULD BE LIKE ME.
I need a people to pray to rise up.
I need a people to receive My Body, Blood and Divinity.
I need a people to come close to the Tabernacle, confiding in Me the most intimate in their heart and I will respond.
I need conscious creatures that they are Temple of My Holy Spirit and as such must walk in holiness.
I need creatures with their thoughts continually united to Me.
I need creatures that can control their impulses and not allow bad thoughts to overcome them. I need children with clear eyes, clean ears, with a renewed heart and a tongue to praise and bless Me.
I need creatures to broaden their will to heed whatever I gradually reveal to them.
My Calls cannot be the same as in previous years, this generation so advanced in technology and at the same time a spiritual involution, will not believe in My Calls if I were to use in this instant words of old that this generation would not even recognize. I have come to talk to you as a friend to friend, as a brother to brother, as a father to son, and My Mother has come to call you as a Mother, Teacher and Guide so this generation will understand us.
How can those who say are knowledgeable of the Faith and experts in matters of Faith so easily dare to tell others not to follow Me when most of My Church surrenders to worldly pleasures? How is it that you deliver My children onto the hands of Evil?
I NEED A STRONG CHURCH THAT WILL RESIST THE ATTACKS THAT THEY WILL CONTINUE TO SUFFER.
My beloved people:
THE SELF-EXAMINATION WILL SOON COME, which I will not bring about, but each one of you personally, and in that instant everything will stop, man will see his own conscience, will see himself completely exposed. Whatever moves, will stop moving, because silence will reign on Earth, you will only hear the lamentation of those who repent for the wrong committed and I will come with My Love, to welcome you once again as My lost sheep, even then some of My children will deny that the Warning is coming from My House and will rebel against Me and will be part of Evil. (1)
My beloved people:
EVIL CANNOT OVERCOME ME, EVIL WILL NEVER PREVAIL, MY LOVE AND MY MERCY PREVAILS, AND MY OMNIPRESENCE AND MY OMNIPOTENCE PREVAILS. I AM WHO I AM. I NEED THE ASSURANCE OF MY PEOPLE TO BE ABLE TO FIGHT WITH THE WEAPONS OF MY LOVE AND BE BROTHERLY.
So much irreverence to Me and to My Mother!
So much irreverence for the Gift of Life!
and how man in each instant increases his aggressiveness!... so much that I do not recognize him.
My beloved people, I invite you to pray for My People of Chile, it will suffer.
Beloved children, I invite you to pray for Russia.
I invite you to pray for Japan, it will make humanity suffer.
Beloved children:
LISTEN TO MY VOICE…LISTEN TO MY WORD…I GIVE MYSELF TO YOU
SEEKING A CRUMB OF LOVE SINCE I AM THE GREAT BEGGAR OF LOVE.
Do not seek in My Word the darkness that doesn't exist, since you will find more darkness. Look at the light that My Heart transmits in these Calls. Be those who fulfill My Will and the Commandments.
Understand what is going on in this humanity so you will be able to find the True Way, to know the untruth through which you have been deceived, BUT "I AM WHO I AM" AND I DO NOT DECEIVE MY PEOPLE, I LOVE YOU AS THE APPLE OF MY EYE.
DO NOT BE SADDENED BECAUSE YOU ARE ONE OF MINE.
JUST THINK THAT I LOVE YOU, MORE THAN I LOVE MYSELF, BECAUSE
FOR YOU I WAS CRUCIFIED. REMAIN IN MY PEACE. DO NOT FALTER; BE FIGHTERS OF LOVE, I WILL LIFT YOU UP.
I bless each one of you.
May My blessing be for you the balsam of Hope and the Assurance to continue walking in Faith. .
I love you.
Your Jesus.
HAIL MARY MOST PURE, CONCEIVED WITHOUT SIN.
HAIL MARY MOST PURE, CONCEIVED WITHOUT SIN.
HAIL MARY MOST PURE, CONCEIVED WITHOUT SIN.