Thursday, December 11, 2014
Message from the Blessed Virgin Mary
To Her Beloved Daughter Luz De María. Given in Mexico, Our Lady of Guadalupe Basilica.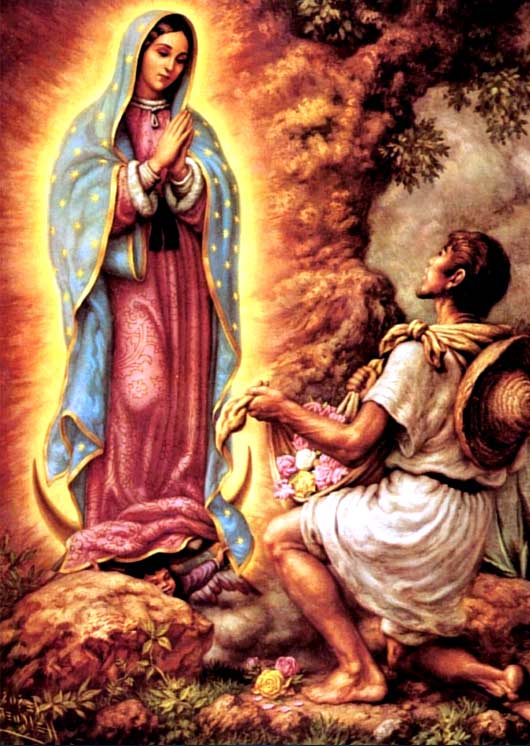 I bless you all. All of you are My children… without distinction, without limits and without borders. I love you all and I protect you with My Maternal Mantle.
My beloved:
FROM HERE, FROM MY HOUSE IN TEPEYAC… I BLESS ALL HUMANITY WHICH I LOOK UPON WITH SORROW, WALKING WITHOUT DIRECTION, HASTILY TOWARDS THE EVENTS WITHOUT BEING CONSCIOUS OF WHAT IS COMING.
Most beloved children:
I AM CROWNED AS EMPRESS OF THE AMERICAS BUT I WISH MY CROWN UPON EACH ONE OF YOU, IN YOUR SURRENDERING AND IN YOUR OFFERINGS TO MY SON.
My beloved people, the Mexican people:
I call you to remain in the Love of My Son. My true children do not lift their hand against their brothers. Offer the pain for the conversion of all humanity. Keep calm. In this instant, the hustle and bustle in which humanity lives plunges the heart of man in a constant struggle against their fellowmen.
BE TESTIMONY OF MY SON'S PEACE… BE THE VOICE THAT MY HEARTS YEARNS SO MUCH,
THAT VOICE THAT RISES CALLING EVERYONE TO CONVERSION.
Children, I love you intensely! I bless you with all the splendor of My Heart that shines to the infinite feeding the rays of the Sun and placing in each one of you that light that in this instant you need to prevent you from involving yourself with violence, consequence for lack of conscience in man, consequence of your detachment from My Son and consequence from the lack of humility.
Man in his eagerness of knowledge, though not precisely for the good, has taken up to compete with My Son and I, as a Mother, call you again to be aware, think and reason that you are limited creatures of God and you cannot be superior to the Master of Creation; instead you attempt against the Gift of Life creating enmity among people, and that enmity will turn into violence and violence into war.
Most beloved:
FROM MY HOUSE IN TEPEYAC, FROM MY SANTUARY, WITH MY MANTLE I PROTECT ALL
CREATION AND WITH THE STARS PRINTED ON IT, I ILLUMINATE THE SOULS OF THOSE THAT OFFER THEMSELVES TO MY SON AND ARE FOND OF THIS MOTHER, INTERCESSOR AND ADVOCATE OF ALL MEN.
Once again I invite you to prepare…
How many of My children think that because the fulfillment of the warnings from Heaven is not at a global level, in human time, can continue life immersed in sin! But children, the day is not enough, it is not sufficient; you live without looking within your interior not even for one instant, everything that is brewing in each one of the Countries.
My Beloved:
SO LONG AGO I CALLED YOU TO PAY ATTENTION TO THE WORLD ECONOMY! And in this instant in which the economy is at the point of collapse, My Call is for My faithful to double their prayer and their voluntary offerings for all those who continue their life based on the god money, who before an imminent fall in the economy, will feel devastated, they will lose their life by their own free will, because they are weak, for not having their Faith based on the Divine Providence.
You My beloved:
DO NOT FALTER NOT EVEN FOR ONE INSTANT, DO NOT HESITATE AND DO NOT DOUBT. You know that My Son does not promise in vain and He has promised help from His House to all the faithful, and I, as Mother of all humanity, in My Tilma (mantle) keep all of you, absolutely all.
You, beloved children, look towards the sky, do not forget that the Hand of My Son will fall upon the Earth with His prompt Justice. But in all instant, with His infinite Mercy My Son exhales His Divine Breath upon all humanity and the human creature will receive the help that My Son will bring without delay, as they earn it.
Painful instants are surfacing for the Church of My Son. Continue to keep your Faith strong and trust in Me. My Son has named me Defender of His Church and I, as Empress of the Americas, have welcomed everyone.
Beloved children:
Find that interior silence; that Peace that you seek outside of yourselves, come out of the daily routine that transforms you in depersonalized creatures, immersed in a continued repeating the actions of your brothers without considering the consequences of these actions.
I WISH THAT EVERYONE LISTEN TO MY CALL, AND THAT ON THE 12TH OF DECEMBER AT 3:00 IN
THE AFTERNOON CLAMOR THE DIVINE MERCY, PRAY THE CHAPLET OF THE DIVINE MERCY AND
AFTER THIS PRAY THE HOLY ROSARY. OFFER IT TO THIS MOTHER AND I WILL POUR OUT BLESSINGS UPON ALL HUMANITY, ESPECIALLY TO THOSE WHO WISH TO RECEIVE THE GRACES THAT I WILL SEND.
Children, these are instants of urgency, you are living the instant of the last instant. Come closer to My Son and feed of the Divine Sustenance. The strength will double if you are conscious that My Son remains alive and present in the Eucharist Banquet.
I continue looking at all humanity and all My Legions from above look upon humanity, they see how you reject My Son and His Teachings, and they see how you despise Me and annul Me. I PLEAD TO YOU TO TAKE AN INSTANT OF YOUR LIVES AND THINK WHAT WOULD BECOME OF YOU IF MY SON DID NOT REMAIN IN EACH ONE OF HIS CHILDREN.
Beloved:
You who desire to be the last ones and give the first place to your brothers…
You as you come closer to My Son you do not despise your brothers…
You who do not judge your brothers but are conscious that My Son is the only one that can emit a judgment…
You who pray before the Tabernacle…
You who pray and say are faithful…
BE THE ONE THAT IN ALL INSTANTS REMAIN IN THE LAST PLACE, DO NOT EMIT JUDGMENT. THESE INSTANTS ARE VERY DIFFICULT; THE ENEMY OF MAN IS TAKING OVER THE HUMAN THOUGHT. BE HUMBLE AND ACCEPT MY CALLS.
I, as Mother of all, invite you to pray for My Mexican People for peace to reign there and for My children not to raise their hands against the Gift of Life of their fellowmen. I invite you to pray for England, it will cry before the actions of terrorism.
My most beloved:
I do not despise any of My children, even those who do not love Me they are My children and that is why I am constantly calling them.
I bless you especially in this instant of feasting of humanity to this Mother that protects you in every instant, because you are the treasure that crowns this humble Mother that loves you infinitely.
MAY MY BLESSING BE UPON EACH ONE OF YOU, AND YOU WHO ARE CONSCIOUS OF MY CALL,
SHARE MY BLESSING WITH YOUR BROTHERS. KEEP THE PEACE OF MY DIVINE SON IN YOUR HEARTS.
I bless you,
Mother Mary, Mother of Guadalupe.
HAIL MARY MOST PURE, CONCEIVED WITHOUT SIN.
HAIL MARY MOST PURE, CONCEIVED WITHOUT SIN.
HAIL MARY MOST PURE, CONCEIVED WITHOUT SIN.