Tuesday, December 16, 2014
Message from Our Lord Jesus Christ
To His Beloved Daughter Luz De María.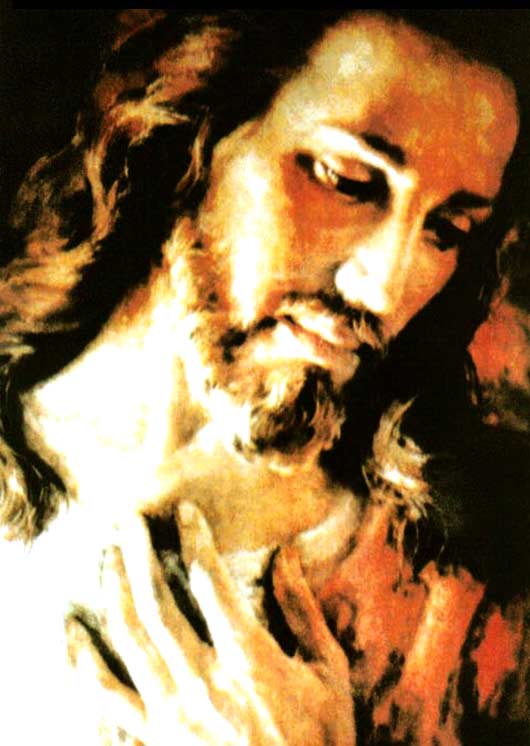 My beloved people:
UNITED TO MY LOVE, GROW IN WISDOM, BROTHERHOOD, HOPE, CHARITY AND FAITH.
MY HAND REMAINS CLOSER TO HUMANITY...
My beloved:
You can grow in everything, but your understanding of each one of My Petitions is at the lowest level; otherwise you would not attack each other like wolves.
THE HORSEMAN OF THE SCOURGING OF PLAGUES CONTINUES TO GALLOP, unleashing upon man one plague after the other that are not necessarily the ones that sicken the organism of the man's body, but the ones that invade and affect the neurons altering them. There are also the plagues that make the human mind violent causing aggressiveness and attacking it, to all humanity.
AFRICA WILL BE DEVASTATED… The great powers have acted negatively on purpose, spreading the AIDS virus, unscrupulously. This plague continues to strongly devastate My little ones, and keeping the rest of My children uninformed of the reality in which their brothers live. IN THE AFRICAN CONTINENT THE DECREASE IN THE POPULATION HAS BEEN PLANNED WITH GREAT PAIN FOR ME AND MY FAITHFUL. THIS WILL SILENCE EVEN MORE THE PAIN OF THIS CONTINENT AND AS SUCH WILL BE THIS WAY FOR THE REST OF HUMANITY.
Beloved children:
MY WORD IS NOT ONLY PAST, IT IS PRESENT AND FUTURE.
IN THESE LAST DAYS, I WILL CONTINUALLY SHOW YOU THE SIGNS OF THE TIMES SO YOU WILL
KNOW THAT THE TIME IS NOT TIME: YOU OPEN YOUR EYES AND YOU CLOSE THEM WITHOUT REALIZING THE SPEED WITH WHICH THE INSTANT STOPS BEING INSTANT.
Man does not seem to notice the vainglory with which he sees himself, the arrogance that has invaded especially to those who believe themselves more learned and to those that are the most ignorant, causing confusion to the lukewarm, those who switch from side to side like the waves of the sea and when they get upset they cause destruction by their own ignorance…and the learned, do not allowed themselves to know My Truths: which would make them recognize that they still need to scrutinize me…
This generation has been programmed to boast themselves, flatter themselves. This will lead to a major negative attitude toward their fellowman, will be traitors by free will, with false piety and will not know sincerity. At the end, a great part of My children will be slaves to themselves and traitors to their brothers.
Humanity education will be more negative as the instant elapses.
Authority will become an unknown WORD and action for most of My children…
The attitude of the young people will be imposed over the adult's, and the young people will dominate the Earth causing and giving greater emphasis to irresponsibility, to negative whims and to a misguided and unthinkable control over everything around them, this will be the worst epidemic, that which through the mind will trigger in the young people a total disdain to Me and to everything that reminds them of My Presence…
THE ALTERATION IN THE HUMAN MIND WILL BE THE GREATEST EPIDEMIC THAT WILL ACT AGAINST ITSELF, NOT ONLY AT THE PERSONAL LEVEL BUT GLOBAL, THUS THIS WILL BE A HUGE
INDICATOR THAT THEY WANT TO RULE OUT THAT THEY LIVE IN THE INSTANT OF THE INSTANTS.
My beloved, look at this generation and compare it to the generation of Noah's times, there is not a great difference in the deed and action, or in its essence, apart from the progress of this generation; the motive that moves it is the same: rebellion against My Will.
IN THE HEART OF MY CHILDREN EVIL INCREASES AND I DECREASE, THIS IS INDISPUTABLE. A great amount of human creatures live immersed in a devious religiousness; they appear to live without truly being a practicing catholic; that is a grave sin. To be a practicing catholic and to love me doesn't mean going to Mass mechanically every day; it means to live in constant submission to the Sacrifice of the Eucharist and to know that everything that I inspire in the soul who is aware that it receives Me, is the being who repeats My deeds and actions, who obeys My Will, who is totally different in deeds and actions from the creature that receives Me without consciousness.
My beloved:
YOU WALK WITHOUT KNOWING ME… THAT IS WHY YOU DO NOT RECOGNIZE ME… I COME SOON, BELOVED CHILDREN… BUT YOU ARE NOT WAITING FOR ME…
The confusion has come to the point that it influences you in your daily activities, and you do not listen or see, nor wish to remember that I announced that before I return man will be corrupted and will be so wicked, like in the times of Sodom and Gomorrah. This generation is worse than the people of those cities.
REMAIN MINDFUL, THAT ANYONE THAT PREACHES THAT "I AM", IS DECEIVING MY FLOCK. THE
SERPENT IS CLEVER AND IF YOU RECEIVE A DIFFERENT GOSPEL TO THE ONE I PREACH, HE IS DECEIVING YOU.
My beloved:
I WILL INTERVENE WITH MY JUSTICE BEFORE MY CHOSEN ONES PERISH.
Man ill-using science, in this instant holds the power to destroy themselves by means of the greatest scourging that it could have created: nuclear energy.
Children have you take into consideration that the reserve of nuclear armament that the world possess would be able to exterminate the Earth as many times man wishes to?
Children, do you not fear this power born out of evil?
Don't you know that you coexist instant to instant with chemical, radiological (*), and bacteriological weapons?
THE HUMAN CREATURE GOES BACK AND REGRESSES WHEN IT THINKS THAT THESE WEAPONS WILL NOT BE USED… MAN WITH HIS UNRESTRAINED DESIRE FOR POWER, DOES NOT MAKE SOMETHING THAT IT WILL NOT UTILIZE.
My beloved, the deceivers in this instant will not hold back, they deny My Justice and only give faith to My Mercy emitting murmurs of My Surrendering on the Cross, and they omit the sin of man to disprove hell and not call the conscience, thus preventing the salvation of souls. NO HUMAN CREATURE CAN BE SAVED ON THEIR OWN, NONE.
MY WORD WILL NEVER CHANGE, even though some of people wish to adapt it to this instant in which it denies the suffering of the one who rejects me constantly and consciously that it's doing it, not recognizing Me as King and Lord.
My beloved people:
WHATEVER MAN HAS MADE AS PROGRESS: FAILS AND IT WILL FAIL.
HUMANITY, WHEN IT IS NOT HUMBLE AND KEEPS AWAY FROM ME… DISASTERS WILL BEFALL THEM IN AN INSTANT.
Those who rise against My calls are victims of ignorance, creating a lot of confusion, keeping My Fold away from the Voice of the Shepherd. They seek darkness in the light of My Word, finding more darkness and that is why they are prey of their own errors.
Beloved children, pray for Brazil, it will suffer.
The attacks from Nature will awaken My children to return to Me.
Beloved children, pray for the United Sates, the trials will not hold back.
I call its leader not to hasten the pain of its people.
Beloved children, pray; the rumors of war will be a reality, the struggle for the declining economy will be the trigger and the proper ground for the country up north in making rushed decisions,
forgetting that it will be betrayed by those that in this instant are making them be quick to act.
Children:
Some would say that there have always been catastrophes… but not like in this instant, where not even the sequence or the magnitude have been seen or lived before.
The violence of My children has been experienced in the past, but not with the intensity with which the violence has made the present man react, so much that man does not recognizes himself.
Terrorism has existed in every generation, but not with the aberration and frequency with which in this instant has become part of the daily living, and seen as normal and unconcerned by the majority of the people.
In the past science had progressed, but not with the tenacity and intensity of this instant, making man act as a robot, that works and acts without a conscience, steering the young people to depend on technology to live, and as medicine for their mental, body and spiritual ailments; making them go astray with ideologies that endeavor to preach health of the mind and of the body. The practices that invite you to relax and have momentary thoughts that aim to harmonize the body are false.
A CREATURE THAT DOES NOT LIVE IN MY WILL, THAT DOES NOT PRACTICE MY LAWS, THAT
DOES NOT COME CLOSER TO ME, THAT DOES NOT LIVE IN ME, THAT DOES NOT LOVE THEIR
FELLOWMEN, THAT DOES NOT PREACH THE TRUTH, THAT DOES NOT ACCEPT THEIR ERRORS, IS
NOT REALLY MY CHILD. WHOEVER SAYS IS LIKE ME….HE COMMITS IDOLATRY AND IDOLATRY IS AN OFFENSE TO MY MOST BLESSED SPIRIT.
My children, the lack of knowledge, lead you to fanaticism, and fanaticism to stubbornness, and stubbornness leads to denial of My Truth. And this degenerates in sects, the sects to fanatics and the fanatics are not My followers, but protesters of My People. My children are those who live in My Father's Will, and My Father is Love, and My Love, Salvation and Salvation is Eternal Life.
Man with little faith, followers of men and fools, will suffer more for their foolishness than from what is coming, since they will preclude what's coming and will not recognize the real impostor, they will only wander around the periphery. When the imposter claims his people, they will seek him in other paths, without consciousness they will awaken prey of the impersonator and will moan.
I WAIT WITHIN MY INFINITE PATIENCE AND MERCIFUL LOVE; WITH THE SCALE IN MY HAND TO GIVE EACH ONE WHAT THEY DESERVE.
Great confusion awaits you. My church will suffer before an unexpected event that will make old prophecies reappear. Continue to keep the Faith in Me. DO NOT DENY THE SIGNS OF THIS INSTANT.
Beloved:
DO NOT FORGET THAT ETERNAL LIFE IS A GIFT THAT YOU MUST EARN.
AND TO DESERVE IT: TO WHOEVER I GIVE MORE, I WILL ASK MORE.
Do not sleep, or be disturbed. Do not despair, whoever despairs does not have true Faith.
I KEEP MY PEOPLE VIGILANT BECAUSE I LOVE THEM WITH ETERNAL LOVE.
I DO NOT ABANDON MY PEOPLE; I DO NOT ACT WITHOUT WARNING THEM. MY HELP COMES TO MINE.
IN THE PRECISE INSTANT, I DO NOT ABANDON THEM BEFORE EVIL; MY PEOPLE WERE BORN IN MY CROSS.
My House is for each one of you. Whoever loves Me knows that when he surrenders to My Word, recognizes Me as King of the Heavens and Earth, remains in My Love, in brotherhood, in knowledge and reasoning, has the certainty that I do not impose Myself, but love that My children be free to act and decide. Do not forget that away from Me; you will find eternal death.
Your protectors remain awaiting My Word to come to help My faithful: those who obey My Will. .
My beloved, do not fear.
I AM MASTER OF EVERYTHING THAT EXISTS; YOU ARE MY PEOPLE, THAT ONES I REDEEMED ON MY CROSS.
I BLESS YOU AND I PROTECT YOU IN THE PALM OF MY HANDS.
Your Jesus.
HAIL MARY MOST PURE, CONCEIVED WITHOUT SIN.
HAIL MARY MOST PURE, CONCEIVED WITHOUT SIN.
HAIL MARY MOST PURE, CONCEIVED WITHOUT SIN.
(*) The radiological weapons, unlike the nuclear ones, are designed to diffuse radioactive material, also known as "dirty ones".