Wednesday, December 24, 2014
Message from the Blessed Virgin Mary
To Her Beloved Daughter Luz De María.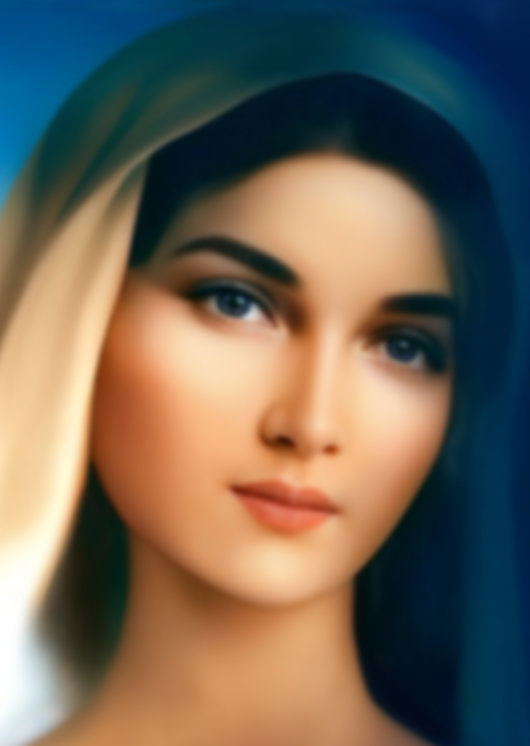 Beloved children of My Immaculate Heart:
LIVE IN MY WOMB AND WITH MATERNAL LOVE I PROTECT YOU.
My Divine Son offered the narrowness in which He lived in My Virginal Womb for each one of you… to mitigate the narrow-mindedness of His children.
My Divine Son prayed for you in My Womb and offered for you…
He knew of the scorns and of the sufferings that He would live to fight for the conversion of His People.
My Divine Son lived in the Will of His Father to satisfy and to compensate to God the Father the offenses of all the creatures of all the times, until the end of the world.
In this instant I knock at the door of the heart of each one of you that reads this My Call, I knock to enter…
My Son is going to be born and yet some in this instant do not open the door.
I HOPE IT IS YOU THE SON THAT I SEEK…
AND THAT YOU ALLOW MY SON TO BE BORN IN YOU FOR YOUR OWN BLESSING.
Too many are those who know about Him, but do not speak with the Truth, they go against the One who is the Way, the Truth and the Life.
I ASK FOR SHELTER, I ASK FOR REFUGE…
MY SON IS THE LIGHT OF THE WORLD AND I CANNOT FIND WHERE TO LAY HIM WHEN HE IS BORN.
HE SEEKS THE COMFORT FROM THE LOVE OF THE MAN'S HEART, OF HIS CHILDREN.
My Son will not let you walk alone; His children possess life and life in abundance. His children are not dead men, they are men of life.
I knock at the door of My children's heart, and the nauseating odor is such when I find such mediocre willingness and spiritual ignorance that you possess, that I don't let it pass unnoticed, because for these creatures My Son offered himself in My Womb before being born.
MAN DOES NOT WISH TO DELVE DEEPER IN THE SPIRITUAL PATH,
HE FEARS TO LET GO OF THE HUMAN TIES AND PLEASURES, EVEN THOUGH IT WILL LEAD HIM TO SUFFER.
I will place myself before each one to ask for refuge…
YOU ARE MORE CONCERN FOR FOOD AND DRINK THAN TO OFFER PRAYERS TO MY SON…
Prayers are not just to ask for a favor, but to tell Him that you love Him. I remained praying together with My Child, praying in every instant, not only on my knees but behaving and acting in the Will of God, praying in obedience and acting to give the Eternal Father what the human creatures would not give Him, but only a few of them: the human will.
To you, who read My Call, I knock at your door… To you who hears, but does not wish to open...
TO YOU I ASK THAT YOU OPEN THE DOOR SO THAT MY SON IS BORN IN YOUR HEART.
My Son was born in a manger, that manger is your heart, which while keeping at a distance relations with My Son, you send Him to the less crowded place of the human heart so your conscience will not be disturbed, nor to renounce, in order to live false loves, selfishness, disobedience and pleasures that lead you to false and momentary happiness.
MY SON KNOWS ABOUT LOVE, HE IS LOVE.
MY SON KNOWS ABOUT OBEDIENCE, HE IS OBEDIENCE, HE IS TIME ITSELF, HE IS INFINITE, HE IS ETERNAL.
Those who do not give My Son shelter, continue to be My children even though they do not know Love, Faith, Hope, Charity and Peace because only those who follow Him and love Him will experience it permanently.
SOME GIVE JOSEPH AND ME SHELTER, BUT LEAVE THE ROOM IN SEMI-DARKNESS SO THAT THEIR BROTHERS WILL NOT FIND OUT THAT THEY ARE INTERESTED IN A NEW LIFE. They are lukewarm who cannot find peace, nor will they be true. They become unrecognizable when invaded with spiritual jealousy, causing division or letting the tepidness transform into arrogance that will lead them to self-praising to such a degree that they will climb to the highest rung with the purpose to dominate, only that none of these creatures are acting in the Truth, but in mediocrity.
Beloved, My children re-encounter again with My Divine Son, with the humble Son of the carpenter, the same one that Joseph taught to work the wood and in some occasions the stone; the wood because He must take into His Hands the chisel to remover the imperfections from His children and the stone to crush the heart of stone that in this instant is cunningly hidden among you.
MY SON CRIES IN THE MANGER OF THE HUMAN HEART BEFORE THE DECLINING OF MAN,
because of his refusal to accept His Word that manifests its sense in these Calls, of which involves me.
MY SON SMILES FOR A SOUL THAT RETURNS TO HIM, for just one soul, that which I implore be the one that in this instant meditates this My Word within the Divine Will, for the Glory of the Sacrosanct Trinity.
Children:
GETTOGETHER IN PRAYER AT MIDNIGHT AND PLACE BEFORE MY LITTLE ONE AND DIVINE SON THE MIND OF EACH ONE OF THE INHABITANTS OF THE EARTH AND TOGETHER WITH MY ANGELS
SING:
Glory to God in the Highest and on Earth peace to men of good will.
I bless you.
Mother Mary.
HAIL MARY MOST PURE, CONCEIVED WITHOUT SIN.
HAIL MARY MOST PURE, CONCEIVED WITHOUT SIN.
HAIL MARY MOST PURE, CONCEIVED WITHOUT SIN.