Sunday, December 28, 2014
Message from Our Lord Jesus Christ
To His Beloved Daughter Luz De María.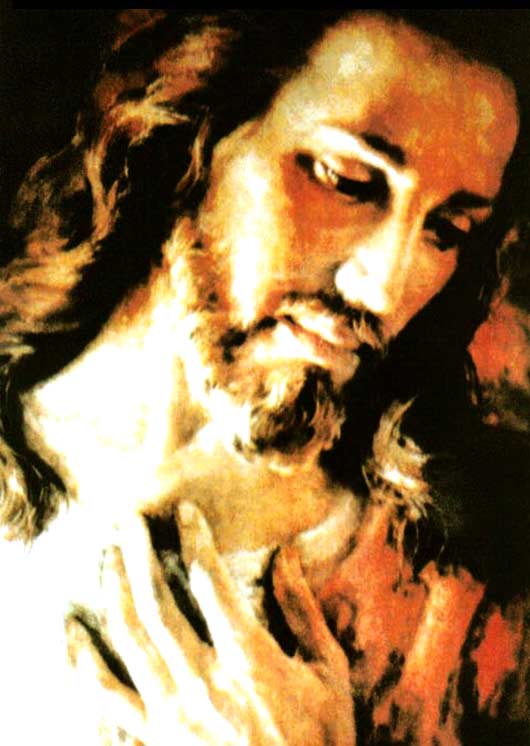 My beloved people:
MY LOVE WALKS ALONG THE PATHS OF MY CHILDREN, ANTICIPATING THE ATTACKS ON THE ROAD…
I WARN YOU OF ALL THAT IS COMING FOR YOU TO PREPARE.
A PEOPLE WHO BELIEVE ARE A PEOPLE OF FAITH WITH A FOUNDATION ON SOLID ROCK, NOT BUILT ON QUICKSAND.
My Love is a mystery for some and plenitude for those who know Me; they know and acknowledge Me as their God and Savior.
My People do not succumb nor will they be annihilated, they will be purified to be worthy to come to Me.
Man with a passive spirit must be placed in a situation to make him choose in order for him to awaken. The world presents to you a multitude of choices that you will come to see: THE DECISION IS PERSONAL AND AT THE SAME TIME IS FREEDOM, THAT WHICH ONLY I, YOUR SAVIOR, HAS GIVEN TO YOU: FREEDOM NOT IMMORALITY.
My beloved:
FREEDOM IS AN EFFORT AND A PERMANENT DECISION, freedom is like the exodus and the return. Until the human creature experiences the obstacles from the misused free will, he will not feel compelled to stop and continue on the road.
FREEDOM IS A BLESSING FOR MAN AND AT THE SAME TIME IT'S A THREAT, IT'S POSSESSION AND SEPARATION …My children have given a different concept to freedom equally to: actions that have taken you towards the excessive freedom of all the senses, desires and pleasures, confusing freedom by leaving My Side and rejecting Me because of their desire of independence that prevails in man. THE MISGUIDED MENTALITY OF MY CHILDREN LEADS THEM TO THE DESIRE OF BEING INDEPENDENT OF EVERYTHING IN ORDER TO LIVE A LIFE OF IMMORALITY.
My beloved, I freed you so you would be free from sin, not so you can plunge into it. Each one of My children must struggle against the mundane to establish a spiritual union between the creature and I, and also between you and your brothers. Because you live the instant; since individually you are a unit, is the reason that the evil forces will not defeat you.
I GRANT YOU PLENITUDE, BUT IN ORDER TO REACH IT, I DEMAND THAT YOU WORK AND ACT
DIFFERENTLY, A STANDARD OF A HONEST LIFE ACCORDING TO MY COMMANDMENTS: MY LAW
IS LOVE. And within Love, the knowledge of the roots of the foundation of Love to oneself and toward his neighbor, if you don't delve deeper, and not know My Love - man is spiritually unfit, since it can't give what it doesn't have.
Man in this instant lives immersed in disorderly liberalism. When you do not know the
Fundamentals of My Love you plunge into evil, idolatry, lust and you forget about the Salvation of the Soul.
MY CHILDREN ONLY CARE ABOUT THE BODY, THEY DON'T DO ANYTHING TO SAVE THEIR SOUL, AND THEY COME TO ME WITHOUT BEING MINDFUL OF WHO I AM AND HOW THEY MUST PRESERVE THEIR SPIRITUAL STATE BEFORE ME.
NOT EVERYONE WHO SAYS "LORD, LORD! WILL ENTER THE REIGN OF HEAVEN", EXCEPT THE ONE WHO LIVES AND FULFILLS MY FATHER'S WILL.
I SEE VERY FEW LIVING, WORKING AND ACTING IN MY FATHER'S WILL!
Some show a slight varnish of spirituality before their brothers to shine a bit on the outside, but inside they are sepulchers…
Others without going in depth into My Love mask the lack of Love towards their brothers serving in the Temples, but inside they are whited sepulchers…
Others serve hypocritically in the Temples to maintain a status in the community, but they do not love Me, nor do they know Me…
Others, who know Me superficially, take justice into their hands and they point and judge, without having penetrated in the true knowledge of My Love; otherwise they wouldn't be the knife that beheads their brothers.
My beloved:
THIS INSTANT IS DIFFERENT FROM OTHERS, IT'S AN INSTANT OF DECISION, YOU CANNOT CONTINUE TO BE LUKEWARM…THE INSTANT IS RUNNING OUT.
Do not give weapons to fools for them to continue with their foolishness of false freedom. You, My beloved, pray and receive My Body and My Blood where I am present and real, in My Miracle of Love for humanity. Remain in My Love so that Satan's violence does not invade you. Keep alert that false prophets will appear, calling themselves the christ, seeing themselves falsely as supports of My Love, indispensable supports for My Work of Salvation.
MY PEOPLE, BE ALERT!
NO HUMAN CREATURE IS INDISPENSIBLE FOR MY PLAN OF SALVALTION, THE INDISPENSABLE
ONE IS ME LIVING WITHIN EACH ONE OF YOU, WORKING AND ACTING IN THE PEACE OF MY FREEDOM.
Beloved children, My people will live through instants of trials, pray for My Church.
Beloved children, pray for Brazil, it will suffer.
Beloved children, the rumors of war will not be rumors anymore.
THE NATURE INCREASES THE AWAKENING OF MAN SO THAT THEIR GAZE AND THEIR CONSCIENCE RETURN TO ME.
DO NOT HARDEN YOUR HEART, BECAUSE I KNOW EVEN THE MINUTEST OF YOUR THOUGHTS.
Look high above, convert before I come as thief in the night and catch you unaware.
BE CAREFUL: YOUR BODY IS TEMPLE OF MY SPIRIT...
IF THE BODY GETS SICK, IT CONTAMINATES THE SOUL.
Children, the poison is not visible to you, you consume it in the food itself, the deranged minds of those who hold power in the industries, poison your body with unforeseen diseases.
LOOK HIGH ABOVE, I WILL SEND MY BLESSING. THE SAME WAY I SENT MANNA TO MY PEOPLE; IN THIS SAME WAY I WILL SEND MY BLESSING TO THIS GENERATION.
I AM INFINITE LOVE AND MERCY … I CALL WITH PATIENCE, THOUGH MY CHILDREN DO NOT LISTEN, BEFORE THEY PERISH, I WILL CALL THEM WITH MY JUSTICE.
My people will come to shine like gold.
I love you.
Your Jesus.
HAIL MARY MOST PURE, CONCEIVED WITHOUT SIN.
HAIL MARY MOST PURE, CONCEIVED WITHOUT SIN.
HAIL MARY MOST PURE, CONCEIVED WITHOUT SIN.