Tuesday, December 30, 2014
Message from Our Lord Jesus Christ
To His Beloved Daughter Luz De María.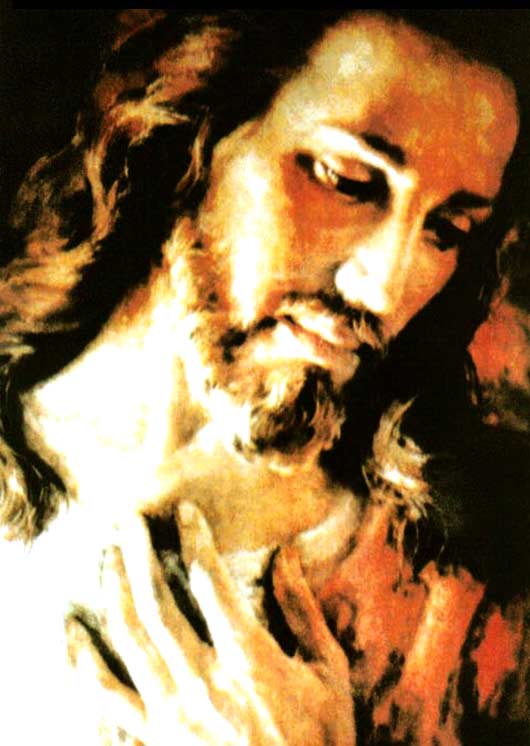 My beloved people:
I love you so much!
I guide you especially the smallest and humble ones so they will not be further attracted towards errors.
THIS GENERATION IS NOW IN THE END TIMES ANNOUNCED BY ME…
CHAOS HAS TAKEN HOLD OF MY CHILDREN DUE TO THE LACK OF KNOWLEDGE OF THE ESSENCE
OF MY SURRENDING ON THE CROSS…
I WAS NOT BORN TO BE ADMIRED, BUT TO BE THE REASON FOR THE HUMAN EXISTENCE …
I am not a passive God, but a God who doesn't rest. I am always alert defending the souls that are My Property before any of My human creatures, due to their living with their human "ego", become apostates in the Faith to attain credibility and secure acceptance from their brothers.
I INVITE YOU TO LIVE IN MY LOVE SO YOU WON'T CONTINUE IN THE MIDST OF SO MUCH CORRUPTION AND SUCCUMB TO IT.
You, MY children, fight against the world and its machinations, but you must always have the certainty that I do not abandon you. That is called: Faith.
I cannot elude that man has lost respect to the Gift of Life…
He doesn't fear to cause injury to his brother…
He doesn't fear to assassinate the innocents…
He doesn't fear to lose his soul, when he believes that a place of eternal condemnation doesn't exist, denying me, removing me from his life and forgetting that I redeemed him on the Cross.
False ideologies invade the Earth to separate you from Me and they do not fear offending me, because I have kept silent. But as in the past of other generations, I will come when they least expect Me.
IN THIS INSTANT THE ENEMY OF THE SOUL HAS INFILTRATED FIERCENESS
IN MAN NEVER BEFORE LIVED, THEY HAVE FORGOTTEN THAT I WILL COME BACK AND WITH A STEEL ROD WILL REACH THOSE WHO DESERVE IT.
Man walk empty giving free rein to his free will, so much that the devil allows man to act on his own to do evil, the devil looks joyfully at humanity and incites them to separate from Me.
BECAUSE OF THE LACK OF HUMILITY THEY DO NOT LISTEN TO ME NOR WILL THEY SEE MY COUNTENANCE, which will be hidden from those that continue living in ignorance of My Love by their own free will and continue deliberately leading with great ability their brothers so they will ignore me.
With pain I see some of My chosen ones who ignore me, they do not pray, they direct themselves, dragging with them the spiritual illiterate, the ignorant…
With pain I see the simple ones being led on the wrong path, that is the road to sinfulness …
EVIL DOES NOT EXIST FOR SOME OF MY FAVORITE CHILDREN, APPEALING TO MY MERCY, AND WITH THIS THEY SUBMERGED MY CHILDREN IN CONTINUOUS SIN.
Sodom and Gomorrah experienced the Divine Justice, why should this generation be rewarded, if they live in the excesses of sin?
MAN DOES NOT TAKE MY WORDS SERIOUSLY, HE PUTS THEM ASIDE, KNOWING THAT I DO NOT PRONOUNCE A WORD WITHOUT FULFILLING IT.
My children have permitted that the poison of the devil and his legions dominate them to the extreme, carrying in his claws the loot of the souls to hell.
ENEMIES OF MY PEOPLE, THE VICTORY WILL NOT BE YOURS; DO NOT THINK THAT YOU ARE TAKING WHAT IS MINE!
ENEMIES OF MY PEOPLE, YOU TREAT MY CHILDREN WITH GREAT DEGENERATION, TO THOSE
WHO DO NOT DENY ME, THOSE WHO CALL ME AT THE LAST INSTANT AND THOSE WHO OUT OF FEAR SURRENDER TO YOU… THE POWER OF A WEAPON DOES NOT STEAL THE SOUL THAT BELONGS TO ME!
Beloved:
The utmost calamities are beginning to appear, My children will be slaves of the whims of the heretics, and the Churches will be closed to prevent them from adoring Me. DO NOT FORGET THAT I LIVE INSIDE OF EACH ONE OF YOU, LONELINESS IS NOT THE ORIGIN OF MY FAITHFUL, AND I WALK STEP BY STEP WITH YOU.
That the persecutors of My People and those who call themselves My children, fear the Faith of My Presence in each one of you; because I will come soon with an Iron Hand to rescue My people with great power and majesty, with My legions the whole Earth will tremble and the dominator will live his powerlessness. Before this takes place, My Second Coming will arrive. The Earth will be immersed in a darkness never before seen, darkness of the soul, of thoughts, of conscience and wherever evil nests.
Children, continue to do good, pray, receive Me in the Eucharist, the Sacrament of Divine Love, do not offend Me on the contrary, atone.
DO NOT WEAKEN, GAIN STRENGTH AND PREACH ON TIME AND UNTIMELY, WITHOUT FEAR,
ADVANCE WITHOUT BEING ASHAMED TO PROFESS THE FAITH IN MY REIGN, IT DOES NOT HAVE
END. DO NOT BE SURPRISED THAT THOSE WHO DO NOT LOVE ME PROGRESS, SOON I WILL RAISE MY HAND AGAINST THE OPPRESORS AND I WILL SILENCE THEM, MY HAND WILL FALL UPON THEM.
My beloved, you are different, you are My Flock, in which I remain, and upon the willingness of Mine, I will not abandon you. I am the most faithful, and as such you will not be alone, I will send the Blessing from above, My help will come shining with the innocence of a child in your souls, but with My Truth with fire in its mouth, destroying the powerful oppressors.
You will never be alone, you are the Apple of My Eye, My Sanctity will walk hand in hand with My Mother.
CHILDREN, NOT EVERYTHING WILL BE A CALAMITY IF I RESIDE IN YOU. Do not separate from Me, remain united to Me, continue at My Side, that "I am who I am" and no man can imitate Me, I am the beginning and the end of everything that exists.
My Love for My People is infinite, like infinite are My Mercy and My Justice.
My Love pours out upon the hearts that are faithful and simple, of the persecuted for the sake of My Name.
Cry out to My Mother, she waits to take action interceding on behalf of Her children.
MAY MY BLESSING GO WITH EACH ONE OF YOU WHEREVER YOU GO.
I love you with Eternal Love.
Your Jesus.
HAIL MARY MOST PURE, CONCEIVED WITHOUT SIN.
HAIL MARY MOST PURE, CONCEIVED WITHOUT SIN.
HAIL MARY MOST PURE, CONCEIVED WITHOUT SIN.