Thursday, January 1, 2015
Message of the Blessed Virgin Mary
To Her Beloved Daughter Luz De María.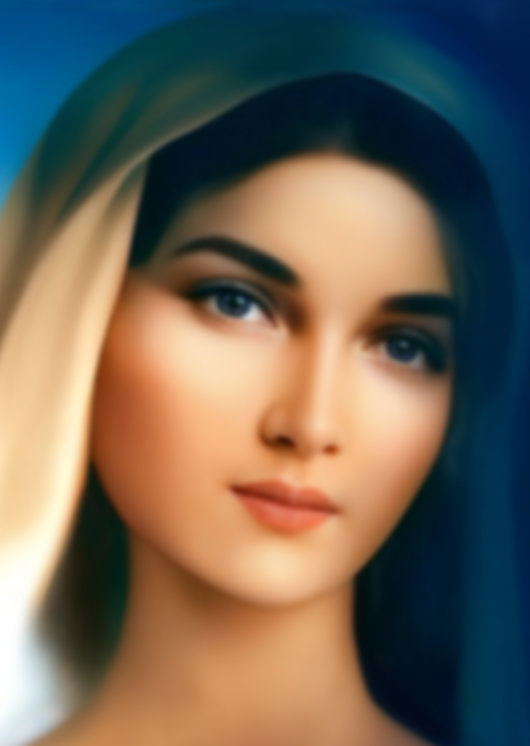 Beloved children of My Immaculate Heart:
Receive the blessings that are bestowed upon all the children of the Sacrosanct Trinity and Mine.
Beloved children:
AS CHILDREN OF GOD I CALL YOU TO BE MINDFUL THAT GOD IS GOD AND THE HUMAN CREATURE, CREATURE IS. THIS IS FOR YOU TO PLACE YOURSELF WHERE MAN BELONGS:
TO BE A CHILD OF GOD.
Man is the cause of the grave spiritual devastations to which all of humanity has been led to, and this generation is not the exception.
Free will has kept one generation to the next in constant purifications, due to the abuses caused by the human creature against God and of everything that was created to help man.
Beloved children, child of God, man's guilt is the misused of the human freedom and man will be freer when he annuls his "ego" and receives his brother with a "You" of God.
Children:
SUCH STRUGGLE IS SOON TO COME BEFORE HUMANITY!
AND SUCH IGNORANCE OF MAN TOWARDS HIS GOD AND LORD!
The children of My Son do not know the Divine deed and action; this has led man to commit errors, conflicts and contradictions in detrimental of the generations. Very few children know in depth the Divine Love and the essence of the Cross that is freedom, freedom to annul the creature itself to give himself to his brother. CHILDREN, BECAUSE OF IGNORANCE, YOU HAVE CREATED A FALSE FREEDOM BASED IN DEPRAVITY, WHERE FREEDOM IS TRANSFORMED IN SELFISHNESS AND THIS IS THE RESULT OF THE LACK OF CONTROL OVER THE HUMAN FEELINGS.
Children:
GROW IN SPIRIT, SUPPRESSING THE HUMAN EGO IN YOUR SINFUL INCLINATIONS. DO
NOT ASK FOR YOURSELF, RESPOND WITH BROTHERHOOD, FREEDOM IS TO GIVE OF
YOURSELF AND TO FORGET THE "I DESIRE..." "I FEEL..." "I BELIEVE..." "I DO NOT ACCEPT...".
For one instant think about My Son on the Cross …, He had superabundance of Love for each one of his children, each particle of the Holy Wood was imbued of the Love of My Son for each one of you, such that the Holy Wood was support for My Son. Thus each human creature is a wood, each one decides on their own free will if it is wood of blessing or if it is wood for his brother to stumble over.
Beloved children, rise in spirit, that the instant is not instant, worldly issues are not allowed and do not disturb the soul with mundane thoughts. Each feeling born in the heart of My children and expressed through words must contain the spiritual reality, the spiritual dignity that only the true child of My Son knows, lives it and is imbued in its soul.
Children, this instant will be self-examination, keeping the Faith when facing persecution, do not weaken but be a help to your brothers. This instant attracts the greatest struggle for souls: without you even perceiving it, My Heavenly Legions fight for the souls against the continuous evil attacks that will make you fall.
Good is seen as bad, and bad is seen as good: this is the reality of this generation in which the existence of evil is denied and the Divine Justice of My Son; not realizing that this is Satan's scheme to snatch souls.
Know My Son and your will recognize where evil stands: whoever tells you that evil doesn't exist, will take you away from the road to Eternal Salvation.
Beloved children of My Immaculate Heart:
Keep alert before the attacks of the human creatures that have surrender to evil. They will cause great pain everywhere on Earth, the innocent perish before the forces with which evil encourage its followers. My children scatter, they live in disunity, and the evil allies unite to become stronger … My children weaken in conflicts without sense and the evil allies become stronger in mutual cooperation.
You will not continue to live in the midst of peace, because power wants more power over all humanity, the god money will collapse, and despair will cause upheavals. Nature will continue to devastate with force, as it perceives the speed with which the events approach man.
Pray My children, pray, receive My Son in the Eucharist and know Him so you will recognize
Him and not be confused. The imposter of My Son arrives, it is necessary the knowledge of My Children in this instant, in this way you will not deny the undeniable, nor accept the unacceptable.
My beloved, each instant is precious, more than in another instant. Transform your life into prayer, every act be an act of love, each deed be an act of love, this way you will be live testimonies of He that dwells in you.
Humanity will suffer intensely; My children must be conductors of unity to strengthen the community so evil will not penetrate, because when evil penetrates, it destroys without mercy. Be missionaries of My Heart; bring the Word of My Son to those who are confused.
Beloved, darkness hangs over humanity; the soul is more powerful that the body, the body does not subsist without the soul: SAVE THE SOUL, CHILDREN SAVE THE SOUL... the instant agonizes.
My Maternal Love will not leave those who ask Me. As Mother I hope that My children will come to Me.
Mother Mary.
HAIL MARY MOST PURE, CONCEIVED WITHOUT SIN.
HAIL MARY MOST PURE, CONCEIVED WITHOUT SIN.
HAIL MARY MOST PURE, CONCEIVED WITHOUT SIN.