Sunday, January 4, 2015
Message from Our Lord Jesus Christ
To His Beloved Daughter Luz De María.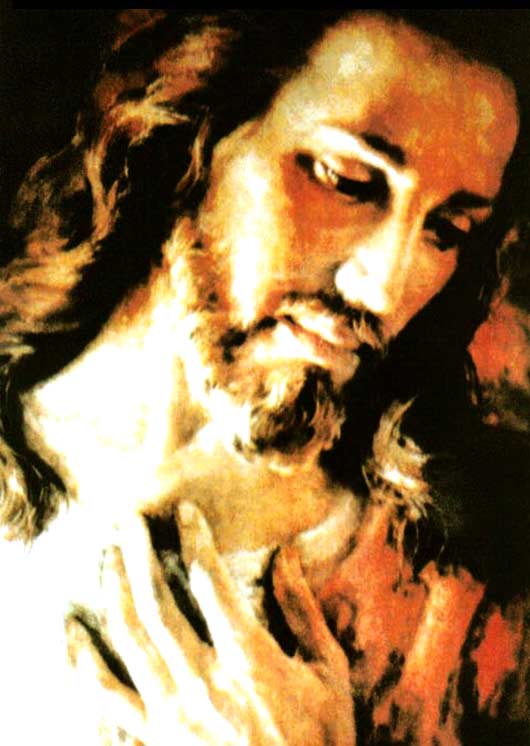 My people:
WHERE ARE YOU, MY PEOPLE?
YOU HAVE KEPT AWAY FROM MY KINGDOM for false idols…
For wolf with sheep clothing…
For false promises…
For negative science…
For politic interests and for power…
For the ideologies that are invading My children to constrain them and to silence them… For the interests that hide the Truth…
YOU HAVE KEPT AWAY FROM MY KINGDOM, you that subdue yourself before your will…
You, who immerse yourself in the free will…,
You, who wishes to impose yourself before Me…
You, who has kept Me away from your life...,
You, who are arrogant before Me,
You who invade yourself with anger… You, who surrenders yourself to your whims…, You, who emits words against My Word…,.
You, who think are master of My House and single out and criticize your fellowman …
You, who in order to help in My Altar dictate sentence according to your poor intuition …
You, who rely on My priests to condemn your fellowman…,
You, while being a priest do not rescue My sheep but launches them over the cliff …
You, while being a priest throws the first stone without basis,
You, making use of a gift that I have given you – you are conceited because they follow you, forgetting that without Me you are nothing.
You, child, who loves me depending on the circumstances; you are lukewarm whom I will vomit from My Mouth …
You, who loves Me in some instants and in others you loathe me …
You, who doesn't respect My Plans…,
You, who question My Chosen Ones and Instruments, you are the stumbling stone and you will be singled out by the claws of evil, manipulated and used for the purpose of the enemy of My House…
Beloved:
IT IS THE INSTANT OF THE INSTANTS, IS THE INSTANT IN WHICH, HE WHO DOESN'T COME TO ME, WANDERS ABOUT EVERYWHERE. Without the strength of My Spirit, My children will perish one after the other moved by the deceitful cheat. The more ignorant the human creature is, the more likely to fall in the lines of those that will later persecute My faithful people.
I REDEEMED YOU FROM SIN, BUT MY PEOPLE WHO IGNORE ME IN THIS INSTANT, HAVE ERECTED THEIR OWN KINGDOM, IT IS CALLED PRIDE: that which doesn't need me, nor does it yield to anything, that which doesn't seek Me out, but keeps Me away, that same one that led Judas to hand me over for his own wishes to impose upon Me his way, PRIDE: the same one that led lucifer to fall and the same one that will lead all of those children of Mine that do not repent, that do not recognize that they are distant from Me and are disobedient to My Will.
I WARN MY PEOPLE, AND MY PEOPLE DESPISE ME … I CALL OVER AND OVER AGAIN FOR YOU
TO LOVE ME … I COME AS A BEGGAR, AS A FRIEND, AS A BROTHER … AND I AM DESPISED. FOR THAT REASON I COME IN THIS INSTANT AS A JUST JUDGE AND YOU WILL SEE THAT "I AM WHO AM" AND YOU CANNOT FOOL ME.
I have given to My children, that I love, Missions and Tasks for this instant by which My faithful people will be protected.
Beloved, nothing is certain for My children; you must earn My Kingdom and more so, preserve it from your own whims. Those who do not subdue their free will shall not enter My House. You must not scrutinize that which you must respect.
This instant as such announced by Me, like in the times of Noah when My Father warned His children… In this instant I warn you: wise man and the scholar, politics and gentiles, rich and poor, learned and illiterate, proud and simple… I announce to you out of love, even though that Word is not in your heart.
MY WILL SHALL BE FULFILLED ON EARTH AS IT IS IN HEAVEN when the man of science is not aware that he will be prey of the unexpected and must accept that with its advances he will not have achieved to surpass My Omnipotence.
MY WILL SHALL BE FULFILLED EVEN WHEN THE LEADERS KEEP THE POWER AND DOMINION OVER THE PEOPLE. MY WILL SHALL BE FULFILLED!
It will not be the powerful that will, turning over My children to the power of the antichrist, destroy My faithful people. They will wound My people and they will persecute them but from My House My Legions will descend and will overcome the evil disseminated throughout the Earth by the impious. My Legions will descend upon the harvest and will take it to a safe place while they eradicate evil from what is My Property.
YOU, MY SIMPLE AND HUMBLE CHILDREN, BE IN THIS INSTANT THE SIMPLE ONES THAT KNOW ME IN DEPTH, that love Me as I love you; be the simple ones of My People, that irradiating knowledge, keeps in all instant the protection of their brothers before the snares of evil that have taken the powerful ones to dominate My People.
YOU, MY SIMPLE AND HUMBLE CHILDREN, WHOM I HAVE CALLED TO BE SOLIDARY WITH MY LOVE, KEEP THE FAITH IN MY WORDS and do not fall in the claws of those that with a little knowledge drag My faithful ones to refuse to accept My Announcements and to abandon this My Mercy that warns you to keep you in total knowledge of what is coming.
NATURE HAS AWAKENED AND MAN WILL SUFFER.
The inactive volcanoes will become active, great disasters will invade the Earth, they have taken power from the evilness in man that attacks his God, killing the innocent and rising against the Gift of Life.
The seas will cause pain to humanity. The conduct of man against My Will shall make him suffer the consequences of his misused of science, when this scatters like the wind, leaving its trial of pain in each human creature that it touches.
I mention to you the nuclear energy and the new inventions such as chemical weapons that are prepared to decrease de world population.
What are you preparing against your God, My child?
Where I sow My Love, you respond with death…
When I gave Myself to humanity, you generate war…
Where I transubstantiated in My Altar, you despise Me and you treat me with disrespect …
My beloved people:
Wake up from such lethargy and so much ignorance with which you cover yourself for comfort!...
You find greater hope in the whiten sepulcher than in My Word! Ignorance is the mother of the setbacks and fruit of the hypocrites that do not love Me and deceive My People to turn them over to the antichrist.
THE EARTH TREMBLES BEFORE THE PROMPTNESS OF MY SECOND COMING, IT TREMBLES BEFORE MAN WHO DOESN'T RECOGNIZE HER, AND IT TREMBLES BEFORE THE TERRORISM THAT WILL CAUSE DEVASTATION.
Pray for England, France and Spain.
The eagle that has nest luxuriant; falls without delay.
WOE TO MY CHILDREN THAT HAVE PLACED IN THE GOD MONEY THEIR DESTINY! You, My children, will see with fear the madness of the rich and the madness of the poor: of the rich, who will in an instant find himself without any possession, when he has in his hands only worthless paper and the madness of the poor before a helpless rich person, taking what is not his and which has never been in his hands. Each will be as guilty as the other that is why I call to you, My faithful people, to remain within My Will so you won't be dispersed and led to evil. Man will fight against his brother and My Heart will bleed.
This humanity will be thrown out from this Earth for not recognizing Me as its Creator, it will be thrown out by the blood curdling occurrences of the Elements, that wishing to call you to My Side, you will be punished over and over again.
PREPARE YOURSELF MY CHILD THAT YOUR CONSCIENCE WILL BE PLACE BEFORE ME AND YOU WILL BE YOUR OWN JUDGE. There you will see that you are not the learned that you thought you were, nor the judge that you were, nor the person who caused the downfall of the honor of a brother. You will recognize the wrong that you committed before yourself, you will see your soul fall low while it sees you eye to eye like the one who waits to be raise up to come before Me.
COMMUNISM EXPANDS AND TERROR WILL INVADE THE EARTH.
The water will scourge Chile and San Francisco. The fire of great volcanoes will surprise My children. Did you really believe that you are superior to Me, My Child? I, Myself will show you that I am the one who judges and that most persecuted are My Messengers to reveal My Presence in them.
My beloved people:
Pray for My Church, it will be purified.
DO NOT FEAR IF YOU LIVE FULFILLING AND HONORING MY WILL.
DO NOT FEAR IF YOU OBEY MY COMMANDMENTS
AND DO NOT FORGET THAT THE ARROGANT WILL BE ANNIHILATED BY HIS OWN PRIDE.
Pray, My beloved, pray and nourish yourself with My Body and My Blood.
My beloved people:
IN VARIOUS COUNTRIES MY CHILDREN HAVE CREATED THEIR OWN MATERIAL REFUGE, but if they haven't created their internal refuge beforehand, they will suffer the same pain of those who threw me out of their internal temple.
My people, who continue to be courageous: I am your God, I am your God…and there isn't and there will never be anyone greater that I.
I WILL SEND MY BLESSING FOR YOU IN THE ONE WHO WILL COMFORT YOU IN THE INSTANTS OF TRIBULATION AND THIS WAY MY PEOPLE WILL BE CHOSEN AMONG MY FAITHFUL CHILDREN.
Do not silence the concern of the heart and the reason to seek me, be faithful to My Will. Receive My Blessing.
Your Jesus
HAIL MARY MOST PURE, CONCEIVED WITHOUT SIN.
HAIL MARY MOST PURE, CONCEIVED WITHOUT SIN. HAIL MARY MOST PURE, CONCEIVED WITHOUT SIN.