Friday, January 9, 2015
Message from the Blessed Virgin Mary
To Her Beloved Daughter Luz De María.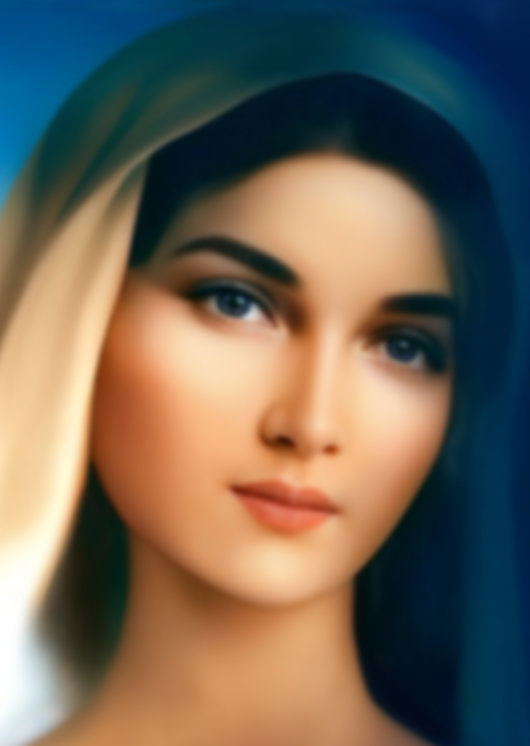 Beloved children of My Immaculate Heart:
MY CHILDREN CONTINUE TO GO FORWARD CONTINUALLY, WITH A CONSTANT REPENTANCE OF
THEIR ACTS AND DEEDS THAT
SEPARATE THEM FROM MY SON.
DO NOT STOP, CONTINUE FIGHTING AGAINST THE EVIL INCLINATIONS.
This generation is before the abyss that leads man to see sin as a simple act and of weakness that should not be overcome. They go through life without the proper conscience of the consequences that the acts and deeds contrary to the Divine Will bring about to the soul and therefore results in the loss of the Eternal Life.
Do not continue without making self-examination of your deeds and acts. An arduous selfexamination is crucial in this instant, if you wish to continue fighting to overcome the evil inclinations to which evilness drags you, disguised as good actions.
AS A MOTHER I REMAIN BEFORE YOU, I DO NOT WISH TO LOSE YOU; I AM THE INTERCESSOR AND ADVOCATE OF EACH ONE OF YOU BEFORE MY SON'S DIVINE MERCY.
I WILL NOT SEPARATE ONE INSTANT FROM THOSE WHO ASK MY HELP.
Do not deny evil, it exists just as good exists, but do not deny My Son's Mercy before which, if you approach with a truly contrite and humble heart, you will be forgiven and welcomed again like the lost sheep that returns to the fold of its good Shepherd.
The horrors in this instant will greatly worsen. Man, as he regresses spiritually, allows his base instincts to govern him, and will not be recognized by Creation that acts in the Will of Its King and Lord.
Beloved children, the most precious gift is the Gift of Life, to which the evil one pounces upon to cause suffering to My Son.
The true children of My Son are not only fervent but keep the Faith alive. Even if the wind is strong the candle will not be extinguished, because not only of fervor do My children live, but of a high spirituality that keeps them centered in a constant observance of the Law of God and the Precepts that My Son left you.
Man will be the cause of serious instants for all humanity, where pain will be a cruel scourge for all human beings, without distinction.
GROW IN KNOWLEDGE…
MAKE PROVISIONS FOR THE DIFFICULT INSTANTS …
BE EUCHARISTIC SOULS, do not feel comforted by only visiting My Son in the Most Blessed Sacrament of the Altar, which is an act of devotion, comfort and love to My Son, but go to communion every day being aware that before such great Mystery of Divine Love, man is the smallest and the most in need; aware of the union in which you must live with the Creator to receive the Divine Shepherd.
GAZE AT THE CROSS WITH A CLEAN AND EMPTY HEART OF ALL THAT IS SINFUL AND CONTRARY TO THE WILL OF MY SON.
The Cross is not a sign; it is the plenitude of the Divine Love for each of His children.
The Cross is not only a Wood but transpires Mercy for and on behalf of all human creatures.
The Cross is the plenitude of all plenitude.
The Cross is the Divine Surrender above all surrender, it is Mystery, Life and Resurrection, before which all human creatures must kneel and gaze its greatness.
Do not forget that the wolf hides among the sheep, do not forget that the chaff is mixed with the wheat; and remain in the Will of My Son so you won't be mixed up with the other. On the contrary, be testimonies for your brothers before the snares of the devil.
DO NOT DESPISE MY CALLS, BE OBEDIENT TO THESE MY CALLS...
DO NOT SEPARATE, UNITY IS CRUCIAL FOR MY TRUE CHILDREN.
The Church of My Son will go through hard instants and will be shaken. Try everything possible not to fall, keep the Faith.
My children do not cling to men, but to the Will of My Son.
My children are not followers of men; but are souls that listen to the Voice of My Son. My children are believers of My Son and devotees of My Immaculate Heart.
Beloved children of My Immaculate Heart.
HUMANITY WILL LIVE THROUGH GREAT TRIBULATION CAUSE BY MAN HIMSELF.
Beloved children of My Immaculate Heart:
Humanity will suffer: a comet approaches the Earth and the Earth will suffer because of it.
The water will flow over the land and the land will shake.
My children:
DO NOT BE CREATURES THAT CENTER THEIR FAITH BY THE EVENTS, BE AWARE OF THIS INSTANT
IN WHICH THE HUMAN SUFFERING INCREASES; NOT AS A PUNISHMENT BUT AS A CALL FOR YOU TO RETURN TO THE PATH THAT YOU HAVE ABANDONED.
The rage of man causes its own destiny, which only and only by a closeness to My Son and to change the habits that keeps you away from the true path, will you be able to save yourself and continue without falling.
Children, strengthen your Faith, do not go astray. In each instant find a reason to continue fighting, find an opportunity to continue fighting.
MY SON IS ETERNALLY PRESENT; HE IS WITHIN EACH OF YOU.
Do not pay attention to dates, be creatures of Faith, fortified by the unfathomable Love and Mercy of My Son, but do not forget that the Divine Justice is near at hand for this generation.
Beloved of My Immaculate Heart:
MY SON WILL RETURN GIVING HIMSELF TO EACH ONE WITH HIS LOVE, IN A CONTINUOUS CALL TO CONVERSION.
You will self-examine freely as an Act of Divine Mercy for the salvation of the soul. Man will say that it is an act caused by science; human explanations will be heard without delay.
The rapture will be distorted by science to minimize the Divine Power. (*)
YOU, MY FAITHFUL CHILDREN, DO NOT FALTER IN THE FAITH, I SUPPORT YOU CONTINUALLY.
I love you, remain in My Immaculate Heart.
Mother Mary.
HAIL MARY MOST PURE, CONCEIVED WITHOUT SIN.
HAIL MARY MOST PURE, CONCEIVED WITHOUT SIN.
HAIL MARY MOST PURE, CONCEIVED WITHOUT SIN.
(*) 1 Thessalonian 4, 17.
"Then we who are alive, who are left, will be caught up together with them in the clouds to meet the Lord in the air. Thus we shall always be with the Lord."
(New American Bible)