Monday, January 12, 2015
Message from Our Lord Jesus Christ
To His Beloved Daughter Luz De María.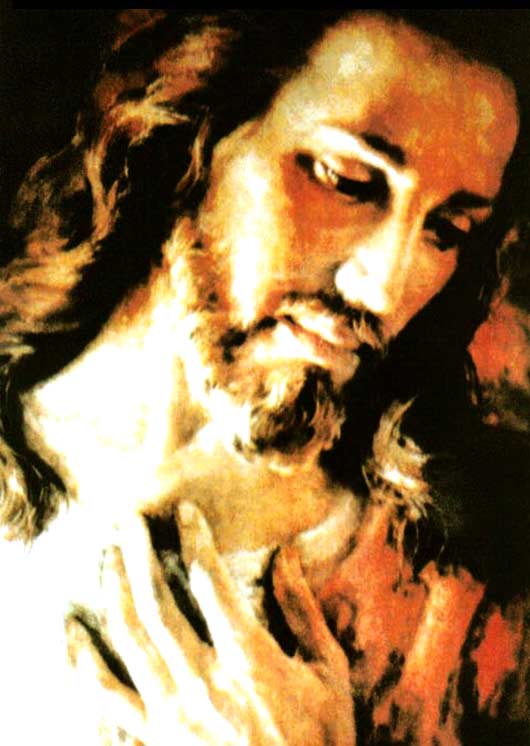 My beloved people:
MY PEOPLE WILL NOT BE DESTROYED; I REMAIN TOGETHER WITH MY PEOPLE SO THEY WON'T BE DRAGGED BY SIN OR BY FEAR.
MY CHILDREN MUST CONTINUE TO BE ASSURED THAT MY HOUSE DOES NOT LEAVE ITS
FAITHFUL; RATHER THEY ARE CALLED AND ARE TAKEN WITH THEM SO THEY WON'T BE DEFEATED BY EVIL.
My beloved people:
The path becomes dense; I have given you the means and more to distinguish the wolves with sheep clothing, that in occasions are those who speak out loud to cause division or those who emit judgments that corresponds to Me. Hypocrites are those who take My Name to condemn their brothers! Look at your inner self, which each one has its own for My Justice to see.
So many of My children appeal to the free will to separate themselves from Me, living a false freedom transformed in licentiousness!
WOE TO THOSE THAT LIVE FREEDOM IN THEIR OWN WAY!... These creatures remain immersed in their human me, allowing their "ego" to grow without control.
THE TRUE FREEDOM IS THAT ONE THAT LEADS YOU TOWARDS TO WHERE I CALL YOU, not the one who lives their free will under their human want…
TRUE FREEDOM IS NOT THE ONE THAT LEADS YOU TO LIVE WITH FALSE INDEPENDENCE or the one that leads man to live with personal pleasure or a self-favored freedom in order to live in licentiousness.
My beloved:
MY FREEDOM IS THE ONE THAT LEADS YOU TO LIVE IN MY WILL, IN MY WORK AND ACTIONS… IN MY DIVINE WORK AND ACTIONS.
My beloved:
Freedom must lead you not only to listen to My Word but to act and execute "ipso facto" My Word. That is the true freedom, the one that leads you to good, but this is not done by My children if it is not with the human consent.
I INVITE YOU TO BE FREE, REALLY FREE, I DO NOT IMPOSE,
BUT I INVITE YOU TO WILLINGLY FIND THE INTERIOR FREEDOM.
BELOVED, EACH ONE OF YOU IS THE LEADING CHARACTER OF YOUR EXISTENCE
AND EXECUTOR OF YOUR HISTORY…
THE ONE WHO IS REALLY FREE IS THE ONE WHO FIGHTS TO ACHIEVE THE PURPOSE FOR WHICH HE/SHE WAS CREATED: TO COME BACK TO ME.
My children:
YOU WILL NOT FIND THE FREEDOM OF MY WILL UNTIL YOU COME TO LIVE IN STATE OF GRACE. Sin keeps Mine away from the real freedom because it leads you to the satisfaction of your likings and desires. You must suppress the human "ego" to be able to find the True Freedom to which I call you.
I see licentiousness everywhere, it is superabundant in the world, steering humanity to fall into their base instincts leading man prey of the snares of the devil. He, who doesn't fight to keep away from sin, will live his freedom according to his own ego, separating you far from Me.
He, who doesn't fight to keep away from sin, will only find a light varnish that for his liking is freedom, thus this is what will lead you to live far from Me.
Beloved:
IT IS THE MISUSED OF THE WILL THAT KEEPS THIS GENERATION FAR FROM ME, which has led you to constantly rebel against My Commandments, offending Me without regard, when your will remains empty of Me.
Children:
To what extent man rebels towards My Plans, permitting that the enemy of the soul establish itself in the hearts of the human creatures crushing the Faith, the Values, the Commandments, the Sacraments, so that the new trends surpass My Will and liberalism take hold of My Church!
My Will is that My Church be a Holy Church, where I can be joyful and dwell in plenitude, so that the enemy of the soul will not multiply its bad seed nor nourish from the indifference or the ignorance of My People.
Beloved children:
Devastating instants approaches My Church, pray so that the Faith of My People will not falter.
Hunger will strike the Nations, a strategy of evil to buy not only the conscience of My children, but the soul so you will lose Eternal Life.
THE BATTLE OF THIS INSTANT IS A SPIRITUAL BATTLE TO ALL OF MY CHILDREN; IT IS A SPIRITUAL BATTLE WITHOUT DISTINCTIONS. THAT IS THE REASON OF MY CALL FOR YOU TO REMAIN ALERT.
Mine do not see the spiritual war spread all over the Earth. This war intensifies as the arrival of the imposter approaches, so you won't recognize him and surrender to him willingly.
The moon will confirm that the blood runs throughout the Earth, do not be indifferent to the pain of your brothers, My Commandment is Love.
Pray, beloved, for the innocent, for those who suffer for My sake.
My People call Me to come quickly.
Pray for the United States it will be prey to terrorism.
My people, you walk amidst humanity absorbed in sin. My suffering for you continues because of the ignorance that perseveres in those who deny My Calls.
My People, wake up! Night comes tinted with blood of the martyrs…
My People, wake up! My Church will tremble; evil attacks you to destroy My House. Do not stray from Me; receive Me with a contrite and humble heart, living each encounter to its fullness.
TO LIVE IN MY PATH IS NOT TO LIVE ONLY IN THE THORNS, LIKE SOME OF MY CHILDREN
DICTATE,
BUT ON THE CONTRARY, IT IS TO TAKE PLEASURE TO SHARE TOGETHER WITH ME THE SALVATION OF YOUR BROTHES.
Do not rest; continue to surrender to Me without delay.
Pray, Italy will be suffering due to Nature.
Children:
EVIL DOES NOT REST AND INSTEAD, YOU SLEEP… BE CONSCIOUS OF THE INSTANT IN WHICH YOU LIVE AND
WAKE UP FROM THE LETHARGY THAT EVIL HAS LED YOU TO.
I am Love, Mercy and Divine Justice.
My People do not wait; they remain attentive to My Calls.
I bless you.
Your Jesus.
HAIL MARY MOST PURE, CONCEIVED WITHOUT SIN.
HAIL MARY MOST PURE, CONCEIVED WITHOUT SIN.
HAIL MARY MOST PURE, CONCEIVED WITHOUT SIN.