Monday, January 19, 2015
Message from Our Lord Jesus Christ
To His Beloved Daughter Luz De María.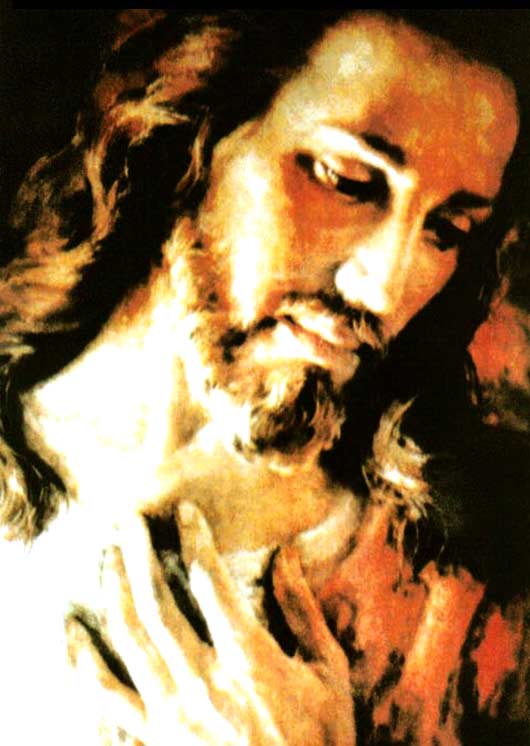 My beloved people:
MY HAND PROTECTS YOU, MY BLOOD FREES YOU, MY WILL CLAIMS YOU.
Beloved people, My legions guard you, do not put them aside, you are My children, and My legions are your protectors. You have forgotten your Guardian Angels, Protectors, and Companions of the Road. They watch over each one of you without receiving a thank you or a prayer.
Beloved, these are instants in which all help from My House must not be put aside, but must be welcomed with great respect, mindful that I don't send My Blessings by chance, but because you need it more than any other instant, not only as help and protection, but as My special Divine Help for you to be able to go back to the true way.
My children move hastily, rejecting whatever I send in previous instants to the public appearance of the evil one or the antichrist who would say: I am Christ on Earth, I am whom you should follow, I am who has the Mandate of the Father, I am…
My People will be tested, the unknown will be revealed by Creation itself, humanity will be astonished before new discoveries, humility in man must flourish or it will wither like the fig tree that doesn't produce fruit.
Some leaders will lead their people to separate from the authority of the Pope, My People will be cruelly persecuted, and My Heavenly Messengers: your Guardians, will be the armor plate for each one, so for even in the tough instants you will not renounce the Faith.
I come to each of My Consecrated ones, so you will live humbly, without vanity, or luxury, without great banquets or ostentatiousness. On the contrary, I call to you to be humble. Whoever has been consecrated to Me should not live in lavishness, but in humbleness, in chastity and at the service of My People, working and acting with holiness in My Will.
My People, a comet is approaching the Earth, the Earth's axis will move, the influence of this comet will be strong upon the Earth, causing each human heart to be invaded by fear, and in that way men will repent for what they had in their hands and they despised it, ignored it and altered it, repenting, but not with all their heart.
Beloved children, the sea waves will lash against the coasts; great suffering will be upon My People. New lands will appear parts of lost continents of other times, in front of the East Coasts of the United States.
Pray, My children, pray for San Francisco.
CHILDREN, I AM THE POWER, THE HONOR AND THE GLORY, AND YOU WHO DO NOT PRAY, ARE WEAK. I LEFT YOU MY WORD, CONSERVE THE FAITH.
Each one of you is that lamp that illuminates the steps of your brothers with courage and without hesitation. Look for Me, you who asks for Me, look for Me without fear.
Evil is superabundant and insistently calls you, lots of My children succumb, they are not strong, and they see everything that happens superficially. I talk to you and call you to conversion, and you still do not listen to me.
Events will happen to which you have confronted previously; they differ from each other in that the magnitude of the same and the sequence have not been seen in this generation.
Beloved, "Almost all of Japan will be under the sea."
Children, pray for Japan, Nature will come upon it with severity. Pray for the Bahamas, it will suffer, pray.
My beloved People: the god money will collapse, and humanity will be perturbed, it will enter in darkness and will feel lost… Do not make money a god.
THE FORTHCOMING INSTANTS WILL NOT BE ABLE TO STOP MAN. IT IS THE INSTANT OF THE INSTANTS, My People must not fear. Whatever humanity has planted is the cause of its suffering. The unrestrained actions of man will make him confront his own sins.
My beloved People, the banal things must not be reason for anguish, the safety of man is found in My House. The enemy of the soul is found in the midst of humanity, penetrating in those who are empty, with no love for Me, without having Me in their life, without respect or love for My Mother.
Do not be fertile ground for evil, but on the contrary, be that land fertilized by Me where the chaff cannot reproduce itself, but be stopped.
Beloved, I not only call you to take care of your soul, but also the body in which the soul dwells.
Do not enter in a relationship with evil, since afterwards, without you realizing it, you will be part of evil and they will have made you theirs.
I want the salvation of all My children, I give you My Mercy so you won't get lost, and salvation depends on you.
You are blessed by Me.
I love you.
Your Jesus.
HAIL MARY MOST PURE, CONCEIVED WITHOUT SIN.
HAIL MARY MOST PURE, CONCEIVED WITHOUT SIN.
HAIL MARY MOST PURE, CONCEIVED WITHOUT SIN.