Wednesday, January 21, 2015
Message from the Blessed Virgin Mary
To Her Beloved Daughter Luz De María.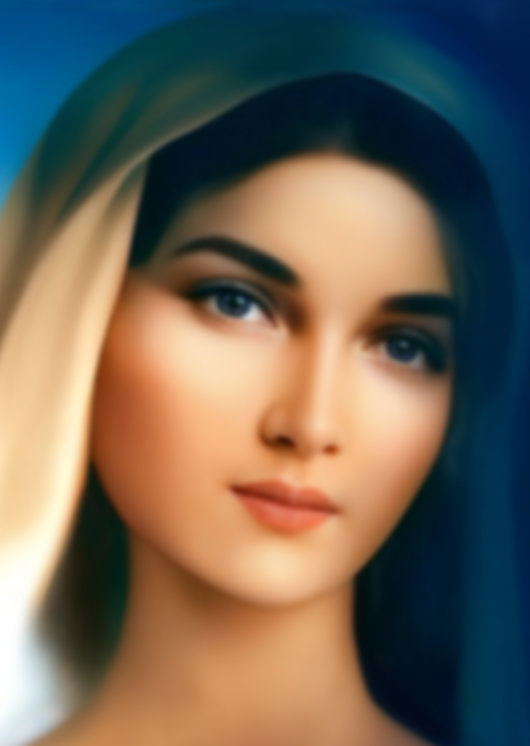 Most Beloved children of My Immaculate Heart:
I LOVE YOU SO MUCH; THIS MOTHER LOVES YOU SO MUCH THAT SHE WALKS FROM HEART TO HEART, KNOCKING AT THE DOOR TOGETHER WITH THE DIVINE BEGGAR OF LOVE, MY SON!
I love you so much and as a Mother I continue to intercede before My Divine Son for each one of you and for your salvation.
I love you so much, children!
In spite of your continued disobedience, the Sacrosanct Trinity allows Me to continue assisting you in the midst of the unrest of this humanity.
Most beloved children of My Immaculate Heart, I invite you energetically, demanding that you not fall any more in the great sin of arrogance. As a result, the enemy of the soul takes advantage to totally possess the human creature.
Many of My children make false promises to other men and most of all towards My Chosen Instruments and faithful and say: I will never leave your side, even if everyone falls to your right and to your left, I will remain with you, I am willing to give my life for you, I will put my hands in the fire for you, even if everyone stops believing I will never stop believing in what is revealed to you.
These children of Mine will be the first to fall, since no human creature can guarantee to be faithful to the end. Instead the humble one is who causes and asks with humility and silently to the Holy Spirit to give him the necessary help not to falter and not to abort a Mission.
Behind each chosen one, a great number of souls depend on them. So many call themselves saviors of humanity as if humanity depended of their yes, to continue surviving and defeating Satan! No man on the face of the earth has the destiny of humanity in his hands, only My Son. Hypocrite whoever calls himself: savior of his brothers!
The one who with pride says that he is the shield that protects his brothers, remember, if he says this, he is the weakest among all of the human beings that exist upon the Earth.
WAKE UP CHILDREN; AWAKEN THE INTELLIGENCE AND THE USE OF REASON!
AWAKEN THE HEART THAT HAS FALLEN ASLEEP BEFORE THE FALSE PROMISES AND RAMBLING AND USELESS WORDS OF CREATURES WITH GREATER INTELLECTUAL CAPACITY THAN YOU!
Beloved children of My Immaculate Heart, the only Savior is My Son, the only Liberator is My Son, the only one who speaks with the total truth is My Son and communicates it through his faithful Instruments with simplicity and with love.
When a human creature says that she is more than the rest -- that is when he is less than the rest of humanity. My Son did not come to Earth broadcasting it. When some creature received a miracle, My Son immediately disappeared from the scene and asked not to tell the others of the miracle that just took place. Remember that the master of the show and of the spectacle in these transcendental instants of humanity has a name and is called Satan the seducer and trickster of the souls.
Beloved children of My Immaculate Heart, I call you and I demand unity, that which My Son came to bring to you without distinction, it didn't matter if they were sinners or not. My Son called and anyone that listened to Him was immediately welcomed by Him. The fool, who continued being oppressed by evil probably at some time woke up or went to the place where he must atone for his sins.
Beloved people of My Son, children of My Immaculate Heart: little by little the truth of the shady deals among Nations is coming out to light. It causes surprise and will cause more surprises to the People of My Son, because evil has moved slowly behind humanity, it has secured most of the leaders of the nations to prepare his great tentacle: power, because without the power of the great leaders, it would be difficult for Satan himself to raise his offspring: the antichrist, to the highest summit from where he will be able to make all the decisions to manipulate the entire humanity in every aspects.
You, People of My Son know very well the temples will be closed and from this comes My urgent call for you to grow and scrutinize the Divine Word of My Son so you will know Him and love Him. Each one must change into an enamored soul of My Son, and to love Him you must know Him in depth, and thus achieve a reciprocal love.
Everyone is necessary in the plan of Salvation but not everyone is willing to live crushing his own human me. Those who deny the Divine Will shall be the ones who will be left out, since they will not know which road to take. The indecisive in all instant, are the ones who have not been able to overcome the great spiritual tests.
My true instruments not only tackle the daily living, as if that wasn't enough, not only confront this world that lacks good, but deal with criticism from those who do not truly know My Son and believing themselves learned, they criticize, that which cannot be criticized, they criticize the truth and they question it mocking My Word and the Divine Word of My Most Holy Son. Nevertheless at the same time, My faithful Instruments are signaled out by those around them and as if that wasn't enough, they are rejected by the Hierarchs of the same Church of My Son. So, then each one of My Instruments, also faithful instruments of My Son, live like My Son: in a continuous walk toward Calvary with the Cross upon their shoulder.
Beloved children, this generation has totally contaminated itself not recognizing and despising My Son. Evil has penetrated with great liberty and in this instant, My Son has designated some of His Creatures and one especially to take upon his shoulders, the Great Mission to keep faithful to the Word of My Son, with the purpose that the help sent from Above, will be introduced before the faithful and afflicted People, in the instant of greater persecution from the antichrist, therefore comforting His People and strengthening them to keep victorious until the end.
Beloved children of My Immaculate Heart, I see so much arrogance in most of My children! So much that they despise each other, so much that Satan has penetrated in the mind, in the conscience, in the reasoning and in the thoughts, to invade the heart and pour into it all his hatred against My Divine Son, and as a result against his brothers.
The massacres will not stop, because man despises himself. The great powers remain united. They are not what they seem before humanity, they sign shady deals, since they need the war in order not to lose the power.
All that I have announced to you has been fulfilled, some "ipso facto" and other Revelations of Mine are soon to be fulfilled, but absolutely everything that I reveal to you with permission from the Sacrosanct Trinity, will be fulfilled and this generation will not end until all My announcements are fulfilled. The
All the People are being dominated, some more than others, they are being dominated by the families who are masters of this generation. Who has turned humanity over onto the hands of a group of families that humanly dictate the future of humanity? The leaders of the great nations.
Enough, stubborn people, enough of offending My Son! That is why I call you to wake up, but not in the body, but in the conscience and in the spirit because it is urgent.
England will suffer and will suffer greatly due to terrorism, their own, not foreign. The United States will suffer due to terrorism and by Nature.
The volcanoes are awakening, those who were dormant have awaken to alert man, so he won't deny more his God and return his gaze toward the only one who surrendered His Life for the Redemption of the human race.
The creatures of good will who remain in the path to My Son and heed the calls from Heaven through My faithful Instruments, must double their devotion because in the Will of My Son you do not act alone, you are multiplied to the infinite.
Evil will seem to win the battle, but it will only seem to be, it will never be the conqueror. Before that happens, My Son will send His Legions to save His People.
The empire of the antichrist rises rapidly more than what you can imagine. In this same instant they are delivering to great leaders, exorbitant sum of money to keep them in his claws and these are the oppressors of their People.
Beloved children, "if you had the faith of a mustard seed' the Manna of Heaven itself would descend to feed you, but since you only enjoy the mundane and temporary, you do not appeal with true faith for My Son's help.
My beloved, change path and return to the right path because anyone who has been called, if he doesn't surrender 'in spirit and truth', just as he been called he can also be removed from his position. No creature on the face of the Earth is indispensable for the Will of My Son to be fulfilled -- if the creature is not worthy of the call because of human obstinacy.
My beloved I will continue to alert you since each instant must be a comforting opportunity, new and restorative in the spirit for you to subdue your "ego".
Self-examine daily since you will confront He who examines everything and to whom you cannot hide absolutely nothing.
I am Mother and Teacher at the same time, each one believes to be the actor and spectator of their life, but how many of you give up your place as actor to My Son and become only spectators? Only the truly clean of heart.
Humanity is hanging from a weak thread, a heavenly body is approaching that will make all of humanity tremble and you will know how limited and small you are before the infinite power of My Son.
As the Second Person of the Sacrosanct Trinity, My Son came to redeem you from sin, but this generation offends Him so much, that it doesn't want to give up in the least to raise their gaze and say: My Lord and My God!
PRAY, DO NOT SCORN PRAYER; DO NOT SCORN THE HOLY ROSARY. My Son sees those souls that dedicate instants of their life to prayer, but at the same time calls to each one, to be His disciple, to be faithful to him and to awaken their brothers. If you do not have the gift of evangelization, the gift of Words, use the technology and be communicators of this Word of Warning to the rest of your brothers, so they will be aware of the urgency of this instant, in which they must pray.
Pray, beloved children for Chile, that this My beloved people will suffer greatly.
Pray, My beloved for Israel, it will suffer.
Pray, My children for the Nation of South America: pray for Argentina.
My beloved, so many deny the events that I have announced to you! See how the fool in his foolishness finds arguments to deny My announcements, you try to make every effort to bring My Word to your brothers.
Nature has awakened and continues to wake up in a series of events that man will not be able to determine, nor does he have the capability to stop it.
ALL THOSE WHO READ THIS MESSAGE WITH TRUE LOVE AND FAITH, I REQUEST THAT IN THIS
INSTANT YOU RAISE YOUR ROSARIES AND YOUR SACRAMENTALS. I, AS MOTHER OF THE WORD, BLESS YOU SO YOU CAN BE PROTECTORS TO THOSE WHO HAVE THEM.
I bless your hearts so they will soften and My Word of Mother and Disciple of My Son penetrate deeply in you and be renewed with a generous spirit.
I bless you in the Name of the Father, and of the Son and of the Holy Spirit. Amen.
Mother Mary.
HAIL MARY MOST PURE, CONCEIVED WITHOUT SIN.
HAIL MARY MOST PURE, CONCEIVED WITHOUT SIN.
HAIL MARY MOST PURE, CONCEIVED WITHOUT SIN.