Tuesday, February 10, 2015
Luz De María's Mystical Experience with the Most Holy Virgin Mary
And a Message to All Humankind.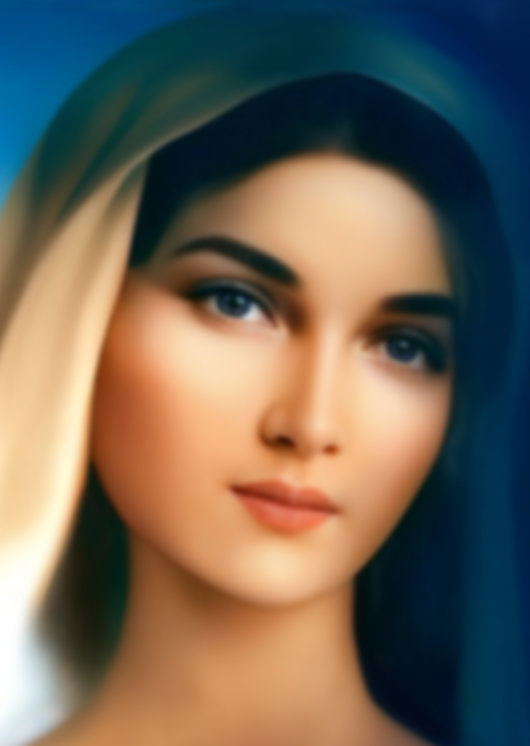 The Mother appears radiant like the morning sun breaking through the darkness that still taints the dawn; She reveals Herself by pushing away the clouds that overshadow the sky. Her face, like the purest porcelain, does not let me look away from her cheeks of a pure pink color like we will only be able to see in Paradise With so much splendor gathered around Her, My Mother immediately enraptures me with Her eyes—Pure and crystalline—that lovingly are more open than usual and talk to me with Her gaze; immediately some images come up: The purity of honey, the color of gold, the sun's rays as they shine through the clouds and seem to escape to manifest the great power of the star Sun which is stopped by nothing, and before setting it expands its greatness. She looks at me as Mother who knows me and knows that I want to be tenderly wrapped and embraced. She smiles and in Her smile I see She takes pleasure in saying, "Do not cease to be like a child who approaches with hope and love." And She smiled at me… Oh, resplendent Sun! Blessed are thou among women!
The reflected light from Her dress seems to go all the way to the light brown hair with which She appears, and reflects like a rainbow that covers Her blessed Head.
Each detail on Her Mantle is a small flower that I recognize, and next to each flower a beautiful firefly gives off light continuously, flying around from one place to another producing the most beautiful shapes as if under the baton during a symphony. Suddenly at this instant butterflies of several colors turn up and move to form like a fine cord of pastel colors all around Her Mantle. Such natural and heavenly splendor!
Perplexed by all that beauty, I hear our Mother say:
My child of My Heart, transmit this vision to your brothers, My children. Do not wonder whether they will believe you or not; do it. And transmit to them that this splendor of the creatures that surround Me and embellish My Mantle, has been repairing for the absence of those who say they love Me and do not, those to whom I speak and transmit to them My Son's Will, and they refuse to announce it because mistakenly they are afraid and they worry about what other people might think or say.
Tell them that everything that has come from the Father's Hand has been to please His children, and man, because of his favored and consented ignorance, does not reciprocate; instead, he heralds new ideologies to adore the animal and the vegetable kingdoms, the sun, the moon, the wind, and man adores himself, his body as if it were immortal.
The Creation refuses to be adored by man; she complies with the Divine Will and fulfills the purpose which was designated by God. All that was created wails for a man who has lost his way subject to new practices, just like I announced it during My first Apparitions.
MAN WILL ABANDON THE TRUE FAITH TO EMBRACE IDEOLOGIES OR PRACTICES THAT WILL
LEAD HIM TO EVIL BY CONTROLLING HIS MIND WITH FALSEHOODS, WILL GUIDE HIM ON THE
WAY TO ONE UNIQUE RELIGION THAT THE RUTHLESS FOLLOWERS OF THE ANTICHRIST WILL DEMAND.
At this instant I hear Her Immaculate Heart beat, and our Mother exclaims:
Children:
MANY SOULS ARE LOST WHEN THEIR FACULTIES ARE STOLEN FROM THEM IN ORDER TO SUBDUE THEM … AND THEY ARE NOT EVEN AWARE OR IT.
THE MIND IS CLOUDED AND MAN'S FACULTIES ARE SUBDUED TO MAKE MAN SIN AND OFFEND
MY SON…
In light of this Truth, it is urgent that My favorite children use the force of the Word given by the Holy Spirit to awaken the souls they must rescue.
The world evolves and evil over-evolves.
MY CHILDREN MUST INFORM THEMSELVES AND ALERT THEIR PEERS; EVIL DOES NOT HOLD
OFFICE HOURS NEITHER DOES IT CLOSE THE DOORS AT ANY ONE TIME. EACH INSTANT THE DEVIL WORKS 24 HOURS AND MORE…
Man has come to what I announced: When he wants to get close to My Son in the Most Holy Sacrament, he doesn't find any Temples open where he can appease the asphyxia he carries within himself because of the daily suffering.
Cruelty is on the increase. So many lies are hidden from humankind by the great politicians and their alliances with communism, terrorism, ill-employed technology, and provoked diseases, science at the service of evil and nuclear energy!
Do not despair, My Son's faithful children. The tortured groaning of men is not far away.
My Son's Justice is truthful and no man can stop it… He is Just and Merciful, and at this instant He comes as Judge.
WHO WILL HAVE TO HIS NAME THE NECESSARY PRAYERS AND CONTINUOUS SUBMISSION. WHO WILL NOT TASTE THE DIVINE JUSTICE?
In the middle of this dismemberment, nothing stops evil except the man who overcomes his own human ego and overthrows his pride.
Children:
UNDERSTAND THAT WHEN YOU REFUSE TO CHANGE AND REJECT CONVERSION, YOU WILL NOT BE ABLE TO KILL THE EGO, AND IT WILL CRUSH YOU LEADING YOU TO REBEL AGAINST HEAVEN'S REQUESTS.
My beloved:
At this instant you must gird the way; the senses—saturated with impurities-- betray the man: pornography, uncontrolled sex, drugs that paralyze the senses and destroy mind and body. Woman's immodesty –not fearing to exhibit her body—will be harshly punished by My Son. My true children must not expose themselves with such practices since they debase the senses and lead to the disseverance of marriage when man does not value the wife and the wife does not value the husband.
Beloved:
THIS INSTANT'S DECISION IS PERSONAL, YOU MUST MARK OFF THE PATH TO CONVERSION SINCE THE SENSES BETRAY YOU BECAUSE THEY ARE NOT SUBJECT TO THE DIVINE WORD AND HAVE NOT BEEN EDUCATED SPIRITUALLY.
Man's heart does not accommodate My Son, dishonest human whims have hardened it and pride reigns over humankind.
MY SON COMES BACK FOR HIS FAITHFUL. THE FAITHFUL OBEY, DOES NOT RISK ETERNAL
SALVATION, DOES NOT HESITATE TO RESPOND TO HEAVEN'S REQUESTS BECAUSE HE KNOWS THAT IF HE PREDISPOSES HIMSELF WITH A GENEROUS SPIRIT, GIVING UP THE MUNDANE, HE WILL RECEIVE ALL BLESSINGS THAT WILL MAKE HIS PATH EASIER.
Beloved of My Immaculate Heart:
MY SON WILL MAKE HIS BLESSING DESCEND OVER HIS PEOPLE DURING THE INSTANTS OF GREATEST TRIBULATION. Divine Assistance will arrive when you meet evil and his devils face to face. It's in order for you not to forget that evil will not prevail over good, that you are light of the world and salt of the Earth; Do not forget that you are apostles of My Son, and My beloved
Do not be afraid. Go deeper within My Son and His Teachings He will amaze you with His Love; and from the Father's House will descend to you the one that will be Encouragement, Peace, Love, Preacher, Protector of the faithful People who suffer. He will arrive as promised, to restore My Son's People. You will recognize him when his heart reflects My Son's Love.
DURING THE INSTANTS WHEN THE ANTICHRIST WILL RUTHLESSLY RELEASE THE DEVILS AGAINST HUMANKIND, ASK MY SON TO SEND TO YOU HIS PROMISE FROM HEAVEN TO EARTH.
TRUSTINGLY WAIT FOR THE DIVINE WORD THAT NEVER FAILS REGARDLESS OF HOW MUCH MAN
FAILS.
Beloved children of My Immaculate Heart:
Continue being attentive to My Calls and fused together in prayer for the United States which will continue to suffer.
Continue in prayer for Chile, Uruguay, and Mexico; evil looms and Nature purifies them. Pray for Ukraine, blood is spilled.
Children, you who continue to have faith in My Calls and in My Intercession, do not cease to alert your brothers.
DO NOT HOLD BACK, PRAY, RECEIVE MY SON, BE SPIRITUAL STRENGTHENERS OF THE MYSTICAL BODY. PRAYER EXTENDS TO INFINITY AND IS RECEIVED BY THE THIRSTY SOULS. OFFER YOUR SUFFERING FOR THE SALVATION OF THE SOULS.
I love you and remain joined to each one of My children every instant.
Mother Mary
Later our Most Holy Mother took the Globe in Her Hands, kissed it, and with her blessed Lips kissed the innocent blood on several continents. Our Mother sheds tears over the Earth and over each of the beings that were hanging on to Her Mantle at that instant, and they remained inert, each one feeling the Most Holy Mother's pain. The Mother's Mantle does not shine, it takes on a solid color, and with the Globe in Her Hands, I see Her slowly vanish.
HAIL MARY MOST PURE, CONCEIVED WITHOUT SIN.
HAIL MARY MOST PURE, CONCEIVED WITHOUT SIN.
HAIL MARY MOST PURE, CONCEIVED WITHOUT SIN.