Wednesday, February 18, 2015
Message of Our Lord Jesus Christ
To His Beloved Daughter Luz De María.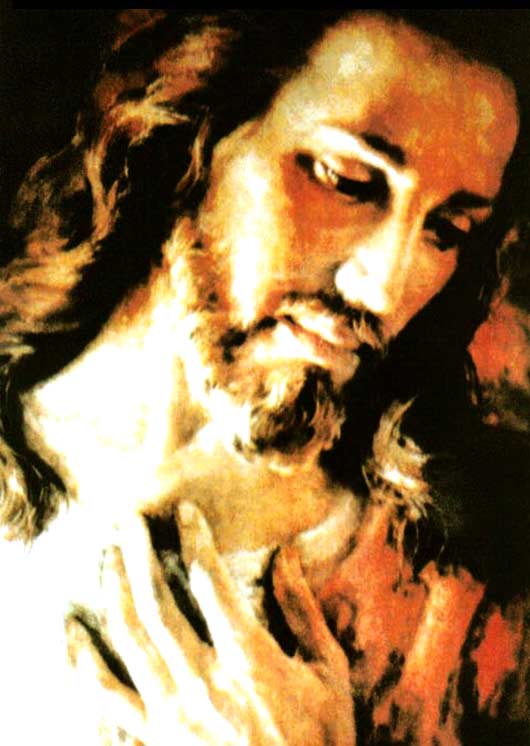 My beloved People, My suffering People:
I walk beside each one of My children who goes like sheep to slaughter…
AT THE BEGINNING OF THIS TIME OF LENT, MY FAITHFUL WILL ENDURE EVEN MORE, SHARING BESIDE ME:
My pain for the unconverted…
My pain for the rebels…
My pain for those who do not love Me… and
My pain for those who, knowing Me, do not heed My calls and scorn Me…
My People, My faithful People suffer and endure persecution. It will spread all over the world, but My children must keep the Faith in My Protection.
You, faithful to My Will, will sit at My Table, at My Side:
DO NOT FEAR LOSING YOUR BODY, DO NOT FEAR LOSING YOUR LIFE… FEAR OFFENDING ME AND LOSING ETERNAL SALVATION.
Where is the fraternity of My Church?
I do not hear a call for a prayer in fraternity of all countries.
I do not hear a call to a world day of prayer…WHEN THE PEOPLE CLAMOR, I ANSWER.
DO NOT REMAIN INDIFFERENT BEFORE THE PERSECUTION OF YOUR FELLOW MEN, BECAUSE IT WILL SPREAD AND I SHALL LISTEN TO A SINGLE CRY.
I do not listen to a day of fasting to minimize the violence against My People.
I do not listen to a vigil of prayer, asking for the killing of My innocent children to minimize.
WHERE IS MY CHURCH, THAT DOES NOT SUCCEED IN CONVENING MY PEOPLE FOR ME TO HEAR THEM?
My children, My People:
I, YOUR BEREAVED CHRIST, CALL ON YOU THIS FRIDAY TO A WORLD DAY OF PRAYER TO MY HOUSE, FOR ALL THOSE WHO AT THIS TIME ARE SUFFERING PERSECUTION FOR FOLLOWING AND LOVING ME.
My beloved People, suffering and aching, only you who remain faithful to Me, pray for your brothers and for yourselves to, at the moment of the trial, you will not deny the Faith, the Belief and Love in Me.
My beloved People, humanity for the most part, continues to be indifferent looking from afar the pain of your fellow men, looking from afar at what is happening this very moment to My faithful People…
OPEN, OPEN YOUR EYES! OPEN YOUR THINKING! DO NOT KEEP ON WALKING BLIND, THAT HE WHO HURLS HIMSELF AGAINST MY PEOPLE DOES NOT STOP, BUT YEARNS FOR THE BLOOD OF MINE.
DO NOT LOOK FROM AFAR AT THE SUFFERING OF YOUR BROTHERS…
SUFFERING WILL INCREASE ALL OVER THE WORLD IN THIS HOLY LENT.
Terrorism is the product of renouncing to the Faith in Me.
YOU STILL DO NOT PERCEIVE INSIDE OF YOU THAT THE STRUGGLE OF THIS MOMENT IS SPIRITUAL. The demons fight for the souls to take My children away from Me, but as you continue to be spellbound by all that is mundane and you do not internalize it, and you do not grow spiritually, you do not perceive this struggle that you do not see with the eyes of the body, but that you can feel with the constant temptation to which you are subjected.
In this Holy Lent I call upon women to stop that constant temptation to which they expose men.
In this Holy Lent I call on man to resist the temptation of evil, for him to be faithful to Me and to not let his soul to be taken from Me.
My beloved People:
YOU HAVE TRANSGRESSED ALL MY LAW, AND IN THIS SPACE OF MERCY, I CALL UPON YOU TO
TRULY REPENT OF ALL SIN AND TO DELIVER YOURSELVES TO ME AS A LAST OPPORTUNITY FOR MY CHURCH TO UNITE WITHOUT DISTINCTION AND TO CRY OUT TO ME.
This is a spiritual battle, but war shall second this one. The Third World War will be the greatest scourge ever seen. And should I not intervene in that coming war, all mankind would disappear, but I shall rescue my Holy People and I shall shelter it in My Heart next to My Mother, to banish the enemy, whom already has shown itself among mankind without mankind having detected it.
THE ANTICHRIST REBELS AGAINST ME WITH SIGNS, AND MY PEOPLE HAVE NOT PERCIEVED IT.
MY PEOPLE! WAKE UP FROM THIS TORPOR, REBEL AGAINST EVIL, SAY NO! TO SATAN.
Pray, My children for the United States, which shall continue to be scourged.
Pray, My children, pray for Japan, for it will suffer the trembling of the earth, spreading contamination to the world.(1)
Pray, My children, for those who having taken up hatred towards My People, are ALREADY in several Nations to cause pain and death.
My beloved People:
How much would this Your Jesus wish to communicate to you so many Eternal Truths that await you! But if He did so, they would divert towards the Eternal and Marvellous and would cast aside this moment in which they live in shadow, loneliness and persecution. My children tend to that which does not give us pain.
Remember:
My Law is one, tha same it was yesterday, today and always.
My Commandments must not be reformed, My Commandments must be respected by My People.
One is My Law, as One is My Word and One is the Holy Scripture. Do not break it, this would mean that My People rises against Me.
My Church shall be shaken, it will be divided, but those of you faithful of Mine who follow My Word, continue to comply with My Calls.
I AM NOT A GOD OF MODERNISMS , I AM A GOD OF MERCY AND JUSTICE.
My beloved People:
MY LOVE IS ETERNAL. I AM MASTER OF ALL CREATION. WITHOUT ME YOU CANNOT WALK STRAIGHT.
Offer prayers, offer fast for My Church and for yourselves so that Faith does not falter, since you shall face cruel moments, moments of horror.
My children, do not be attached to the mundane, do not be attached wordly goods, fight against the human "ego" that tries to lead you astray so you continue on the current of the world.
I INVITE MY FAVORITE SONS TO WAKE UP MY PEOPLE, SO THAT FULFILLING THE FIRST COMMANDMENT, THEY PRAY FOR THEIR FELLOW MEN WHO SUFFER ON ACCOUNT OF ME.
My beloved People:
Do not totter at this time. This is what evil wants, because of this, he who does not pray is totally at risk of falling prey to satan, he who does not pray cannot call himself christian.
He who follows Me, acts and behaves like Me. I prayed to My Father so that My Disciples, following My teachings, would pray and in prayer they could find the shelter and strength that My Holy Spirit would give them.
Visit Me in the Sanctuary, welcome Me, but before receiving Me I wish you to be in state of grace, without pretenses.
My People, My children:
Prepare yourselves to sit at My Table, but before you do, prepare to be part and witness of the crucible.
Pray, My children for Italy, pray fervently.
Pray, volcanoes will continue to awake.
My People:
I REMAIN IN EACH OF YOU, IN THE TIMES OF TRIAL, YOU SHALL NOT LACK STRENGTH.
MY MOTHER WILL BE BESIDE YOU SO THAT YOU DO NOT TOTTER BUT RATHER WALK IN UNISON AS ONE HEART.
Join in a single heart of love, fraternity and prayer.
I SHALL COME TO EXAMINE THE CONSCIENCE OF EACH ONE BEFORE MY SECOND COMING.(2) MY PROTECTION IS SAFE, MY MOTHER DOES NOT ABANDON YOU AND YOUR COMPANIONS ON THE ROAD HELP YOU.
THEY SHALL RESCUE MY FAITHFUL PEOPLE, SINCE I SHALL NOT ALLOW MY FAITHFUL TO FALL PREY TO THE INFERNAL ENEMY, HE SHALL NOT WIN.
Continue by My side, I dwell in each of you, I shall not leave My people at the mercy of their enemies.
I Bless you, My People, I bless you.
Your Jesus,
HAIL MARY MOST PURE, CONCEIVED WITHOUT SIN
HAIL MARY MOST PURE, CONCEIVED WITHOUT SIN HAIL MARY MOST PURE, CONCEIVED WITHOUT SIN