Saturday, February 21, 2015
Message Given by the Most Holy Virgin Mary
To Her Beloved Daughter Luz De María.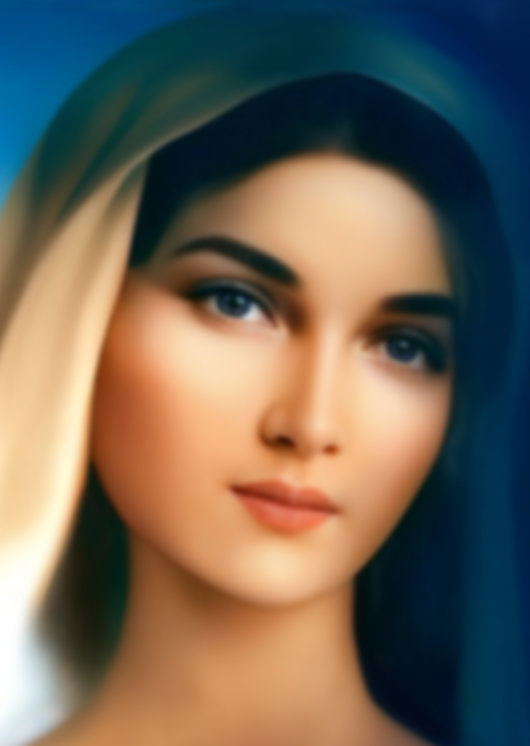 Beloved children of My Immaculate Heart:
Beloved People of My Son and Mine, I bless all of you.
AT THIS INSTANT IN WHICH THE CHILDREN FAITHFUL TO MY SON CARRY THE CROSS PAINFULLY,
YOU MUST KNOW THAT MY SON CARRIES THE HEAVIEST LOAD OF THE CROSS ON HIS SHOULDER SO THE CROSS WILL NOT BE SO HEAVY OR SO PAINFUL FOR YOU.
My Son merged with the Cross to give Himself on It for each one of you, for the Redemption of the human race. Christians have identified themselves with My Son's Cross because they know that It is not only pain but also Joy, Love, Redemption, Salvation, and Eternal Life, plentiful Life…
AT THIS INSTANT I DO NOT WANT CHILDREN WITH A FALSE RELIGIOSITY… I WANT SPIRITUAL CHILDREN TO MERGE WITH MY SON'S LOVE AND MY PROTECTION.
It is easy to simulate religiosity when it does not spring from deep in the soul; but to be a spiritual creature of God, now that, that means:
EFFORT, GIVING OF YOURSELF, COMMITMENT, COURAGE, CHARITY, FAITH, SACRIFICE, AND LOVE…
AN ABUNDANCE OF LOVE TOWARDS THE NEIGHBOR.
My Son wants a People to live and act in His Will and to comply with His Commandments, because the one who complies with The Commandments refines and purifies himself, nullifies his human self, his "ego", and rises courageously above all his wishes leaving them aside to rise with the Divine Will and My Intercession.
Beloved children of My Immaculate Heart:
Humankind is completely convulsive. To a certain degree, in a few countries people still live in peace and tranquility, but the great majority of the human race has sunk in a convulsion just as I announced would happen when the time for the public appearance of the enemy of the souls, the enemy of the true Christians, the antichrist, were near.
Children, when you separate yourselves from My Son's Will, when you reject My Son, when you do not understand Him, when you push Him aside, when you forget Him, when you feel like gods capable of giving and taking lives, you allow satan to get in, to take hold of your reasoning, to fog it up, to take hold of your intelligence, to make man use it in evil ways, to take hold of your thinking, to control it and fill it with thoughts contrary to the Divine Will. This is why terrorism has produced such a commotion at this instant throughout the world.
HUMANKIND NEEDS A LOT OF PRAYER!
AT THIS INSTANT THOSE WHO HAVE BEEN CALLED TO A SPECIFIC MISSION, THOSE WHO BELONG
TO PRAYER GROUPS IN MY SON'S CHURCH OR IN THE COMMUNITY NEED TO BE ONE THROUGH
PRAYER IN ORDER TO GROW STRONG AND ALLOW THE DIVINE SPIRIT TO GUIDE YOU ALONG THE RIGHT PATH!
NO HUMAN CREATURE WILL BE A TRUE CHRISTIAN WITHOUT PRAYER, WITHOUT BEING CLOSE TO MY SON, WITHOUT ADORING MY SON, AND WITHOUT RECOGNIZING HIM.
The only One worthy of being adored and followed, is My Son. You know that false prophets will rise calling themselves "christ". Be careful! Likewise, rulers of great nations will rise and focus on a struggle until they can take humankind to the Third World War.
Pray, My children, pray for Italy.
Pray, My children, what I have announced is soon to happen.
MY SON'S CHURCH WILL TREMBLE FROM ITS FOUNDATIONS. It will be divided and purified. My Son's Church will be crucified once more. Again, those who do not love My Son will crucify My Son's Church sowing chaos and terror.
Beloved children of My Immaculate Heart:
WAKE UP! STOP DENYING THE REALITY IN WHICH YOU LIVE AT THIS INSTANT
!
Open your spiritual eyes and, through them, allow the eyes of the body to take the correct information to that sleeping intelligence, that reasoning you have placed in satan's hands, so that you will understand NOW how dangerous is this instant in which humankind finds itself.
The response to My Son's call for Prayer Worldwide has been completely positive. My Son has been anointed with the prayers of so many lovers, so many souls in love with Him! This is just the beginning.
ALL OF MY SON'S PEOPLE MUST BEND THE KNEES BECAUSE
SATAN IS LASHING OUT STRONGLY AGAINS MY CHILDREN.
My beloved:
Pray for Russia, it will make humankind tremble.
My children:
Do not let go unnoticed anyone who refuses to vow on My Son's Word, because by refusing to recognize My Son as the True God, the enemy will facilitate the whole way so he will cause a good impression before the world while preparing the great assault behind its back.
My children of My Immaculate Heart, each instant has stopped being an instant apace. They have already been talking of peace and this is when war is near.
My children:
I EXTEND MY HAND TO YOU TO INTERCEDE FOR EACH ONE.
My Son knows absolutely all of you. You are His children and He loves you. He loves even those who do not love Him and do not recognize Him as their God. But you-THE FAITHFUL PEOPLE WHO RECOGNIZE AND LOVE MY SON—YOU MUST BEND YOUR KNEES AND CLAIM THE SAINTS' HELP, CLAIM THE ASSISTANCE OF YOUR PROTECTORS AND OF YOUR PARTNERS ALONG THE WAY.
You are not alone on the Earth. Open your heart and your spiritual senses; get close to My Son, adore Him, adore Him in the Most Holy Sacrament of the Altar; receive Him properly prepared, otherwise, don't do it.
MY SON IS THE KING OF KINGS. WHEN THE ENEMY PUBLICLY UNLEASHES ALL HIS POWER
AGAINST THOSE WHO ARE FAITHFUL TO MY SON, I WILL COME WITH YOUR PARTNERS OF THE WAY, WITH ALL THE THRONES, POWERS AND DOMINIONS, I WILL COME TO RESCUE MY SON'S PEOPLE.
Before this happens, there will be other events that I have already announced. Little by little My
Son's People will go through purification, but you must remain together loving one another as one.
THOSE WHO SUFFER BECAUSE OF STRIFES, RECONCILE LEST SATAN DESTROY WHAT MY SON HAS BUILT BECAUSE OF YOUR LACK OF UNITY.
LOVE ONE ANOTHER AS BROTHERS; YOU ALL GO TOWARDS THE SAME PATH:
TO MEET UP WITH MY SON, TO MEET UP WITH THIS MOTHER.
Beloved children of My Immaculate Heart:
Be obedient that you may be protected, but bear in mind that this will not exempt you from the Purification, from the Tribulation. Delve deep, get to know My Son, get to know Me. I have revealed Myself to so many human creatures, and there are so few who in complete freedom to serve My Son, faithfully transmit Heaven's Calls.
HE WHO SPEAKS THE TRUTH WILL BE PERSECUTED JUST AS MY SON WAS PERSECUTED; BUT HE WHO LOVES MY SON MUST NOT BE AFRAID.
My children:
Nature rebels against the men who do not act in Divine Will and lashes out against large coastal areas of several countries.
Pray for Chile; pray for San Francisco.
Pray, the United States will continue to suffer because of Nature.
Pray. One and another country will suffer in South America .Brazil will tremble.
My children:
WAKE UP! THE WHOLE CREATION IS TALKING TO YOU!
WAKE UP, CHILDREN! BE PREPARED!
My Son will come for His People, in Glory, Power, and Majesty. He comes for His children. The land will tremble, the waters will stir, the Heavens will open, and your Partners of the way will announce to the whole Creation that the King of Glory and Majesty is coming for His children. All of Nature will pay tribute and honor The King; and those who did not believe will tremble before such power and majesty.
CONVERT, CHILDREN, SO THE TRIBULATION WILL NOT MAKE YOU FALL IN THE HANDS OF EVIL. THOSE WHO REMAIN FAITHFUL TO MY SON WILL ALWAYS HAVE THE REQUIRED HELP.
When you suffer hunger, Nature will give you food; when you feel thirsty, Nature will quench your thirst; because the one who complies with My Son's Will is recognized by all of Creation that lives to fulfill the purpose for which it was created.
YOU ARE NOT ALONE, CHILDREN. HE WHO IS FAITHFUL IS LIGHT IN THE DARK, LIGHT WHICH IS
SEEN FROM HIGH ABOVE AND IS UNMISTAKABLE. HE WHO IS FAITHFUL IS INCENSE
PERMANENTLY GIVING GLORY TO MY SON, EMANATING HIS AROMA TO MY SON'S THRONE. THE PRICE OF ONE WHO IS FAITHFUL IS INFINITE.
My children:
DO NOT FALL INTO DECAY. MY MANTLE COVERS YOU; MY MANTLE WILL COVER YOU. If necessary, My Mantle will place Itself in front of you to prevent evil from looking at you and from touching you.
KEEP UP YOUR FAITH AND YOUR TRUST IN MY SON AND IN THIS MOTHER; WE WILL NOT ABANDON MY SON'S FAITHFUL PEOPLE, NOT EVEN FOR AN INSTANT.
You, My children, come to My Immaculate Heart; It is the Ark of Salvation for all. Climb into My Immaculate Heart, into this Ark of Salvation, and take refuge in My Heart.
Beloved children:
I bless each one of you. I love you, and as your Mother My extended Hand is in front of each one of you so you will allow Me to accommodate you in My Ark of Salvation.
My Motherly Blessing be for each one of you a comforting balm of love and faith at these instants of confusion.
I bless you. I am the Sweet and Tender Mother, the One that does not move away, the One that does not disregard Her children.
I love you. My Blessing in each one of you is the precise assistance. My Love be in you. I bless you, keep up the Faith.
Mother Mary
HAIL MARY MOST PURE, CONCEIVED WITHOUT SIN.
HAIL MARY MOST PURE, CONCEIVED WITHOUT SIN.
HAIL MARY MOST PURE, CONCEIVED WITHOUT SIN.