Monday, February 23, 2015
Message Given by the Most Holy Virgin Mary
To Her Beloved Daughter Luz De María. at the Sanctuary of the Virgin of Guadaupe, México.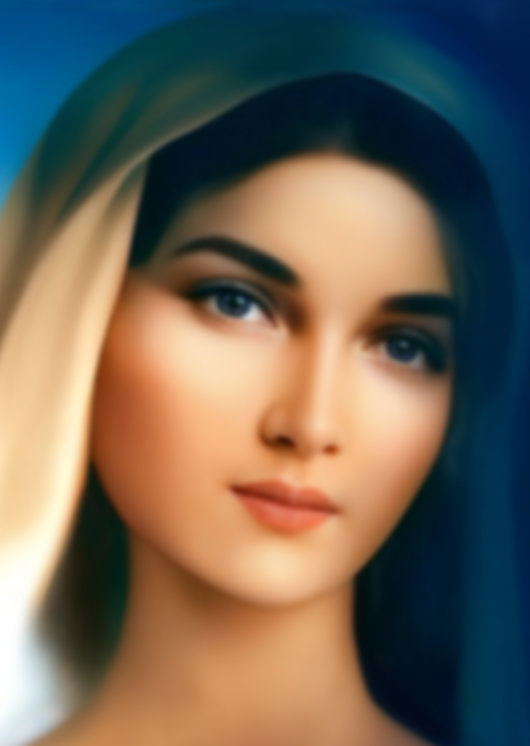 Beloved children of My Immaculate Heart:
STANDING BY THE CROSS I RECEIVED FROM MY SON ALL OF HUMANKIND, WITHOUT DISTINCTIONS.
ALL ARE MY CHILDREN AND I LOVE THEM ALL.
I come to each one like a Carrier Pigeon with a Message of Love. It is man who decides to love Me or not to love Me.
AND HERE FROM THE TEPEYAC ONCE MORE I EXTEND MY MANTLE OVER ALL OF HUMANKIND; I INVITE YOU TO RETAKE THE ROAD TO CONVERSION.
As My Son's First Disciple, I come and extend My Mantle towards all the faithful disciples of this instant so that, with renewed Faith and by becoming more spiritual, each one can willingly decide to take his own cross and follow the path that My Son has designed for each and all of His children.
My Son loves all equally and I love all equally. I wait for all with My Heart open.
Beloved children:
Be humble and simple; it is not you who tell My Son when to explain His Word and when not to do it.
ENOUGH OF HUMANKIND'S DISPERSED WAY OF WANDERING!
THIS GENERATION GRAVELY OFFENDS MY SON AND HURTS MY HEART.
Your brothers suffer in the name of My Son, and those who are here in front of Me at this instant, look at Me while living an apparent peace all around you, while men, women, and children--like you—suffer because of the Faith in My Son's Word and because they love Him more than they love their own lives.
I see so many of My children, even those who are before Me, with empty hearts without thinking, not even for an instant, about those to take My Son's Cross and on It fuse themselves in the Father's Will.
So much despair in the human beings!
So much pain coming near humankind in general!
So much lack of conscience!
YOU ARE ONE STEP AWAY FROM THE UNLEASHING OF THE WAR DUE TO HUMAN VAINGLORY AND THE EXCESSIVE WISH FOR POWER.
So many politicians and so many experts have forewarned of the war! And you listen to them, but not to Me; I have been announcing the beginning of this Great Tribulation for humankind and the potential for nuclear destruction in the hands of so many countries at this instant…
Luz de María: Our Mother allows me to see how a small nuclear bomb is dropped on the land and a windstorm is formed, which in turn forms like a whirlwind with great speed but almost imperceptible; a ball of fire emerges and forms a mushroom that goes up into the atmosphere. Everything is covered by the expansion wave of the bomb; then silence. I see a great number of human beings that immediately drop dead, others have serious lesions like severe burns; I see the people fight against sweltering heat which--along with other causes-kills a great many human beings. I see that communication systems are rendered useless. Fires extend throughout many areas.
Our Mother goes on the say:
ATOMIC ENERGY IS THE GREATEST THREAT TO THIS GENERATION. Man knows not to control himself, and nuclear energy is in the hands of men.
You were waiting for the advancement of Communism as a sign and yet at this instant there are so many communist countries and the people are not even aware of this! But the rulers with communist ideas transform the innocent people into followers of this great scourge.
CHILDREN, DO NOT WAIT ANY MORE. WHEN THE MOON ONCE AGAIN TAKES THE COLOR OF
BLOOD, BEND YOUR KNEES BECAUSE YOU WILL BE A STEP AWAY FROM THIS GENERATION'S GREAT LAMENT.
From an unthinkable small country, the one who will lead and manipulate great powers has emerged. This is the way evil works: in secret so as not to be discovered, in what is small so as not to seem a threat, in the unthinkable so as not to allow for time to reach conclusions.
My children:
I have called you so much and you have not obeyed!
I have looked for you so much and you have rejected Me!
I talk to you so much and you ignore My Words!
Pray, My children, pray for Colombia. It will be strongly shaken.
Innocent blood has been spilled in that nation.
Pray, My children pray for Japan. At this instant it is a silent scourge that slowly embraces all humankind. Japan will tremble once more and what man sowed there will slowly spread and contaminate a great part of the oceans.
My beloved children:
Pray for Venezuela. That beloved people will be purified and My children's blood will be spilled.
Children, beloved children:
Pray for Argentina, it will suffer for the same man.
My children:
DO NOT IGNORE MY CALLS TO PRAYER.
YOU MUST PRAY TO STRENGTHEN THE FAITH, AND IN PRAYER YOU WILL FIND SOLACE IN THE FACE OF ADVERSITY AND THE GREAT TRIBULATIONS THAT ARE ABOUT TO ARRIVE.
The weather will whip the whole Earth; where there was sun, now there will be cold, and where there was cold, there will be heat
My children:
CLOSE YOUR EYES, DELVE IN THE INTERIOR SILENCE AND ALL TOGETHER IN ONE SOLE HEART, AS BROTHERS AND CHILDREN OF THE SAME FATHER, CLAMOR TO MY SON FOR HIS KINGDOM TO BE ESTABLISHED AGAIN ON THIS EARTH.
With a contrite and humbled heart, wait to be examined.
Each one in particular, walk looking up on high
MY SON WILL NOT LEAVE HIS PEOPLE ALONE. HE PREPARES THE ENVOY FOR HIM TO
ENCOURAGE HUMANKIND AND ASSIST THOSE WHO ARE ABOUT TO FALL PREY TO THE
CLUTCHES OF EVIL, DECEIVED BY THE MAIN TENTACLE THAT WILL SHOW THE FACE OF THE IMPOSTOR. HE WILL USURP MY SON'S THRONE ON EARTH.
As brothers, all children of the same Father and of this Mother, constantly elevate prayers.
Be duly prepared to receive My Son's Body and Blood. Be compliant with The Commandments.
Facing humankind I extend My Mantle and welcome all those who come to Me and I intercede for all before My Son.
Receive My Maternal Blessing. The beating of My Heart out of love for each one of you, expands all over humankind.
I bless you, receive My Peace and receive My Maternal Blessing.
Mother Mary
HAIL MARY MOST PURE, CONCEIVED WITHOUT SIN.
HAIL MARY MOST PURE, CONCEIVED WITHOUT SIN.
HAIL MARY MOST PURE, CONCEIVED WITHOUT SIN.