Thursday, February 26, 2015
Message Given by Our Lord Jesus Christ
To His Beloved Daughter Luz De María.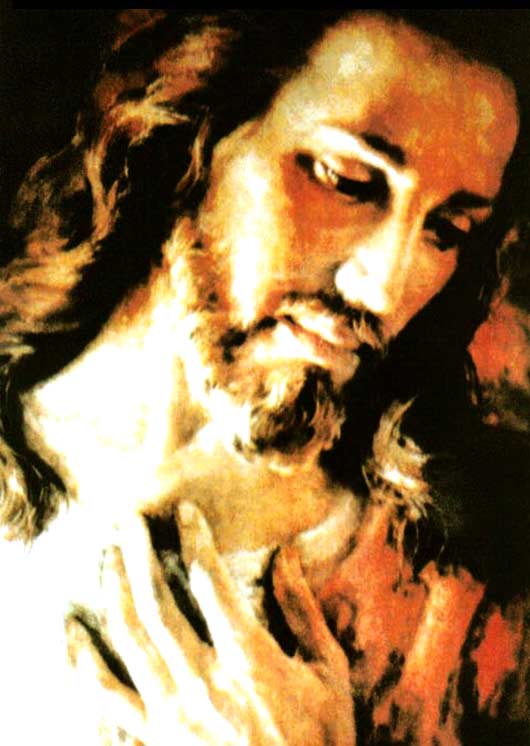 My beloved People:
YOU WALK IN GRIEF UNDER THE HEAT OF YOUR OPPESSSORS! ONCE AGAIN MY PEOPLE ARE OPPRESSED TIME AND AGAIN...EVIL'S TENTACLES HAVE RISEN FORCEFULLY SUPPORTING ONE ANOTHER.
This humankind's era is encouraged by man's unconsciousness. This unconsciousness comes from the separation of man from his God, and by remaining far from his God man has precipitated humankind towards the abyss—and when I mention abyss, you imagine a place in which you fall without ever getting out.—but this abyss that I am talking about is the one of arrogance, pride, lust, criticism, rage, and everything that offends Me greatly, such as rejecting My Most Holy Mother.
In so doing, humankind completely opens up for evil to take possession of their inner spiritual senses. The soul is oppressed and chained `up without freedom to rule, and so man falls prey to the demons which, at this instant, are all on Earth and have possessed a large number of My children and force them to act against their brothers; and this whip will not stop any time soon.
There are interests that My Church as Mystical Body ignores, interests of Nations that envourage rage in subversion groups.
You, My People, do not look at the pain of strangers as distant from you, because it will spread like a plague and, with the purpose of achieving a worldwide decontrol, it will reach even the small countries.
My beloved children, My People:
I ADDRESS YOU AS YOUR FATHER AND AS YOUR BROTHER, ALERTING YOU ON EVERY
ACCOUNT. And I know that at least one of My children will ask, "How is it that Christ talks about politics?" but I do not warn you about politics per se , I warn you of the effects of politics on you as human beings. And one of those effects is to plant terror among My children, especially Christians—and I am not talking only about My Church, I am not talking only about My People, Catholics; I am talking about My People: all those who live, obey and act in My Father's Will. Remember: "Not everyone who says to me, 'Lord, Lord,' will enter the kingdom of heaven, but only the one who" lives, obeys, and acts in My Father's Will[1].
I SEE CORRUPTION NOT ONLY OUTSIDE MY CHURCH, BUT ALSO—PAINFULLY—I EVEN SEE IT
PROWLING AROUND MY CHURCH'S HIERARCHY.
I call on you to pray, My People, pray because My Church will be shaken and the schism is near.
THIS IS WHY YOU ARE CALLED TO KEEP UP THE FAITH AND TO DELVE FURTHER IN ORDER TO GET
TO KNOW ME, IN ORDER FOR YOU TO GET TO KNOW NOT ONLY MY MERCY, BUT ALSO AT ONCE MY JUSTICE, which I have kept back for several years,; however, I cannot wait any longer… if I were not to act, the whole of humankind would perish.
There are so many ways by which man can exterminate all life on the planet… but at the precise instant I will intervene with My Legions, nevertheless this intervention will not be prior to My coming to examine men's consciences.
The great oppressor of humankind rises silently and at the same time making himself known. Look closely, watch the movements of politicians, from them springs a great flogging for My People.
My children, My beloved People:
ABIDE AND OBEY. Don't think I do not know your thoughts; don't think I do not know the one who puts his trust in Me or that at this instant distrusts of My Word. But indeed I must say clearly that great events are coming near you, and the peoples, from largest to smallest, will suffer one way or another, not because I do not love you, but because as the last resource I use everything created by My Father to attract you to obedience before the fulfillment of the Warning.
My children:
TREASURE EACH OF MY WORDS THAT I SEND TO YOU. DO NOT BE DISQUIETED AT THOSE WHO
CRITICIZE ME OR CRITICIZE MY MOTHER. DO NOT GET INVOLVED IN CONTENTIONS WITH THOSE
WHO DENY THIS MY WORD.
Go on ahead, do not look at those who try to find darkness in the light because you will be confused even more.
You, children, do not lunge like those who lunge like wolves at My Word.
You, My children, who treasure and obey My Word, be bearers of My Word which is a blessing, because at this instant he who is in the shadows will find more darkness, and he who is in the light will find more light.
My children:
THE DEVIL AND HIS OWN KIND COME FOR THEIR LOOT. DON'T YOU BE A PART OF THAT LOOT.
LISTEN TO MY CALLS AND STRIVE TO BE MORE SPIRITUAL CREATURES OF MINE. ¡There is so much falsehood on Earth! I see so many creatures that spend hours on their knees in front of Me while their minds and thoughts ramble from North to South and from East to West…
Be those who worship Me in spirit and truth, those creatures who practice and constantly act in accordance with My Gospel and My Commandments.
Be those creatures that persevere at every instant with immovable faith.
Do not be afraid of those who persecute you; be afraid of offending Me, of not being obedient and of rejecting My Word and that of My Mother; all who are with Me will find Me and those who drift away from Me will meet the enemy.
Time and again I suffer My Painful Passion. It did not pass and finish, My Painful Passion is in present state in the suffering of each one of these creatures that are tortured because of My Name and because they have Faith in Me. My suffering is with all those who are brutally tortured because of
My Name. (*)
Beloved children:
THE BARBARISM THAT HAS COME SPRINGS FROM THIS GENERATION; IT BRINGS FORWARD MY SECOND COMING, IT FORCES ME TO RETURN WITH HASTE BEFORE ALL—EVEN THE RIGHTEOUS—
ARE LOST.
My creatures: Your brothers, My Executor Angels, are getting ready to come to Earth and rescue My People…
Woe to those who make fun of My Word!
Woe to those who say, "We have been warned about this for too many years and nothing happened, and it will be the same now!"
Woe to the creatures who do not believe not even what they see before their eyes! These will be the ones who will be in a state of despair, anguish, and during the Great Tribulation, these will be the ones who will give up their lives in the hands of the evil oppressor of My People. These will be the ones who when in despair will deliver My children to evil; these will be the ones who when they find themselves adrift, will die by their own hand.
But
you,
My
children,
you who
believe…
you
who
lift My
Mystical
Body…
you
who
evangelize
your
brothers…
you
who
give
testimony
of My
Love…
you who say to Me, "Yes! I believe!"…You…
YOU ARE MY DISCIPLES OF THE END TIMES AND I REMAIN PROTECTING YOU AND MY BELOVED
SAINT MICHAEL ARCHANGEL KEEPS HIS LEGIONS GUARDING YOU.
Do not be afraid; he who is afraid separates himself from the Divine Protection of My Home.
WAIT, MY CHILDREN, THE BLESSING COMES FROM MY HOME TO MY FAITHFUL PEOPLE, AND
AMONG MY FAITHFUL PEOPLE IS HE WHO BELIEVES AND CONSIDERS HIMSELF PART OF MY PEOPLE.
To all who listen to My Word, to those who read this My Word: I call you not to decline and at the same time not to get involved in contentions, because the fool will perish being a fool and the wise will grow completely filled with My Light.
My children, I invite you to pray for My beloved People of Venezuela.
They will suffer even more. I invite you to pray for France, pain will reach it.
I invite you to pray, My beloved, for China, it will bear pain and terror.
My beloved children:
The Earth will tremble where it has never trembled before and My children will grieve for it.
The Sun will launch a new flare, one of great intensity that will put humankind in great distress.
Do not forget that the Earth is exhausted and constantly laments being continuously bathed in so much innocent blood.
YOU, MY PEOPLE, REPAIR FOR THAT; NOT JUST WITH PRAYERS BUT ALSO WITH ACTIONS AND DEEDS, HELPING THE NEEDY, ASSISTING THE HUNGRY, AND GIVING SOMETHING TO DRINK TO
THE THIRSTY. Not only with prayer can you reach Me, not only with prayer do you comply with My Father's Will, but loving one another like brothers and at the same time by being, each one of you, the column on which the brother reclines.
In Fatima My Mother spoke to all humankind and that which you do not know is already revealing itself.
Learn to see the signs and you will discover what has been hidden from you.
My children:
PAIN AND ANGUISH ARE HOVERING OVER ALL OF HUMANKIND. He who remains faithful will bend his knees at those instants, but he who does not love Me and he who does not listen to My Word and denies My Presence in man, that one will be the one to say, "Woe to me! I did not obey my
Lord and now I cannot ask my Lord for mercy or clemency."
Hijos Míos, Pueblo Mío:
BE CERTAIN THAT EVERYTHING THAT HAS BEEN CREATED FOR MAN WILL ACT IN BENEFIT OF MY
FAITHFUL PEOPLE; AND MY PEOPLE ARE NOT JUST SOME CHOSEN ONES, MY PEOPLE ARE ALL HUMAN CREATURES, it's just that a great many human creatures have decided not to be faithful to Me and they cannot blame Me for that.
Understand that these calls are not calls from My most beloved and faithful instrument, Prophet of these times; these Calls come from My Home and the instrument is the transmitter and you are the receivers. So, do not make My beloved daughter bear any more weight, because she does as I ask of her and transmits what I want men to know at this instant.
I SEND YOU MY BLESSING AND MY FATHER'S BLESSING BE IN YOU, AND AT THIS INSTANT MY PRECIOUS BLOOD BE PLACED AROUND EACH ONE OF YOU AS A CIRCLE OF INFINITE PROTECTION FOR THE DEVILS TO RUN AWAY WHEN THEY LOOK AT YOU, BECAUSE I, YOUR GOD, REMAIN WITH
MY PEOPLE. SO BE IT, SO IT IS AND SO IT WILL BE FOREVER AND EVER. AMEN.
Your Jesus.
HAIL MARY MOST PURE, CONCEIVED WITHOUT SIN.
HAIL MARY MOST PURE, CONCEIVED WITHOUT SIN.
HAIL MARY MOST PURE, CONCEIVED WITHOUT SIN.