Tuesday, March 3, 2015
Message Given by Our Lord Jesus Christ
To His Beloved Daughter Luz De María.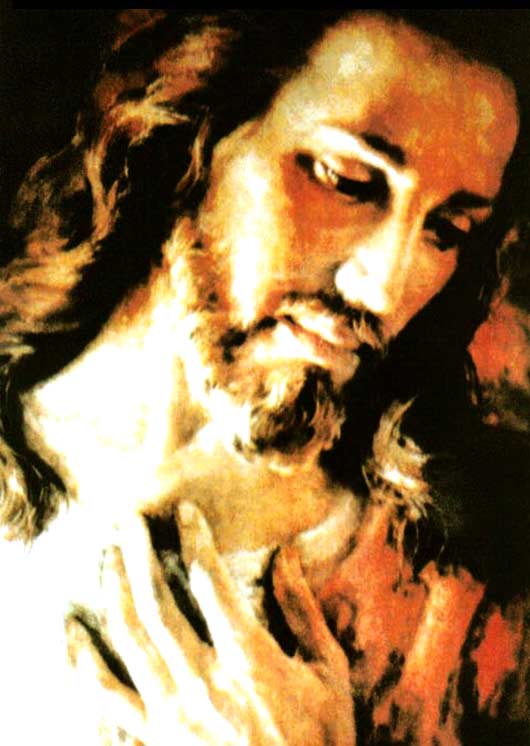 Beloved children:
I AM KING OF LOVE AND MERCY AND I AM RIGHTEOUS JUDGE.
My children love me without having a real and true awareness of how distant man has Me from his life. They love Me in a human way at the instant when this generation has penetrated My Will very Little or not at all.
GREAT MANY MEN RECEIVE THE SACRAMENTS AS A FAMILY OR SOCIAL COMPLIANCE, NOT TO CONTINUE A PROCESS OF COMING CLOSE TO ME AND TO MY MOTHER.
The Commandments that My Father established He gave to Moses so that they would be perpetuated and respected until the end times.
The Beatitudes are the hallmark of all My children who suffer for My Cause.
ALL HUMAN BEINGS ARE MY CHILDREN, BUT NOT ALL ARE TRUE CHRISTIANS…
Not all allow the conscience to alert them to the faults committed …
Not all deny themselves those things that are not beneficial to the soul …
Not all are happy to occupy the last place …
Not all receive instants of crucible with a "Thank You" …
Some of My children doubt My Word and do not obey "ipso facto" what I request for their own good or that of their families' …
Not all call Me Father …
Not all receive Me worthily and are aware of it … Not all call My Mother Mother...
Beloved children:
I am Mercy. This is why I want all My children to be saved and be joyful with Me in My Home. NOT ALL UNDERSTAND MY MERCY AND THEY CONFUSE IT WITH MISUSED FREE WILL AND THEY SINK IN EVIL. I cannot reward those who subject their lives to constantly sinning against their brothers and against everything that has been created for you.
This generation offends Me continuously, even more so than Sodom and Gomorrah. The devil with all his diabolical forces has possessed a great number of souls to manipulate them as he pleases. When man finds himself spiritually weak and living a superficial and almost null relationship with Me, he yields to satan's pressures and falls prey to his claws that devour human beings, My children, to make their feelings the cause of constant pain.
At this instant of modernism, the male wears female clothes as the great fashion, but this is moral decadence.
Beloved children:
I send Messengers to call My People to reflect, I will do the same before the antichrist appears in order to avoid confusion.
DURING THE GREAT TRIBULATION MY FAITHFUL WILL BE PERSECUTED AND SO WILL MY PRIESTS WHO COMPLY WITH MY WILL; THEY MUST TEND MY FLOCK SO IT WILL NOT WANDER AWAY FROM FAITH, HOPE, AND CHARITY.
He who is My son, is Love.
He who is My son, is Truth.
He who is My son participates of the goods of My Home; he takes them aware that each one has come from My Heart and remains in It.
MY CHURCH WILL SUFFER BECAUSE OF CONTEMPT AND UNCONSCIOUSNESS, FOR DENYING AND
TRANSGRESSING MY LAW, FOR NOT LOOKING AT THE SIGNS OF THE TIMES, AND FOR TURNING
THE EARTH INTO A COFFER OF GREAT LIES…
I could send a great Prodigy to the Earth so all would retake the right path, amend the bad concepts acquired, and stop feeling Me as a distant God who doesn't see the constant sinning with which His People offend Him…
I AM MERCY, AND OUT OF MERCY I STRAIGHTEN OUT THE CROOKED TREES, ALTHOUGH IT HURTS ME MORE THAN IT HURTS YOU.
Beloved children:
My Church, My Mystical Body, will be divided, and the division will bring about the Schism of which there has been so much talk throughout Christianity. HE WHO WISHES TO CHANGE WHAT CANNOT BE CHANGED, WISHING TO ADJUST IT TO THE INSTANTS OF EACH GENERATION, IS NOT CHRISTIAN. MY WORD IS ONE; MY LAW IS ONE…
My beloved:
This generation's god, on the one man has built his own life, will demonstrate not to have any power, but only the control of the human ego.
The world economy trembles first and then falls.
You who are My children and respect Me, do not forget:
He who declares himself a savior and asks for your obedience and doesn't call to prayer or repentance …,
He who proclaims My Word without stating how small he is in front of Me, and who says you must not leave him…, HE DOES NOT PREACH THE TRUTH.
I AM THE KING OF KINGS AND LORD OF LORDS, THE ALPHA AND THE OMEGA. You are not necessary for Me, children, I am necessary for you, the only one worthy of all glory and adoration.
WAKE UP! The antichrist rises in a quiet bustle so that you won't see him as such.
Children, pray for the volcanoes, they will continue to give grief to man.
Children, pray for Honduras, it will suffer.
Children, pray for Australia.
Terrorism, like the plague, will hit with rage several countries. The bear will awaken at the beginning of dawn and surprise humankind.
Beloved, sick and hungry there's little man can do to work, and little he can do to grow in the spirit…
DO NOT TRUST IN YOUR OWN STRENGTH, TRUST IN ME AND IN MY MOTHER. DO NOT BE CONFUSED IN THE FACE OF ANY TRIAL; THANK MY HOME FOR IT.
KNOW ME AND YOU WILL BE COPIES OF MY LOVE AND MY OBEDIENCE TO MY FATHER.
Beloved, the plague continues to spread; humankind will be shocked. Created by man himself, the plague will cause havoc; do not forget what My Mother has indicated..
Children:
REST ASSURED THAT I MOVE TOGETHER WITH THOSE WHO ABIDE BY MY WORD AND RECIPROCATE FOR EVERYTHING I GIVE THEM TO GO ON.
REST ASSURED THAT I DO NOT DESERT THOSE WHO OFFEND ME, INSTEAD I WAIT FOR THEM LIKE A FATHER WAITS FOR THE SON WHO LEFT HOME.
When the economy falls, the governments will go to war to fill their coffers. However, this is not My Will and I will not let them destroy this Earth. Your brothers of the way will arrive to rescue you, My children, do not be afraid.
I remain with you, especially at the instants when man's insanity will take them to use nuclear energy, great scourge of My children.
NONE OF MY CHILDREN IS ABANDONED, NONE OF MY CHILDREN IS REJECTED BY ME.
My blessing be with you every instant.
I love you,
Your Jesus
HAIL MARY MOST PURE, CONCEIVED WITHOUT SIN.
HAIL MARY MOST PURE, CONCEIVED WITHOUT SIN.
HAIL MARY MOST PURE, CONCEIVED WITHOUT SIN.