Thursday, March 5, 2015
Message Given by the Most Holy Virgin
To Her Beloved Daughter Luz De María.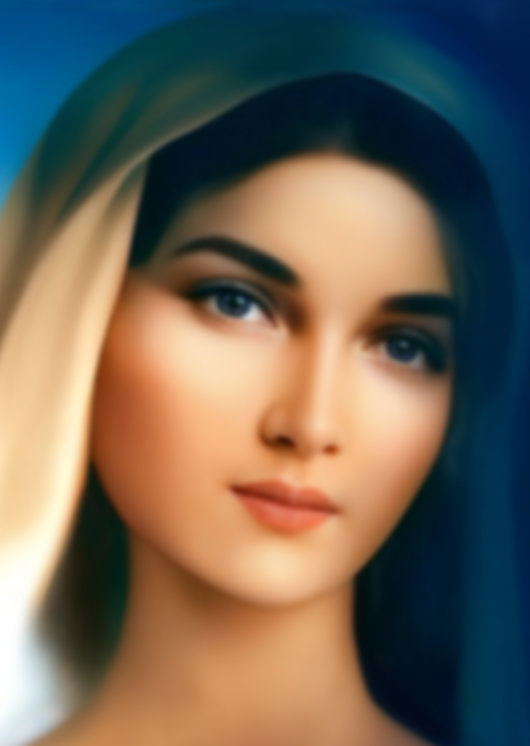 Beloved children of My Immaculate Heart:
ALL ARE MY CHILDREN… IT IS UP TO THE WILL OF EACH ONE TO ACCEPT ME AS MOTHER OR NOT.
I KEEP MY HEART BEFORE EACH ONE OF YOU SO THAT YOU WILL RECOGNIZE MY SON AT THE BEATING OF MY HEART.
Beloved:
THIS INSTANT IS DECISIVE FOR HUMANKIND, man's enemy has pounced on My children and inserts in the human heart the wish to take the Divine Law to a permissive state of sin with the subsequent disobedience of living and acting not in Divine Will.
IN EVERY EPOCH I HAVE ANNOUNCED HUMANKIND'S NEED TO CONVERT, AND I—WITH DIFFERENT TITLES-- HAVE INTERCEDED IN FAVOR OF THE HUMAN RACE: From Pilar in Spain to Guadalupe in Mexico; from Buen Suceso in Quito to Lavang in Vietnam; and so on, throughout peoples and nations I have called for conversion, the praying of the Holy Rosary, the compliance with the Commandments.
From one apparition to the next--and with ever more details--I have announced what is coming for humankind by means of My instruments, stating clearly and in detail, leaving no room for confusion or doubt, the proximity of what I was announcing for humankind.
With secrets given to My instruments, I have been taking My Son's People to a patient wait, according to the proximity of the prophecies, forewarning and announcing the suffering that My children would have to face if they did not amend their ways so they would not ignore the instant when perversion would have control of man, and humankind would find itself very near the fulfillment of all My Prophecies.
At this instant:
THE SOULS ARE EASILY LOST…
The Commandments are minimized …
The Sacraments are believed to be obsolete…
The Beatitudes have been forgotten…
The Holy Mass is believed to be one more ritual…
The Consecration of My Son's Body and Soul is not considered a Miracle but a scene within a ritual…
MY SON IS REJECTED AND I HAVE BEEN DRIVEN AWAY FROM THE HUMAN BEINGS AND FROM THE HOMES.
Each one carries with him an interior realm that tends toward good; however, as a man separates from My Son, the choice of good or bad belongs to each one. I call you to conversion and I am not Heard, My Son suffers when He sees conversion slip like water through your fingers
Human unconsciousness is the obstruction that makes it difficult for man to meet God and makes man distance himself from his Creator, which allows man to move away from the Divine Teachings and to open himself to a misinterpreted freedom.
Human intelligence has been substituted with the indoctrination of man by man through ignorance. Human thinking is centered on the oppression of the weakest, and this thought is what causes man to move away from God and to diminish the gifts of God with which The Father endowed man.
The ability to think, the reasoning, and the intelligence of My children have been replaced with one unique way of acting, which nullifies the voice of the conscience so man will live as he wishes according to the worldly demands.
Beloved children:
IT IS NOT MOVING AWAY FROM MY SON THAT YOU WILL HAVE ETERNAL LIFE…
IT IS BY HOLDING DOWN THE HUMAN WILL THAT MAN WILL FIND THE JOY BEFOREHAND--AS WELL AS THAT WHICH MAN WILL ENJOY ETERNALLY-- RIGHT HERE ON EARTH.
Beloved children:
MAN'S SINS GROW WITHOUT LIMIT AND THE DEBAUCHERY OPPRESSES THE SOUL AND OFFENDS
MY SON. As humankind's Mother I see how the human being diminishes where low instincts reign.
Beloved children:
Pray for Guatemala, it will suffer Nature's fury.
Pray for France, terror comes to that nation. Pray for Japan, it will be shaken anew.
Children:
DO NOT BE EAGER FOR THE GOD MONEY, DO NOT BE ATTACHED TO IT; SOON IT WILL FALL AND YOU WILL REGRET NOT HAVING OBEYED.
One after the other, volcanoes will surprise man. The weather strikes with force.
Pray, My children, the moon will be stained with blood as a reflection of the blood spilled by those faithful to My Son who are persecuted throughout the Earth.
Pray that Faith will not diminish.
Pray for Spiritual Strength.
Pray for Hope to remain with each one of you, My children. Pray for Chile, its ground will be shaken.
The great powers will fight for hegemony; this will cause humanity's greatest suffering. Do not embrace the peace pacts; that will be when evil takes over the world.
You will be protected inside My Womb as in a coffer in which the most precious treasure is kept.
Pray so you will not be dejected and submerged in evil.
THE MAN WHO DOES NOT PRAY IS AN EMPY VESSEL; HE LIVES WITH A SLIGHT IDEA OF WHAT IT REALLY MEANS TO BE CLOSE TO MY SON.
Pray, Oren, clamor to My Son, do not move away from Him, and ask fervently that the protection for My children will come son.
Receive My Son in the Eucharist, consecrate yourselves to My Immaculate Heart, and consecrate your homes to My Son's Heart and to My Heart.
THE POWER OF EVIL IS LIMITED; MY SON WILL NOT ALLOW EVIL TO PREVAIL.
DO NOT BE AFRAID, YOU HAVE BEEN RESCUED WITH THE PRECIOUS BLOOD OF THE DIVINE
LAMB. PERSEVERE…
My Blessing be in each one of you light in the hours of darkness.
EVIL WILL NOT PREVAIL.
I bless you; My Mantle covers you and protects you.
Mother Mary
HAIL MARY MOST PURE, CONCEIVED WITHOUT SIN.
HAIL MARY MOST PURE, CONCEIVED WITHOUT SIN.
HAIL MARY MOST PURE, CONCEIVED WITHOUT SIN.