Monday, March 9, 2015
Message Given by Our Lord Jesus Christ
To His Beloved Daughter Luz De María.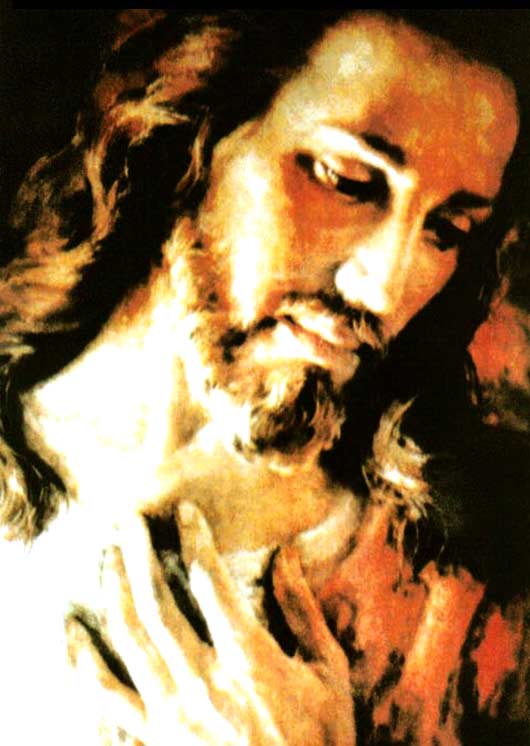 My beloved People:
You are My children; I love each one of you…
THE ACTS AND DEEDS OF EACH ONE OF YOU HAVE PERMEATED MY CROSS… WHAT IS GOOD MAKES IT LIGHTER AND BAD BEHAVIOR MAKES IT HEAVIER.
You advance in the middle of a tempest shook up by great storms of rage, hatred, and huge disobedience, born from the way My children distance themselves from My Love and My Truth and the way My children constantly reject My Holy Spirit. Children, those storms are the result of your not wanting to remain friends with your God.
My beloved People, suffering and aching at this instant, I urge you to live My Pain for all humankind. I suffer so much when I feel that My children do not fully comply with the essence of the First Commandment!
This gives My Heart great pain, and My side keeps bleeding because of those human creatures of Mine who are members of My Church and suffer great atrocities at the hands of some of My children ….
Beloved:
When man forgets Me, he models himself as a weak creature, and his reaction is to want to be bigger and more powerful than Me. This is when the devil, enemy of the soul invades man with his evilness, making man commit serious offenses against the Fifth Commandment. This reveals the marked rebellion against the compliance with the First Commandment.
Those who do not suffer persecution coldly see harrowing scenes of cruel massacres. Those who do not suffer do not need consolation or prayers from so many souls who love Me.
ONE OF THE RESULTS OF EVIL IN THE HUMAN CREATURE IS SELFISHNESS AND IT STANDS OUT AT THIS INSTANT. This is why the distress of those who suffer is a solitary, lonely distress because those who do not suffer look at other people's pain from afar.
The rulers of the great nations of the world exert great influence in the making of agreements which will be broken later in silence and mutual betrayal. These rulers have earthly power given to them by the people themselves, people they later lead to their death like sheep to the cliff. Due to their different ideologies, masonic, communist, and atheist leaders watch with satisfaction how they lacerate My People and conspire against those who are Mine.
I HAVE ANNOUNCED THE EVENTS THAT HAVE RISEN—AND CONTINUE TO RISE—IN THE MIDST OF HUMANITY, AS FATHER OF LOVE, OF MERCY, AND OF JUSTICE,
I HAVE ANNOUNCED THE EVENTS THAT HAVE RISEN—AND CONTINUE TO RISE—IN THE MIDST OF HUMANITY SO YOU WILL CONVERT AND AMEND YOUR OUTRAGEOUS WAYS THAT LEAD TO PERDITION.
I HAVE CALLED MY PEOPLE TO CONVERSION; INSTEAD, THEY LAUGH AT MY FAITHFUL
INSTRUMENTS, AT MY WORD AND THAT OF MY MOTHER…
I HAVE ANNOUNCED THE NEARBY EVENTS, AND IN RETURN I RECEIVE OFFENSES, REJECTIONS, AND THE CONSTANT ATTACK AGAINST THOSE WHO, IN OBEDIENCE TO MY WILL, WARN YOU.
BUT I WILL CONTINUE TO ENCOURAGE YOU THROUGH MY PROPHET WITHOUT TIRING.
UNTIL THE LAST INSTANT MY WORD WILL CONTINUE TO REACH YOU,
IN THE MIDDLE OF THE DISOBEDIENCE, SO YOU WILL UNDERSTAND THAT DISOBEDIENCE LAYS OUT THE ROAD TO THE PERDITION OF THE SOUL.
Everything that My Mother has revealed has been for man to act in a different way and get closer to Me, adore Me, receive Me, embrace My Mother, and love to pray the Holy Rosary and to bend the knees in My Real Presence in the Eucharist. However, in the face of every Miracle of Love at the Altar, I am looked at with disdain in view of the incredulity of My own People who come to receive Me without believing and without loving Me. At times I am Consecrated by some dedicated to My service but do not believe in My Real and True Presence in the Most Holy Sacrament. The Consecration Words are the Transubstantiation of My Body and My Blood, and some treat Me with scorn, perfunctorily, and then place Me in the hands of some of My children for them to take Me to their brothers, while those consecrated to Me look at Me from their place of honor and think about unimportant things.
My People:
MY PASSION IS PERMANENTLY ALIVE IN YOUR MIDST AND I AM LACERATED AND CROWNED WITH THORNS.
THE SORE OF MY SHOULDER IS DEEPER AND
CHAFES MORE FORCEFULLY MY BONE WHICH FEELS AS IF IT WERE GOING TO BREAK.
THE WEIGHT OF EVERYTHING YOU PUT ON MY CROSS IS DREADFUL. MY SHOULDER SUPPORTS THE DISOBEDIENCES OF MY CHURCH AND PART OF MY HIERARCHY.
Remember that My Law is one, it is the same it was yesterday, it is the same for this instant, and the same for the future.
Beloved, do not sleep. I approach; I come soon; do not sleep because the enemy is more clever and cunning than you, and his great emissary is before the eyes of humanity, and with great charisma turns those who are incautious into his admirers.
DUE TO A LACK OF KNOWLEDGE AND BECAUSE THEY DO NOT BELIEVE MY MOTHER'S
REVELATIONS, HUMANKIND HAS NOT DISCERNED THAT THE ANTICHRIST HOLDS A HIGH POLITICAL POSITION, AND FROM THERE HE WILL CONDUCT THE GREATEST PERSECUTION AGAINST MY CHILDREN.
Since My Mother's request in Fatima has not been carried out, the consequences of this disobedience will be of great suffering for My children. When humankind awakens, they will regret not having insisted on the execution of such request, and they will regret it even in their entrails.
Great events are near, and great calamities that will make My Church tremble.
Beloved children:
I invite you to pray fervently for Russia.
I call you to pray for France, it will suffer at the hands of terrorism. I call you to pray for Uruguay, it will suffer at the hands of man.
Remain attentive, look on high, and do not be distracted looking at what is earthly; look on high, see the signals and the signs, do not ignore any sign or signal.
My People, remain attentive before the great scourge that man has created lethally wounds humankind once again. Man will use what man has created: nuclear energy.
My beloved People:
TAKE REFUGE IN MY MOTHER'S HEART; I HAVE GIVEN HER MY PEOPLE. TAKE MY MOTHER'S HAND, PICK UP THE HOLY ROSARY FROM WHENCE HANGS MY CROSS.
DO NOT BE AFRAID TO CARRY MY CROSS WITH LOVE AND FAITH; BE AFRAID OF LOSING THE SOUL.
My children, My People:
I COME FOR YOU, FOR MY DISCIPLES, FOR MY APOSTLES OF THE END TIMES; I COME FOR THOSE WHO LOVE ME.
DO NOT FEAR TERRIFICALLY BECAUSE MY PEOPLE ARE NOT ALONE AND THE FORCES OF EVIL
WILL NOT PRFEVAIL OVER MY PEOPLE, THEY WILL NOT DEFEAT THIS KING OF HEAVEN AND EARTH.
I CREATED ALL THAT EXISTS; MY PEOPLE ARE PROTECTED.
I bless you and at the same time I ask you to awaken. For each one of you, My Love will be balm at the instants of grief.
I bless you.
Your Jesus
HAIL MARY MOST PURE, CONCEIVED WITHOUT SIN.
HAIL MARY MOST PURE, CONCEIVED WITHOUT SIN.
HAIL MARY MOST PURE, CONCEIVED WITHOUT SIN.