Wednesday, March 11, 2015
Message Given by the Most Holy Virgin Mary
To Her Beloved Daughter Luz De María.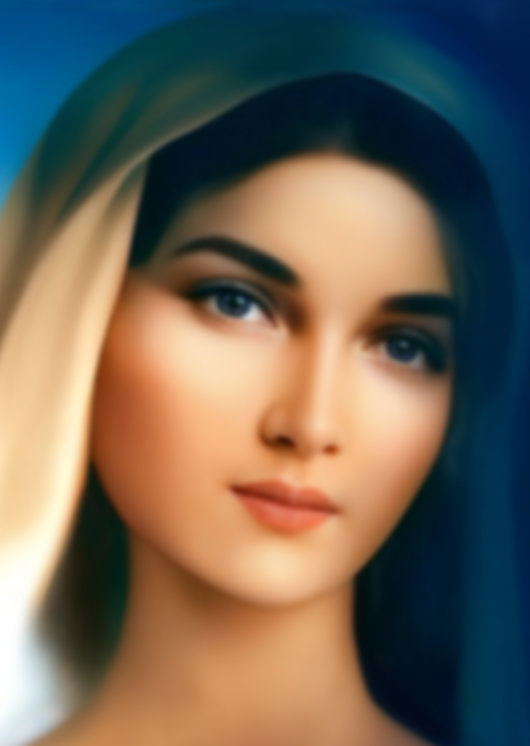 Beloved children of My Immaculate Heart, I bless you.
JUST LIKE THE SUN SHINES AT THE ZENITH AT THE FULL NOONDAY, THUS THE DIVINE SPIRIT WILL
SHINE ON THOSE CREATURES THAT PLACE THEMSELVES IN MY DIVINE SON'S HANDS WITH FAITH AND HOPE.
DO NOT HESITATE; FIGHT CONTINUOUSLY FOR YOUR CONVERSION; PRAY FOR MY SON'S MERCY TO BE THE NEW LIFE IN YOU.
Beloved children:
In obedience to the Divine Will, I come to you as the Woman Clothed with the Sun to shed Light on the path, because unless you pay attention during these instants, it will be difficult for you to do so during the coming instants, when the deceiver of souls will be before humankind and due to his deceptions you will not be able to discern, because you have lived in disobedience, breaking My Son's Commandments.
Children of My Immaculate Heart, I love each and every one of you; all of you are My children, I received all of you at the foot of the Cross.
My beloved, this generation greatly offends My Son and keeps Him in constant pain. His Passion is permanent; you wound Him deeply.
WAKE UP, MY CHILDREN!
WAKE UP BEFORE THE DARKNESS FOGS UP YOUR THINKING AND HARDENS THE HEARTS OF MEN!
My beloved children:
WITH GREAT ELOQUENCE, THE ANTICHRIST HAS PRESENTED HIMSELF BEFORE HUMANKIND AND
HUMANKIND HAS NOT RECOGNIZED HIM. THIS SPAWN OF EVIL WILL LEAD THIS GENERATION TO A GREAT BATTLE, NOT ONLY PHYSICAL, BUT ALSO SPIRITUAL.
My children, wake up! The evening is falling, and if you do not convert now, at these instants when you can see the Divine Light, later will be too late. He who searches for the light in the dark will not find it; he who tries to search for the Divine Light in the darkness will be more confused when he won't find it.
Beloved children of My Immaculate Heart:
These instants are the ones I have announced throughout the times in My different Apparitions. You are now at the instant of the last instant when everything I have announced will come to be.
At this instant man's disobedience, mother of all woes, continues to grow and be part of the reason for this generation's suffering.
Children whom I love, but not because I love you do I quit calling you with My Word's Truth:
DISOBEDIENT CHILDREN!
YOU ARE TAKING COURSE TOWARDS THE CRUCIBLE … MY SON'S CHURCH WILL BE STRONGLY
SHAKEN, PURIFIED, AND DURING THE PURIFICATION ALL MY CHILDREN WILL SUFFER FOR THEIR
OWN EVIL. THEY MUST PASS THROUGH THE CRUCIBLE TO COME OUT TRIUMPHANT AFTER THE LAST GREAT TRIAL.
Faith must remain with each one of you: it is the great immovable column.
Children:
YOU NEED TO PRAY; YOU MUST BE PRAYING SOULS WHO LIVE AND ACT IN MY SON'S WILL
GUIDED BY THE HOLY SPIRIT SO YOU WILL NOT FALL IN THE TRIALS AND STAY DOWN WITHOUT
GETTING UP; INSTEAD, WHEN YOU TRIP AND FALL, THE FORCE OF YOUR LOVE FOR MY SON AND FOR THIS MOTHER WILL GIVE YOU THE BLESSING OF STANDING UP ONCE AGAIN AND CONTINUE ON YOR WAY.
Beloved children of My Immaculate Heart:
Without you being aware of it, the great and mighty powers of the world advance encircling the small nations, overpowering them with communism because of My children's ignorance; My children who have not decided to delve deep in knowledge so the Holy Spirit will shed Light on the intelligence, the thoughts, and the reason.
THE FREEMASONRY IS A DESTRUCTIVE WEAPON on all those who do not delve deep in My Son's Life and do not fully comply with His Word. The ignorant is deceived by everything, everything surprises him, and everything is a novelty. This is why throughout My Apparitions I have been asking you to abide by My Son's Word and to fully comply with the Commandments, without allowing innovation and novelty in them, to live the Sacraments, and to partake in the Beatitudes in everyday life.
THE ILLUMINATI HAVE POSSESSED A PART OF MY CHILDREN. My beloved, new tendencies and modern ideologies spring up. Do not look for My Son in what is extraordinary or fanciful; you must realize that My Son acts silently transforming the hearts. Be clear that satan acts in a show because this is how he impresses those who are unwary.
Beloved People of My Son's:
DO NOT DISREGARD THE EXPLICATION OF THE DIVINE WORD IN THESE CALLS AND DURING HAZARDOUS INSTANTS OF SUFFERING AND DERELICTION; DO NOT BE INDIFFERENT TOWARDS THE SUFFERING OF OTHERS.
The great plague of terrorism will continue to advance over all humankind, from country to country, wreaking havoc. Do not lose your Faith, hold on fast to prayer, receive My Son in the Holy Eucharist, and comply with His Divine Will.
Do not look for the first places, love the last place.
Beloved children, I am here before you.
I come to protect you with My Celestial Mantle…
I come to bring Light to your path so you will not get lost…
I come to guide you to the Eternal Life…
I come by Divine Will to guide this generation to the final triumph after this generation has been examined by My Son and each one examined by himself.
Do not look at war from a distance; the drums cannot be heard any more. At this instant one can hear the weaponry with which the powers will initiate this great suffering for humanity, but you— My Marian Army, children of My Immaculate Heart—PRAY CONSTANTLY, BE PRAYER, GIVE YOURSELVES TO MY SON, SEE WITH MY SON'S EYES, HEAR THROUGH MY SON, SPEAK THROUGH MY SON. MAY YOUR HANDS BE A BLESSING LIKE MY SON'S HANDS ARE A BLESSING, AND MAY YOUR FEET WALK STEADFASTLY BEHIND MY SON'S FOOTSTEPS. THIS IS PRAYER: TO LIVE, PERFORM, AND ACT IN THE DIVINE WILL.
I especially call on the groups within My Son's Church. I do not want scuffles, I do not want rivalries; I want what My Son orders: UNITY AND LOVE SO YOU WILL BE STRENGTH. The enemy divides, but My Son unites.
Do not seek to be leaders, seek to be servers, because the one who serves may climb and the one who leads may fall. It is necessary that you constantly invite My Son to stimulate in you the Gift of prayer. The Divine Spirit waits for the call of His children.
My children pray for Colombia. It will suffer; lots of creatures will lose their lives on its ground.
My beloved, I invite you to pray for the country of the North. After commanding and exerting power over the Peoples, it will be betrayed and abandoned, it will be dejected by those who called themselves its allies.
Beloved children, I ask you to pray for Venezuela; blood will flow on that land loved by Me.
PRAYER IS POWERFUL WHEN IT COMES FROM THE HEART, when you abandon yourself to the guidance of the Holy Spirit. This way the strength of the prayer is the protective wall around the Peoples that I invite you to protect.
My beloved, the plague is near; it continues to advance over humanity. From instant to instant the companies in charge of spreading this plague fly over the countries poisoning the air that you breathe and therefore poisoning the organisms of the human creatures.
My children:
YOU ARE LIVING INSTANTS LIKE NEVER BEFORE, DO NOT RESIST CONVERSION, DO NOT GIVE
EXCUSES FOR NOT CONVERTING AND FOR NOT OBEYING. MY SON WARNS YOU, AND SINCE HE RESPECTS MAN'S FREE WILL, HE WAITS TO BE CALLED, LIKE I WAIT FOR YOU TO TAKE MY HAND.
I will not abandon you, not for an instant, because I want to rescue all My children and lead them to the Eternal Life.
My beloved:
So much pain you will have to suffer! So much more persecution will befall the Christians! And these, My Son's People are strong, not easily overcome, because they are the People of the King of Kings and Lord of Lords, and evil knows that it will not prevail against My Son's People.
I COME TO CRUSH THE SERPENT'S HEAD.
I COME TO PRESENT TO HUMANITY MY SON'S ENVOY SO HE WILL FACE AND DEFEAT THE ANTICHRIST, DECEIVER OF MY SON'S LUKEWARM PEOPLE.
Wake up, children! Wake up! Wake up! Do not remain lulled! Do not accept passivity!
My Son's People must be people of action, people of prayer, people who invite their brothers to partake in the knowledge of the True Faith.
My beloved children, visit My Son in the Sanctuary and ask for the aid and the unction of the Holy Spirit so you will be able to discern and not be deceived.
I bless you in the name of the Father, and of the Son, and of the Holy Spirit.
HAIL MARY MOST PURE, CONCEIVED WITHOUT SIN.
HAIL MARY MOST PURE, CONCEIVED WITHOUT SIN.
HAIL MARY MOST PURE, CONCEIVED WITHOUT SIN.
Mother Mary