Wednesday, March 18, 2015
Message Given by Our Lord Jesus Christ
To His Beloved Daughter Luz De María.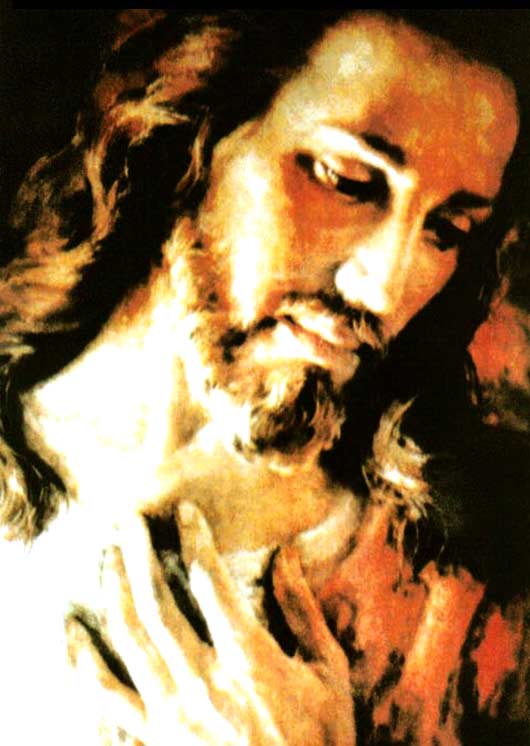 My beloved People:
I CALL YOU TO COMPLY WITH MY WILL AND WITH MY DIVINE LOVE.
Be permanent testimonials that My Mystical Body remains present, carrying My Light to your brothers so the complete darkness will not cover My children. Invite your brothers to become testimonials of My Love, invite them to traverse My Path which is the only one that will take you to the Salvation.
THE HUMAN RACE WILL FIND THE SALVATION WHEN MAN LIVES, ACTS AND CONDUCTS HIMSELF IN MY WILL.
My People:
Some of the ones who approach you do so looking for hope, the hope the world has lost; and you must understand that the ones who do not live in Me do not approach humbly but in a demanding way. It is My People who must be patient and kind so your brothers will open the heart to My Word and be determined to enter the path to Conversion.
Children:
So much moral decadence will continue to drag My children at this instant when the devil has invaded the Earth, together with all his fallen angels, to poison even those Consecrated to Me, so they will be lost and will confuse My People!
Those Consecrated to Me who give their lives for My Truth, are driven away from the populous communities so they will not scandalize the ones that are lost and do not want to hear about My Justice. This gives Me great pain.
THE INSTITUTION OF MY CHURCH HAS BEEN INVADED BY EVIL; MODERNISM CAUSES THE INCREASE IN SIN IN MY PEOPLE. The poison of the freemasonry generates division among those Consecrated to Me during decisive instants for My People, grafting onto them everything contrary to My Will, so the devil will take advantage of those who are Mine. MY CHURCH WILL BE PURIFIED FOR DISOBEYING MY COMMANDMENTS AND FOR DELIVERING SOULS TO EVIL SO THEY WILL BE CONDEMNED FOR ETERNITY.
My People:
Pray for your brothers, pray for those who do not believe, pray for the fools who are involved in the vilification of others because they misunderstand My Love and Mercy, and deny that I apply My Justice, all due to ignorance dragged along by their lukewarm way of living as mistaken Christians.
Painfully I see some children …
Those who feel knowledgeable condemn Me…
Those who feel knowledgeable criticize Me…
Those who feel knowledgeable are worse than the Pharisees…
Those who feel knowledgeable in My Love distill poison against My Word.
Poor creatures those who judge with inconsistencies! They will be judged just as severely as they judge their brothers and My Word.
I DO NOT WANT HUMAN CREATURES WHO JUDGE WHAT IS NOT FOR THEM TO JUDGE; I WANT
THE CONSOLATION OF MY CHILDREN, I WANT REPARATION FROM MY FAITHFUL CHILDREN FOR
THEIR BROTHERS—SINNERS, OBSTINATE AND UNGRATEFUL—WHO CONTINUOUSLY CAUSE ME GREAT PAIN.
I see humankind consumed in an abyss of unbridled lust, of restless and insatiable lust, of constant perdition, despising My Calls and those of My Mother, to obey the snares of the devil and those of his kind.
MY PEOPLE DECLINE WHEN THEY DO NOT REPENT OF THEIR SINS, exalting men plagued with vices that enslave them and control them to make them despise Me and banish Me from My Kingdom.
I have announced, and My Mother has announced in several countries, that man must change, man must convert to avoid greater evils; however, neither One of Us has been heard. They do not want to read about the reality in which they live because they feel comfortable surrounded by sin which is exalted in order to destroy the souls in the same way that nuclear energy exterminates humankind.
Distracted in creating weapons to destroy one another, man has put aside the devil who has taken advantage of this to cause something worse: Vices and more vices, greater temptations— indifference, lack of love, and the rejection of innocence—that man will not resist and will fall seduced by them. This is why parents exterminate their own children and brothers violently burst into the lives of their brothers. Young people know about violence, but not about My Love. They presume that every wrongdoing is good because they have wrongly channeled the meaning of My Mercy.
Beloved children, My People:
YOU DO NOT REPENT OF THE OFFENSES WITH WHICH YOU LACERATE ME! We have called you to repent and this has not happened. Evil grows: The lack of concern and the lack of love reign at this instant, continuously causing greater woes.
My People:
THEY WILL TASTE THE PUNISHMENT… FIRE WILL COME DOWN FROM THE SKY, DESOLATION
WILL INVADE THE SOULS OF THE SINNERS AS WELL AS THE SOULS OF THE NON-SINNERS. THE PUNISHMENT WILL BE EXPERIENCED BY ALL: THE GOOD WILL WISH NOT TO LIVE THAT INSTANT AND THE SINNERS WILL PERISH.
My People:
Communism has invaded the Earth. It goes against my Church, punishes My Church, persecutes it, and will persecute it even more disguised as other denominations to continue being unnoticed until it can take over and seriously wound all of humankind. The suffering begins and advances…
My People receive Me in the Eucharist…
My People pray the Holy Rosary and comply with My Will.
My beloved:
It pains Me so much to see you in the midst of human beings that reject you and offend you just like they rejected and flagellated Me! But My happiness is greater when I see how you resist and do not remain fallen in the mud; instead you get up with My Mother's Love and go on, knowing that the Eternal Life is life, abundant life. Nothing earthly will surpass the infinite joy that the souls who live in My Home experience.
DO NOT SUCCUMB TO CRITICISM, DO NOT YIELD TO TEMPTATION, DO NOT FEEL LIKE YOU ARE ALONE; MY ANGELIC LEGIONS REMAIN ATTENTIVE TO MY FAITHFUL TO HELP THEM.
My People, pray for Japan; it will suffer greatly.
My People, pray for Iraq and Syria; their laments will be taken throughout the world.
My People, pray for Germany, pray for Norway; they will suffer.
The earth continues to tremble; the suffering advances
DO NOT IGNORE MY PLEAS …
MY CALLS MUST NOT GO UNNOTICED IN THE FACE OF THE PAIN THAT MY CHILDREN ARE LIVING.
MY WORDS WILL NOT PASS AWAY; THEY ARE ETERNAL.
My People:
STOP! SIN NO MORE! IN ME YOU FIND CONSOLATION.
I bless you.
Your Jesus.
HAIL MARY MOST PURE, CONCEIVED WITHOUT SIN.
HAIL MARY MOST PURE, CONCEIVED WITHOUT SIN.
HAIL MARY MOST PURE, CONCEIVED WITHOUT SIN.