Saturday, March 21, 2015
Message Given by the Most Holy Virgin Mary
To Her Beloved Daughter Luz De María.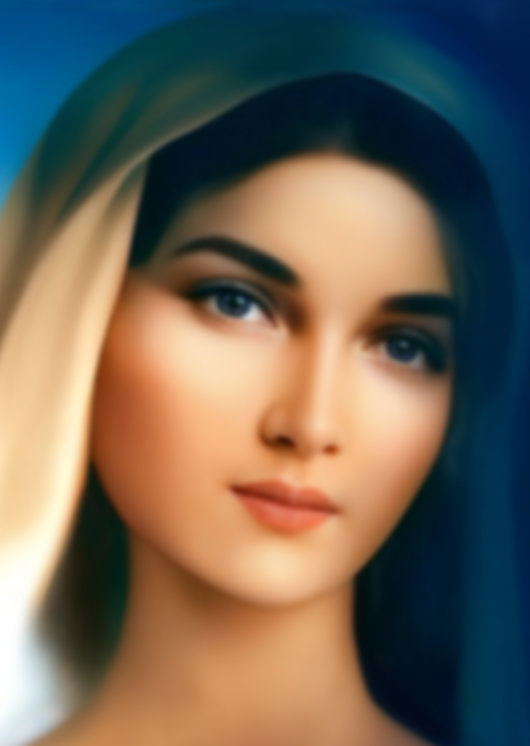 Beloved children of My Immaculate Heart:
Receive My Blessing.
I PEREGRINATE THROUGHOUT THE EARTH LOOKING FOR SOULS FOR MY SON…
I PEREGRINATE FROM HEART TO HEART …
MOST OF THEM PUSH ME AWAY BUT A FEW CONVERT AND JOIN THE APOSTLES OF THE END TIMES.
My beloved:
THIS INSTANT IS A PENITENTIAL INSTANT OF BLESSING. MAKE GOOD USE OF IT TO REPENT OF THE
OFFENSES YOU HAVE CONSTANTLY CAUSED AND CONTINUE TO CAUSE MY SON THROUGH YOUR
ACTS AND DEEDS. Children, be aware that you can no longer continue to live in darkness.
The sun's rays penetrate even where there is darkness, but if the darkness does not want to stop being darkness and open up to be illuminated by the sunlight, then the sun cannot penetrate that darkness. Children, so is my heart: I illuminate all those who let Me, but those who refuse to accept My Maternal Love… I continue to love those creatures as My children, but I must wait for them to accept Me to fill them with Love for My Son.
I am the Mother of the Word; therefore I am the Mother of all My Son's children. THROUGHOUT
THE HISTORY OF THIS GENERATION MY SON HAS SENT ME TO WARN YOU, NOT TO SCARE YOU. Nonetheless, you continue to deny My Warnings, you continue to deny My Presence in the midst of this generation. Could it be that you feel unworthy of having the Mother of your Lord come to call you? Children, you are all the same to Me: I Love all of you and I embrace all of you.
CHILDREN, MAKE GOOD USE OF THIS PENITENTIAL INSTANT.
DELVE IN YOUR INTERIOR, AND HUMBLY ASK MY SON TO FORGIVE YOU.
This instant is the most precious for those who wish to be saved. My Son has opened His Infinite Mercy in a very special way in order to embrace those who wish to return to Him, to embrace those who have the smallest wish to look for Him. But you must want it; otherwise, out of respect for your human free will, My Son remains waiting.
I am Messenger of Love, Pilgrim of Love, and I find so many doors closed, so many creatures so submerged in the habit of sinning that when they do not sin they feel like something is missing! Sin has invaded man so much that it has become necessary for the human creature!
AT THIS INSTANT THE HUMAN RACE SEES SIN AS NORMAL, LIKE SOMETHING THAT DOES NOT OFFEND MY SON, LIKE SOMETHING THAT DOES NOT OFFEND ME. The majority of the acts and deeds of this generation have evil implicit in them, evil that is used by the enemy of the souls to take possession of the human creatures.
How is it that you do not heed My Calls?
How is it that you reject My Son's Will?
How is it that you continue to say that humankind walk righteously?
How is it that you accept abortion?
How is it that you do not defend the Gift of Life?
THIS PAINS ME SO MUCH! THIS AFFLICTS ME SO MUCH! You cannot say that this generation walks righteously when those who are defenseless are thrown to the streets to die, when parents take away the lives of their own children… Is this not satan's work?
My children:
YOU MUST DELVE DEEPER AND BE MORE SPIRITUAL.
MY FAVORITE CHILDREN MUST CALL MY SON'S PEOPLE TO BE MORE SPIRITUAL.
AND MY CHILDREN WHO LOVE AND ADORE MY SON MUST COME UP TO MY FAVORITE CHILDREN TO BE GUIDED TO BE MORE SPIRITUAL.
A spiritual being is not just one who prays on his knees.
A spiritual being is not just one who comes to the Eucharist daily.
If My Son's Will does not beat profoundly and continuously in his interior, then he is nothing more than a reflection that at any time can dim and cease to be a creature that prays, pious, and truly Christian, and this will cause major complications among brothers.
AT THIS INSTANT SPIRITUALITY SHOULD OVERCOME FALSE RELIGIOSITY.
My children must be fused together with My Son's acts…
My children must be eager to belong to My Son…
My children must accept Me as Mother so I may guide them to Him.
PRAY THE HOLY ROSARY; IT IS A WEAPON THAT DEFENDS YOU FROM EVIL.
BUT BE AWARE THAT YOU SHOULD REMAIN IN A STATE OF GRACE:
IN ORDER FOR YOUR PRAYERS TO BEAR FRUIT,
IN ORDER FOR YOUR WORK TO BEAR FRUIT,
IN ORDER FOR YOUR ACTS TO BEAR FRUIT AND BE THE CORRECT ONES.
A creature completely involved in lukewarmness—that acts and works in My Son's Love when it is convenient for him—is like the hypocrite who seems pious in front of his brothers, but when he is alone he forgets he belongs to Him. My Son sees everything and knows everything because He knows all creatures from the innermost being of each one.
Beloved children of My Immaculate Heart:
My Son sends Me to you and I come gladly and continue to warn you.
THE ANTICHRIST IS DESIGNING HIS PLANS IN THE MIDST OF A DROWSY HUMANITY THAT DOES NOT HEED MY CALLS AND THEREFORE HAS NOT BEEN ABLE TO DISCOVER THE ONE WHO IS PRESENTING HIMSELF WITH A MASK OF DECEIT, WITH FALSE ALLIANCES AND OBJECTIONABLE OR IMMORAL TRANSACTIONS. The very instant when he has just a little more power in his hands, he will act against My Son's People.
YOU NEED A GREATER SPIRITUALITY TO BE ABLE TO OVERCOME ALL THAT IS COMING.
The sky will turn red as an omen of the blood that My Son's People will spill, the People: Martyrs at the hands of their oppressors. But do not fear, children, do not fear giving your lives for My Son because the soul is in the Hands of the Eternal Father.
This is not the instant to not live fully, this is not the instant to continue being lukewarm.
DO NOT ALLOW WHAT IS MUNDANE TO DRAG YOU BECAUSE THIS IS SATAN'S GREAT PLAN. HE AND HIS FALLEN ANGELS HAVE COME TO THE EARTH TO POSSESS THE HUMAN CREATURES.
THAT IS THE TRIUMPH HE HAS DESIGNED IN ORDER TO LATER PUNISH MY SON'S PEOPLE
HARSHLY LIKE THEY HAVE NEVER BEEN SCOURGED BEFORE. THIS IS THE REASON THAT I
IMPLORE YOU TO TRULY REPENT…
Be eager to convert; and those who have converted do not be negligent. In an instant you can yield to temptation and lose everything you have won for Eternal Life. No one is immune.
YOU DO NOT PERCEIVE IT BUT YOU LIVE IN THE MIDDLE OF A GREAT SPIRITUAL BATTLE BETWEEN GOOD AND EVIL. EACH ONE OF YOU MUST COOPERATE BY SAYING "YES!" TO MY SON.
YOU WILL SUFFER SO MUCH PAIN! DO NOT REJECT MY WORDS; DO NOT REJECT MY SON WHEN
HE CALLS YOU TO RETAKE THE PATH TO HIM. EVERYONE WHO IS CONSCIOUS KNOWS THAT THIS IS A BLESSING, THAT MY PRESENCE IS A BLESSING, THAT MY WARNINGS ARE A BLESSING… BECAUSE I DO NOT WANT SATAN TO OWN YOUR SOULS.
Beloved children:
I invite you to pray strongly for Argentina, My children's blood will be spilled.
I invite you to pray for Puerto Rico, it will be strongly shaken.
I invite you to pray for Russia; humanity will take a great whipping from there.
Children:
THE HIERARCHY OF MY SON'S CHURCH HAS FAILED TO CONSECRATE RUSSIA TO MY IMMACULATE HEART, AND AT THIS INSTANT WHEN HUMANITY IS INVADED BY EVIL, THIS DISOBEDIENCE HAS OPENED THE DOORS EVEN MORE FOR COMMUNISM TO INVADE THE MAJORITY OF THE COUNTRIES WHERE IT HAS ALREADY DOMINATED MY CHILDREN'S MINDS WITH ITS IDEOLOGIES. Anyone who says he loves Me cannot be in communion with communism. Anyone who loves Me and loves My Son in spirit and truth resists that false ideology which brings death for humanity, for My Son's People, along with it.
My beloved:
I invite you to expand your knowledge. Do not believe everything the large industries present to you: Delve deeper, learn about the production and the elements that comprise it, because those who think they own humanity on Earth have prepared their god money to contaminate My Son's People, not only through the food, but also through other means which are presented to improve your health but in reality they are meant to cause your health to decline. Children, I warn you about this.
MY CHILDREN LIVE AMONG VIPERS THAT WANT TO ANNIHILATE YOU. RESIST, BE STRONG
BECAUSE YOU POSSESS THE INFINITE TREASURE, THE ONE NOBODY CAN POSSESS FORCEFULLY, ONLY THOSE THAT—INSTANT TO INSTANT—GIVE THEIR LIVES TO MY SON TO WIN THE ETERNAL
LIFE.
Children, do not be afraid; you will never be abandoned.
INSTANT TO INSTANT I PROTECT YOU SO YOU WILL NOT BE LOST. I SEND MY ANGELIC LEGIONES SO THAT DURING THE INSTANTS OF TEMPTATION THEY WILL REMIND YOU THAT YOU ARE CHILDREN OF THE MOST HIGH. BUT DO NOT EXPOSE YOURSELVES TO EVIL.
Children, do not be afraid because My Son will send from His Home what His People need, as long as His People will be obedient and faithfully comply with His Mandates. Keep in mind that the Commandments cannot be changed because they have been written by The Eternal Father for the past, for the present, and for the future.
As Mother of the Divine Love I pour over all of My Son's children My Love and My Blessing, and these be yours:
Strength to resist evil…
Strength to reject evil…
Strength and support to remain on the True Path.
DO NOT FORGET THAT MY SON IS COMING
AND YOU WILL ENJOY SEEING HIM FACE TO FACE.
I bless you in the Name of the Father and of the Son and of the Holy Spirit.
HAIL MARY MOST PURE, CONCEIVED WITHOUT SIN.
HAIL MARY MOST PURE, CONCEIVED WITHOUT SIN.
HAIL MARY MOST PURE, CONCEIVED WITHOUT SIN.
Mother Mary