Wednesday, March 25, 2015
Message Given by the Most Holy Virgin Mary
To Her Beloved Daughter Luz De María.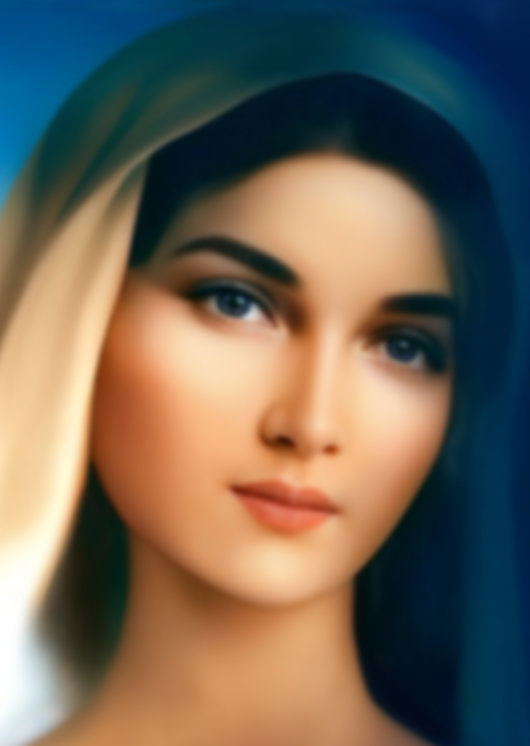 Beloved children of My Immaculate Heart:
FROM NORTH TO SOUTH AND FROM EAST TO WEST MY ANGELIC LEGIONS PROTECT YOU
AND HELP HUMANKIND, AND THEY PROJECT THEIR OBEDIENCE TO MY SON ONTO THE HUMAN CREATURES
WHO WANT TO EMBRACE THE DIVINE MERCY.
My children know that it is not with despair that they advance, but with Hope in a tomorrow of Eternal Life which prevails in a man who controls the present instant to overcome all that is contrary to the Divine Will.
AS MOTHER, I CONTINUOUSLY CALL YOU TO PAY ATTENTION AND TO EXPAND YOUR THINKING,
YOUR REASON, AND YOUR KNOWLEDGE, DELVING IN THE CURRENT NIGHTMARES THAT KEEP
ADVANCING AND WILL DELIVER HUMANITY TO THE ACCELERATED SUFFERING DESCRIBED IN THE HOLY SCRIPTURES, ANNOUNCED BY ME AND REVEALED TO DIFFERENT CREATURES CHOSEN BY MY SON.
Humanity has persisted in its own way of walking, guided by human intuition which has failed repeatedly because man has not accepted help from the Holy Spirit.
THE KNOWLEDGE AND THE DELVING INTO EVERYTHING AROUND YOU THAT IS BREWING OVER HUMANKIND IS NOT OF HUMAN INTEREST. This is why humanity is being dominated by those who pursue the disintegration of the human race. The conscience has been dimmed by a selfish, independent and egocentric creature.
Children:
You are aware of your existence and of this instant when everything around you moves against the Divine Will. You are capable of thinking, reasoning, and you have intelligence, but evil blinds you and goes unnoticed by you, and you go on with your lives as if your brothers' actions were exactly what God wants.
I ache for the suffering of a humanity invaded by hatred which has led man to the grave sin of crime that wraps the human being in vice, dimming the reason and hardening the heart. When man kills another human being, man allows the devil to take him over and to keep him in a constant state of thirst, thirst for vengeance, without any reason whatsoever; thirst for blood without the fear of God.
THIS GENERATION HAS SEALED ITSELF AND HAS DELIVERED ITSELF IN THE HANDS OF THE DEVIL,
THUS CONDEMNING MILLIONS OF INNOCENT BEINGS TO DEATH IN THE CRUELEST WAY THERE IS: ABORTION.
My children should not defend those who, for their own convenience, decide to betray the Mission that the Father entrusted them with: To be mothers. There will be an increase in abortions which will become an everyday occurrence taken to unthinkable levels of homicides when the abortion is provoked. Man has become a monster that kills before the whole of Creation which shudders every time an act against the Gift of Life is committed.
My children:
I suffer so much because of this scourge that man has accepted for his own convenience!
There is so much pain and shuddering in My Son's Home every time there is a voluntary action to put an end to the Gift of Life!
HUMANITY HAS DEGENERATED, THE DEVIL CONTROLS IT AND MAN PLEASANTLY CONSENTS EVIL'S WISHES, THUS GETTING TO MULTIPLY TERROR THROUGHOUT THE WORLD. Terrorism advances instant to instant in every human creature that kills an innocent being; it advances in those who mercilessly carry death as their flag.
Beloved children:
Pray, receive My Son worthily prepared and be aware of the world's current events. Do not be creatures who live isolated in their environment; comply with "Love your neighbor" without forgetting that the terror will expand throughout the Earth.
Children:
THIS GENERATION IS A REFERENCE TO THE FINAL EVENTS…
THIS GENERATION WILL LIVE ITS OWN WRONGDOING: THE GREAT TRIBULATION
Children of My Immaculate Heart:
MY SON'S CHURCH WILL BE DIVIDED. THIS WILL BE THE FIRST SIGN THAT THE SON OF PERDITION
IS ACTING DIRECTLY, GOING AGAINST GOD AND GETTING READY TO SIT IN GOD'S TEMPLE WITH PRODIGIOUS AND FALSE, DECEIVING DEEDS. With false miracles he will captivate those who are not firm in the Faith and have not accompanied My Son in obeying The Commandments.
Beloved children of My Heart:
DO NOT LET THIS INSTANT'S SIGNS GO UNNOTICED; NOT ONLY THE LUKEWARM WILL BE DECEIVED.
Hold on to your daily spiritual growth, hold on to the knowledge of the Truth, expand your minds and live instant to instant being creatures of action, bringing My Son's Word to your brothers, being testimonials of My Son's acts and works.
Children:
Pray for England, it will suffer at the hands of terrorism.
Pray for Chile, it will be scourged by Nature, it will tremble.
Pray for the United States of America, it will suffer the pain in its guts.
Beloved of My Immaculate Heart:
The Earth does not know or recognize mankind; reasoning has been lost, evil is being embraced. A world leader will be a surprise for humanity.
My Son suffered the opposition of His own People; the believers suffered with Him. Do not forget My Son's Words: "In the world you face persecution. But take courage; I have conquered the world!"[1] (John 16:33)
My beloved:
DO NOT CONTINUE BEING INDIFFERENT, GROW IN KNOWLEDGE; DO NOT BE PASSIVE CREATURES, ON THE CONTRARY, EACH ONE BE AN EXAMPLE FOR THE BROTHER.
The moon turns red… and humanity suffers.
Be aware that each one must be the brother's keeper; evil advances. The good take refuge in My Son and He owns everything that exists.
Look up, remain alert.
I bless you. I love you.
Mother Mary
HAIL MARY MOST PURE, CONCEIVED WITHOUT SIN.
HAIL MARY MOST PURE, CONCEIVED WITHOUT SIN.
HAIL MARY MOST PURE, CONCEIVED WITHOUT SIN.