Wednesday, April 1, 2015
Message Given by the Most Holy Virgin Mary
To Her Beloved Daughter Luz De María.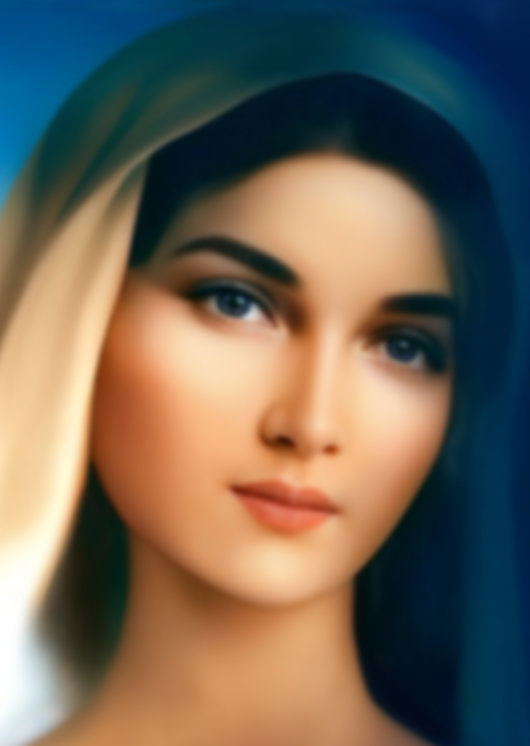 Beloved children of My Immaculate Heart:
I KEEP YOU UNDER MY MANTLE, PROTECTED IN MY HEART.
Be faithful to My Son so that treason, lack of love, infidelity, mockery, and so many more… will not lead you to fall and then leave you there unable to get up.
Children:
LIFE IS A CONSTANT EFFORT TO ATTRACT THE BLESSING.
NOTHING COMES WITHOUT EFFORT, WITHOUT MAN DESERVING IT.
Beloved:
Pained to the extreme, the suffering He has in His Heart is drawn on the Face of My Divine Son. He does not say a word; it is not necessary; He knows He will be betrayed …
At this instant human iniquity continues to advance unspeakably, and My Son continues to suffer for those who are His, when they work and act within the mundane and sinful.
So many children despise the Gift of life and kill their neighbors!
So many abortions facilitated and favored!
So many innocents exterminated!
So much cruelty against the same human beings!
So many weapons with the seal of death that will exterminate thousands of human beings in an instant!
So many minds inspired by evil deviate in a second from man's way!
So many hearts hardened by treason, persecution and disillusion! SO MUCH LACK OF LOVE IN THIS GENERATION!
EVIL HAS PLANTED RAGE IN HUMANITY IN ORDER TO TURN MAN INTO HIS OWN EXECUTIONER.
Children of My Heart:
You have forgotten the First Purification that the Father sent: WATER… and man was corrupted again.
The Second Purification: MY SON'S BLOOD…
Beloved, which purification has been useful for humanity to reject sin?
YOU HAVE TAKEN DISDAINFULLY THE GOODS THAT THE FATHER HAS GIVEN TO YOU: THE PURIFICATIONS, AND ESPECIALLY, MY SON'S BLOOD; AND IN RETURN YOU HAVE GIVEN THE DEVIL
THE POWER OVER YOU. Children, you have abused God so much that you despise the Divine Justice.
Beloved:
My Divine Son is so pained! This generation continues to betray Him constantly; this is the reason that hell itself has pounced on humanity to make them perish before they repent and so they will not save their souls.
SATAN EASILY MAKES HUMANITY BOW DOWN TO HIM… AND HUMANITY FALLS IN HIS TRAPS BECAUSE OF IGNORANCE OR CONVENIENCE.
MY SON WOULD DONATE HIMSELF AGAIN FOR A SECOND TIME FOR EACH ONE OF YOU, AND YOU
WOULD BETRAY HIM AGAIN BY DISOBEYING HIM AND EMBRACING EVIL AS A WEAPON TO DOMINATE YOUR BROTHERS, thus turning into followers of the antichrist who came to divide, to kill, and to condemn the souls to the eternal fire..
Beloved children:
So much lukewarmness in you!
So much indecision!
So much ignorance of the wickedness around you!
So much conformism!
So much covering-up of wickedness!
So little willpower!
So many good intentions never carried out!
So much lying to yourselves!
How My Son is treated by those consecrated to Him! So many of them venerate money! So many of them controlled by evil live in a state of impurity!
So much division and so many trials for My Son's Church!
Thereby, you, My children:
So much deceit!
So much hubris!
So much condemnation that will turn against you!
Just like My Son was betrayed one first time, He will continue to be betrayed. My Son knows it, but His infinite Love waits for you, waits for each one of you to convert.
AT THIS INSTANT PONDER OVER THE LIFE OF EACH ONE OF YOU, LOOK AT YOURSELVES
WITHOUT MASKS AND CONFESS THAT YOU ARE NOT WHAT MY SON WANTS. DO NOT TAKE TO HIM ANY MORE PLANS OR RESOLUTIONS INSTEAD OF FIRM PROMISES. PREPARE YOURSELVES RIGHT THIS INSTANT; DO NOT LOSE THE ETERNAL LIFE.
Pray, children, pray for Russia. It will be a scourge for mankind.
Pray, children, for the communism that consumes man and turns individuals into masses.
Pray, children, the land will tremble strongly.
Do not be lost, My beloved, fight with the strength of the Holy Spirit; it is not enough to want it with firm will.
I bless you.
Mother Mary
HAIL MARY MOST PURE, CONCEIVED WITHOUT SIN.
HAIL MARY MOST PURE, CONCEIVED WITHOUT SIN.
HAIL MARY MOST PURE, CONCEIVED WITHOUT SIN.